Core Software of SmartX HCI
At the heart of the SmartX hyperconverged infrastructure, SMTX OS has built-in distributed block storage ZBS, native hypervisor ELF, and a variety of advanced features including active-active clustering, asynchronous replication, backup and recovery, and network and security. It also supports hypervisors from VMware and Citrix.
ELF Virtualization
VMware/Citrix Virtualization
Distributed Block Storage ZBS
Native Hypervisor ELF
Network and Security
Backup and Recovery
Integration into VMware Virtualizaion
Storage
Distributed Block Storage ZBS
The distributed block storage component ZBS is independently developed by SmartX. Its high reliability and high performance capabilities ready for production have been tested with the long-term deployment and operations in the production environments such as finance industry. ZBS can be delivered in a hyper-converged form together with SmartX's native hypervisor ELF, VMware vSphere, etc.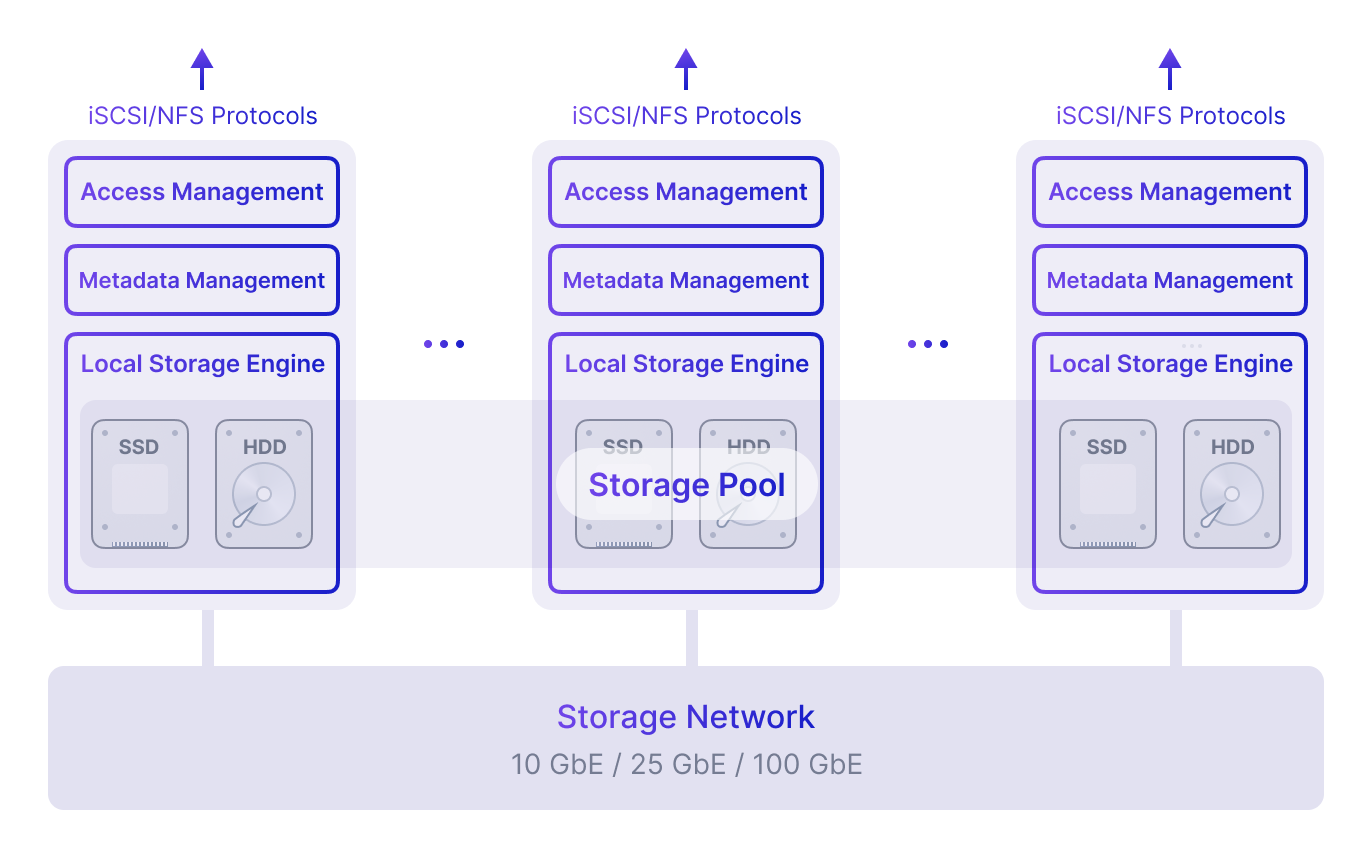 Distributed Block Storage Architecture
Overview
Distributed Architecture
Eliminate the bottleneck of traditional controller architecture, fully make use of the performance of new storage media, and improve system concurrency and elastic expansion capabilities.
Storage Resource Pooling
Integrate system storage resources, realize unified planning / expansion and use-on-demand, improve resource utilization, and reduce operation & maintenance costs.
Software Defined
Fully decoupled from server hardware, not only provides users with more flexible hardware choices, quick integration of the latest hardware technologies to improve the overall system capabilities, but also quickly adapts to new CPU architectures such as ARM to meet users' needs.
Rich Enterprise-Level High Availability Features
Hard-Disk-Level Data Block Checksum
Deal with silent data corruption through data checksum.
Deal with silent data corruption through data checksum.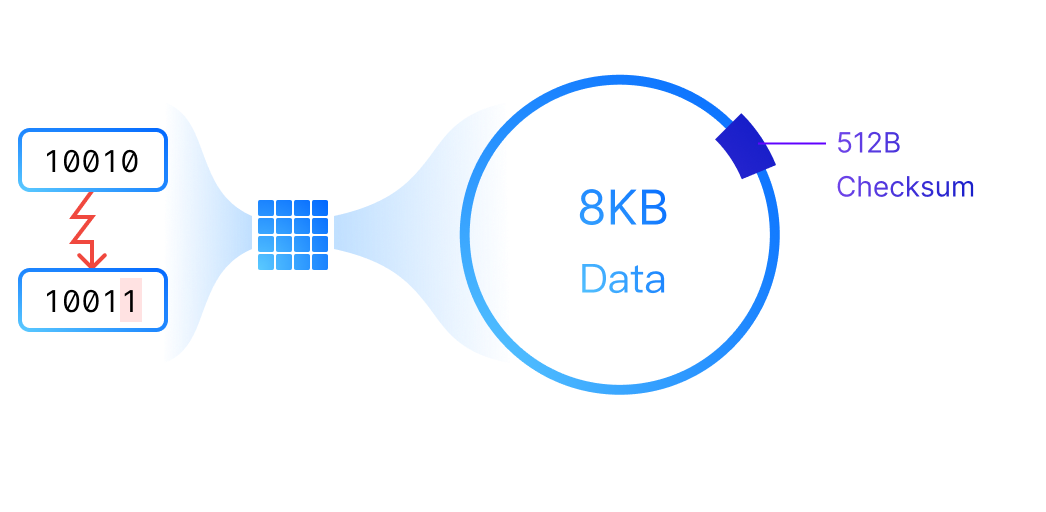 Node-Level Data Protection and Automatic Data Recovery
Data protection is performed between nodes through a multi-replica mechanism; when a component or a node fails, the available space is automatically used, and concurrent data recovery starts among multiple nodes, ensuring that the data redundancy satisfies the expectations at all times.
Rack-Level Protection
Through rack topology configuration, the replicas are automatically placed on different racks to prevent the cluster from being inaccessible caused by power outage or failure of a single rack further improving the storage reliability.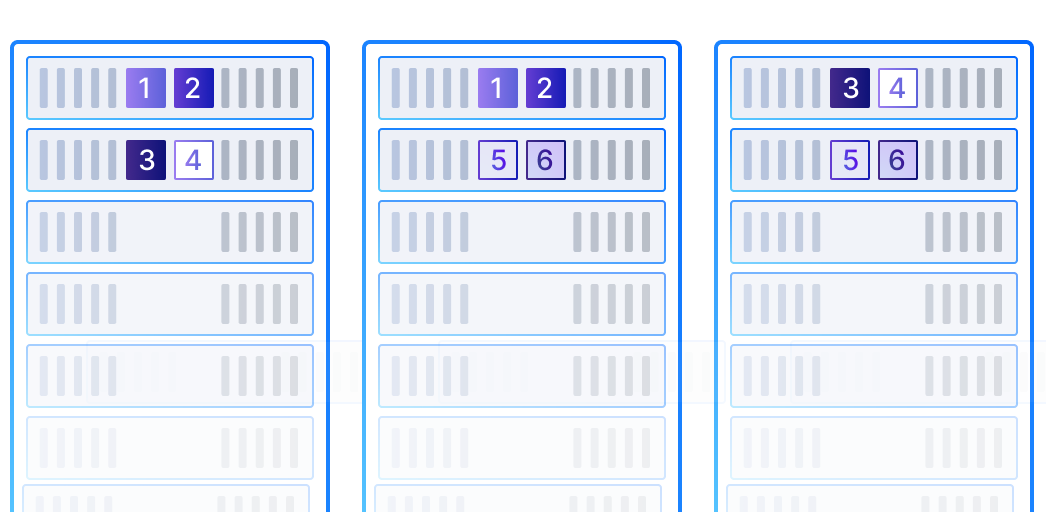 Snapshot Protection
By generating a snapshot for the storage, the data can be quickly restored to the state at the time when the snapshot was taken, ensuring data security.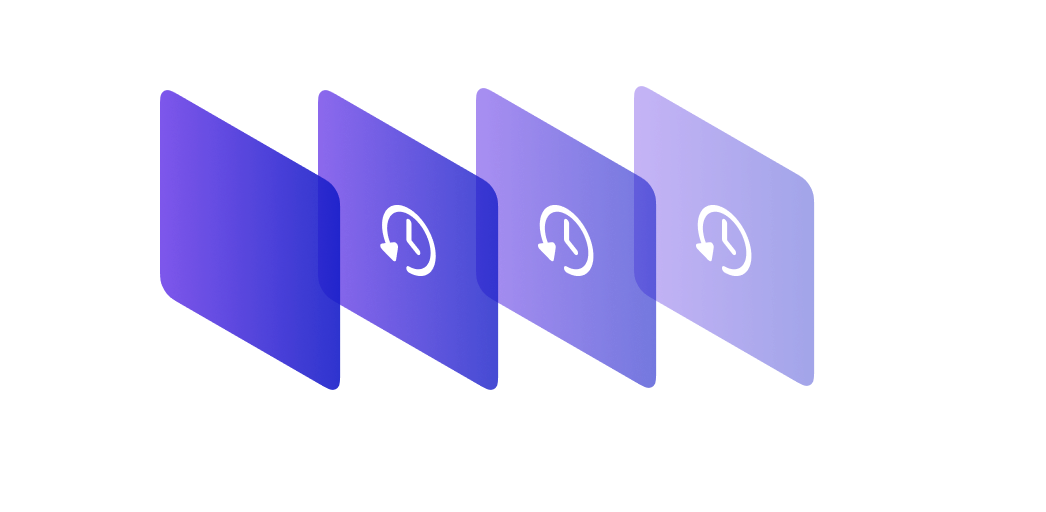 Outstanding Performance
Fully Distributed Architecture
The distributed architecture eliminates controller bottlenecks, and the concurrent performance increases linearly with the number of nodes.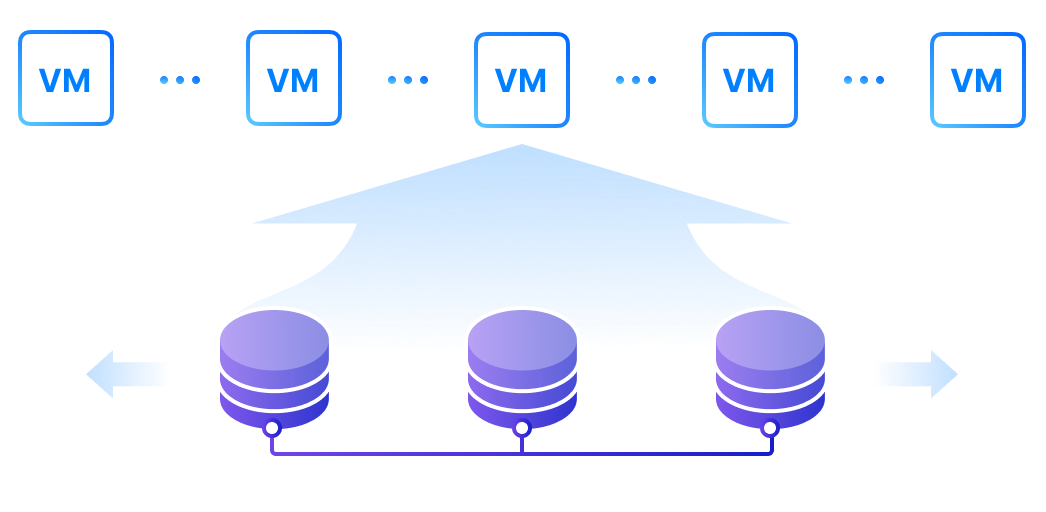 Automatic Tiering of Hot and Cold Data
Cold data automatically sinks to HDD, and hot data remains in the cache layer, fully making use of the advantages of SSD hardware and further improving performance.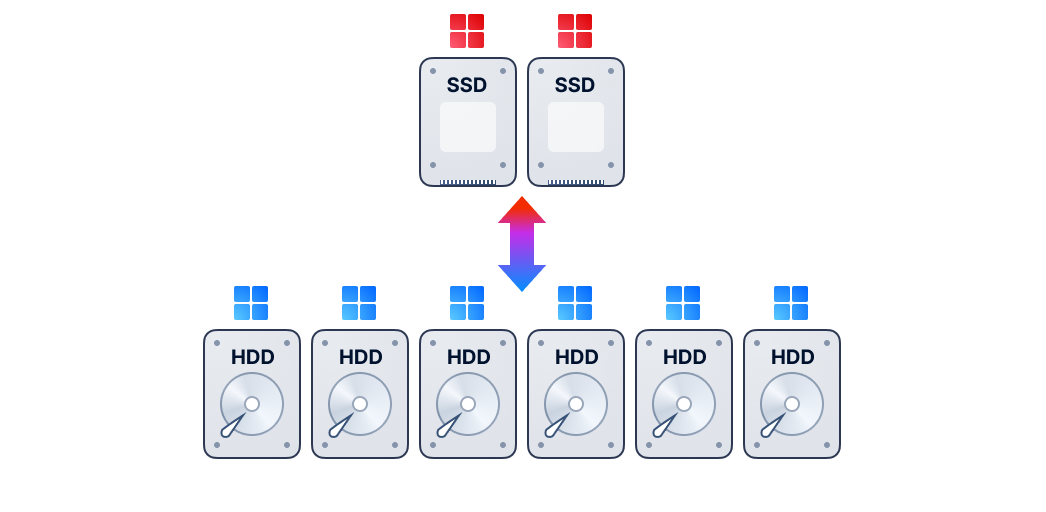 All-Flash Support
Supports all-flash storage environments to fully meet enterprises' needs for high-performance scenarios.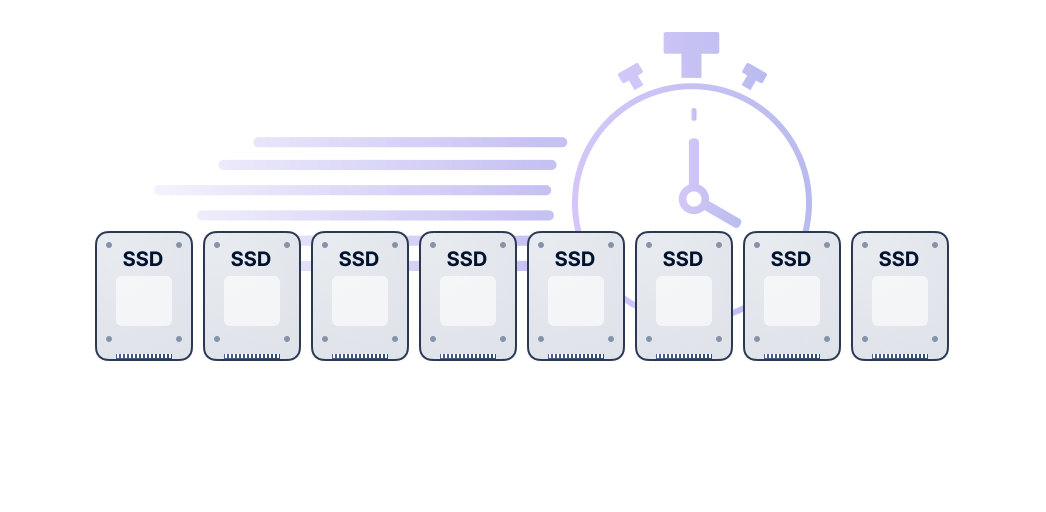 Proprietary File System Based on Bare Metal Devices
A file system is directly built on bare devices, more suitable for accessing high-performance block storage, avoiding the overhead of the existing Linux file system.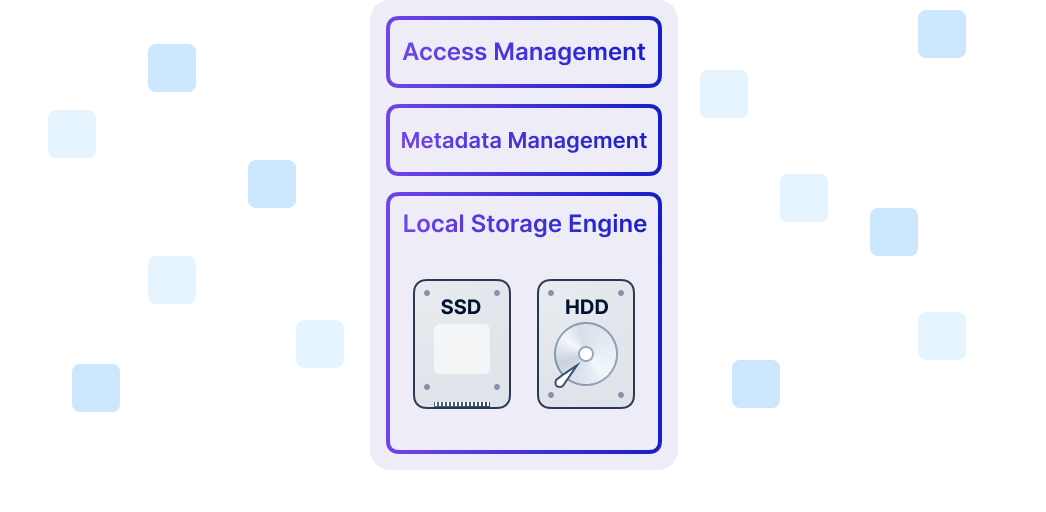 Expand on Demand
Powerful Expansion Capability
Starting with 3 nodes, the capacity can be easily expanded online in a single storage pool, improving the performance significantly.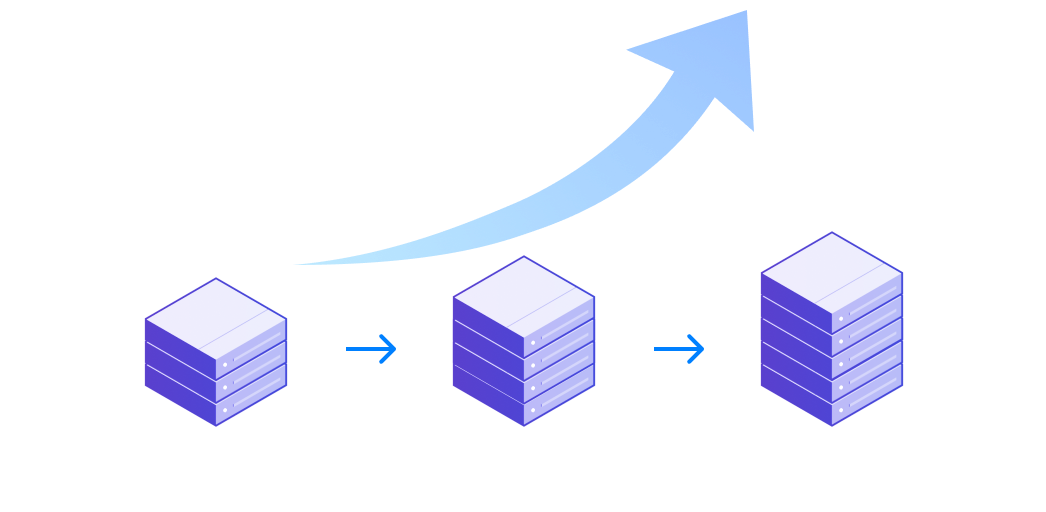 Flexible Expansion Method
The capacity can be expanded based on components or nodes, as well as by integrating hardware of different brands.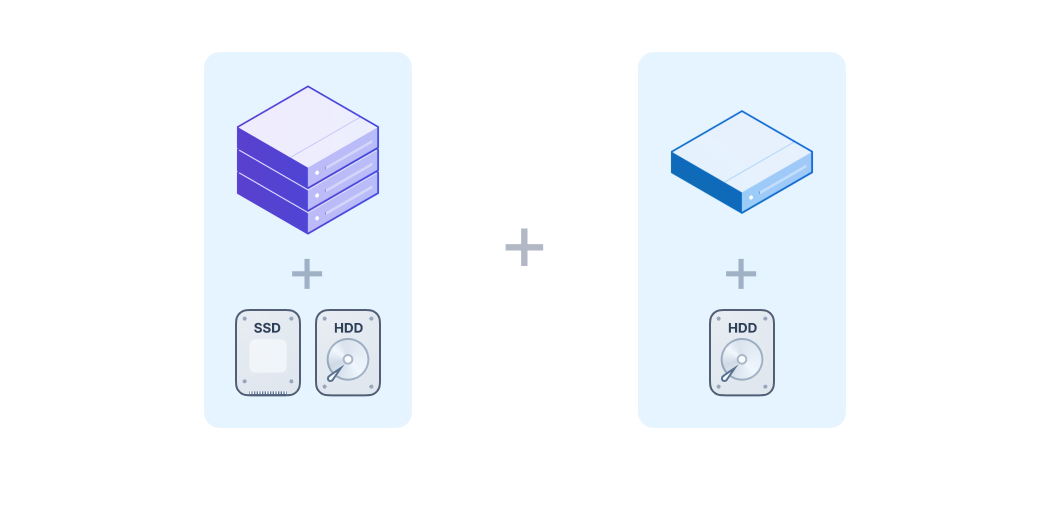 Intelligent Data Migration
The data distribution can be dynamically balanced within the cluster, and the distribution balance can be quickly restored after capacity expansion.
Compute
Native Hypervisor ELF
ELF provides free native virtualization services for SMTX OS, integrating with ZBS distributed block storage to deliver superior compute and storage performance in most virtualization scenarios.
Virtualization Features
Virtual Machine Management
A simple and convenient virtual machine life cycle management. One-click creation, batch operation, and safe confirmation of resource deletion make the management efficient and safe.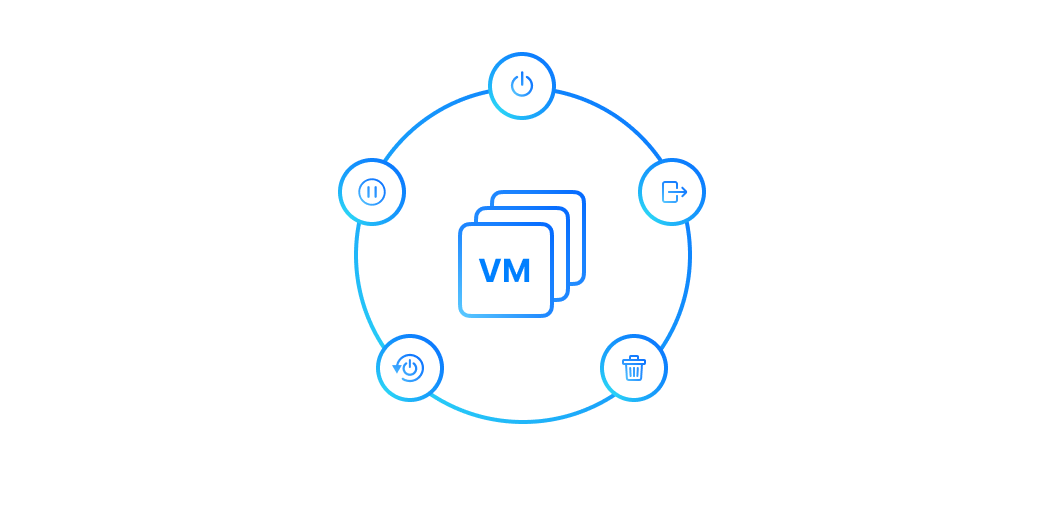 Virtual Machine High Availability
Enable the "high availability" function for the key-business virtual machines. When the host fails or the network is isolated, the business will be automatically restored immediately.
Virtual Machine Template
Create virtual machines in batch through templates to reduce repetitive work, deploy applications rapidly, and reduce space usage.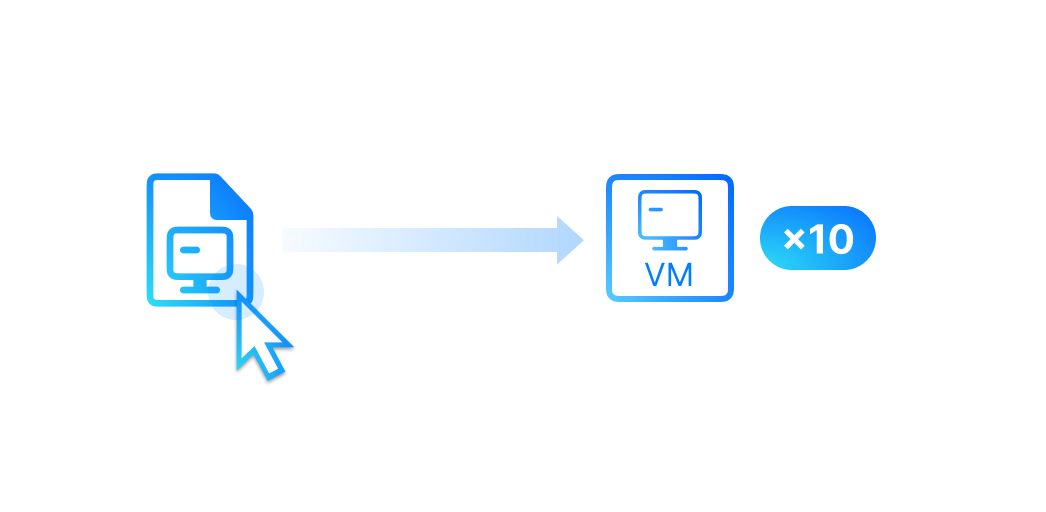 Intelligent Placement and Placement Group
Place virtual machines automatically according to host resources and availability zones. Also set custom placement policies based on placement groups to meet requirements such as license restrictions or application high availability.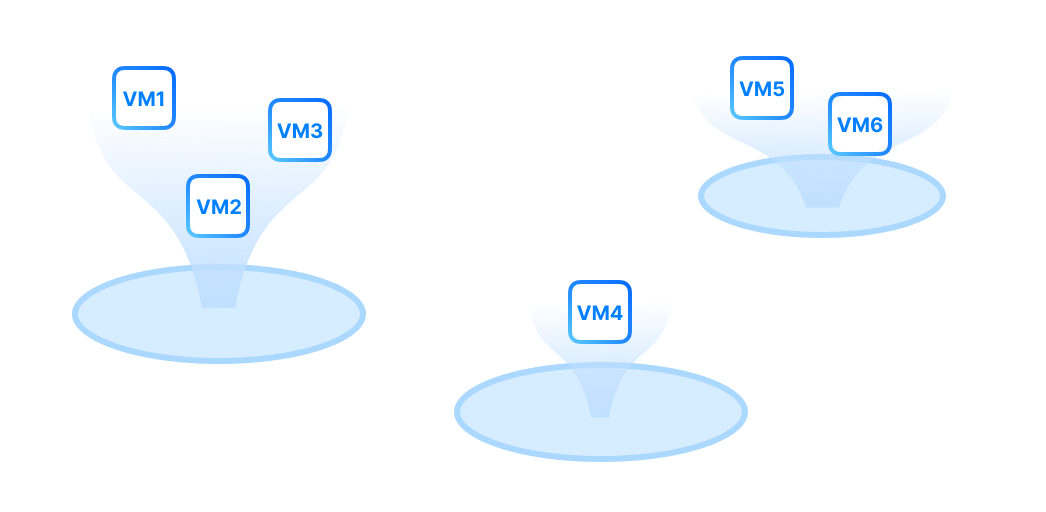 Combination with Storage
I/O Localization
Intelligently optimize I/O based on the read and write features of the virtual machines to achieve software-defined performance improvement.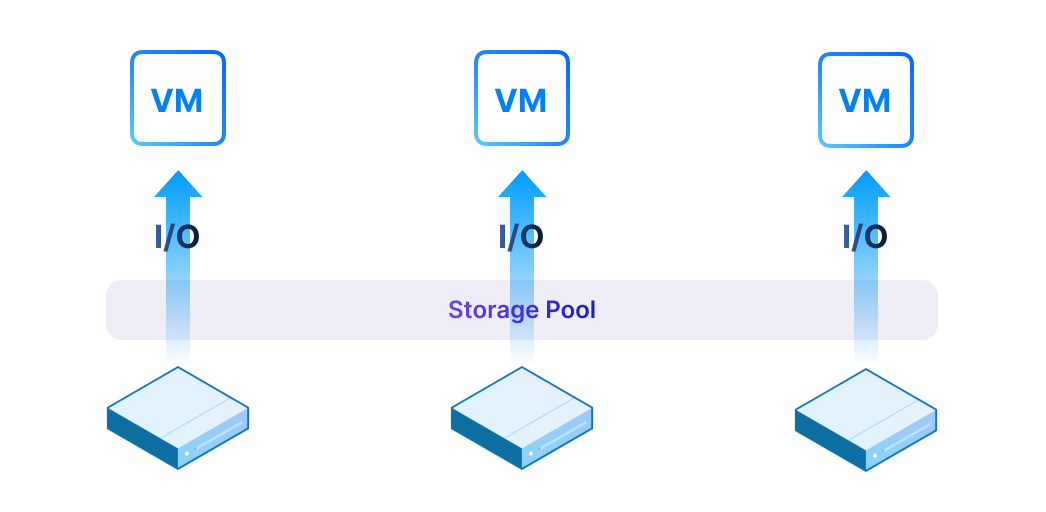 Storage Policies at Virtual Volume Level
Set the provisioning policies and the number of replicas with the granularity of virtual volumes to have a fine management.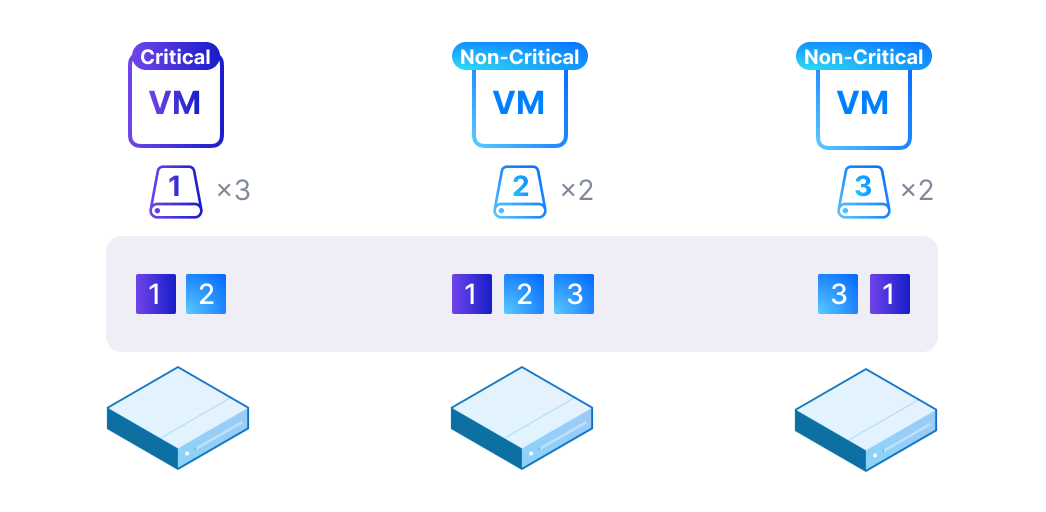 Network and Security
Everoute ensures network security for SMTX OS. It implements micro-segmentation in accordance with the zero trust security model and provides a set of distributed-firewall-based security policies to deliver flexible, fine-grained security control and address emerging cybersecurity challenges.
Network Micro-Segmentation
VMs are easily grouped by application security groups or labels. Granular security policies for VM are applied to granular network segments. Inter/inner segments traffic are granted with least privilege access.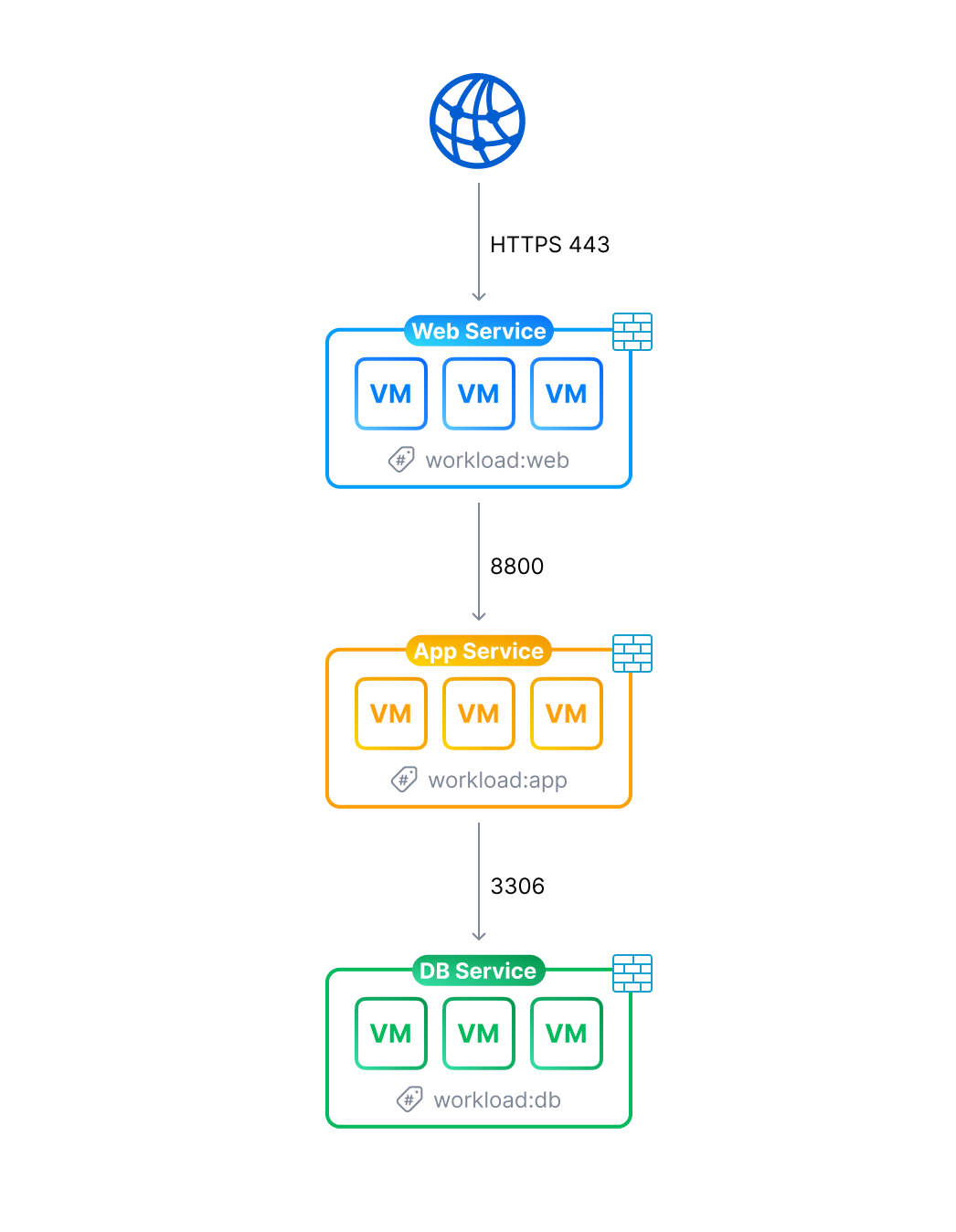 On-Demand Isolation or Diagnostics
Completely isolate infected virtual machines in time, blocking malicious attacks from spreading inside the data center; furthermore, set virtual machines into "diagnostic isolation" mode for debugging.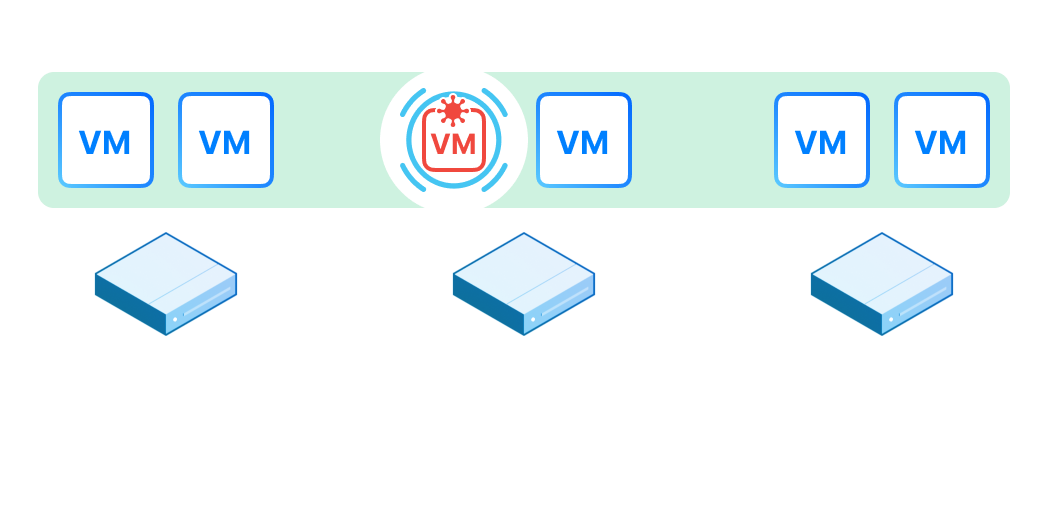 Sticky Policies
Security policies are always associated with virtual machines along the whole lifecycle, even with the migration, IP/MAC changing, label re-association or HA failover of the VM.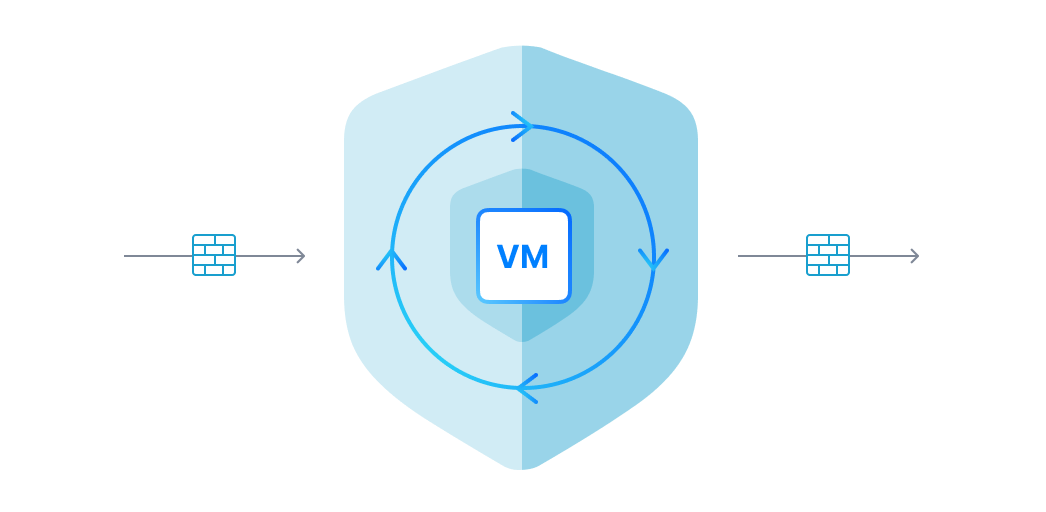 Backup and Disaster Recovery
SMTX OS helps build an all-around disaster recovery system consisting of active-active clustering, asynchronous replication, plus backup and recovery. Different levels of RPO and RTO and high reliability and availability enable enterprise-level data protection, thus guaranteeing the streamlined operation of the core business.
SMTX Backup & Recovery New Release
With SMTX Backup & Recovery, you can regularly and consistently make copies of virtual machines running on the ELF virtualization platform and restore them to their original or new locations at any given time.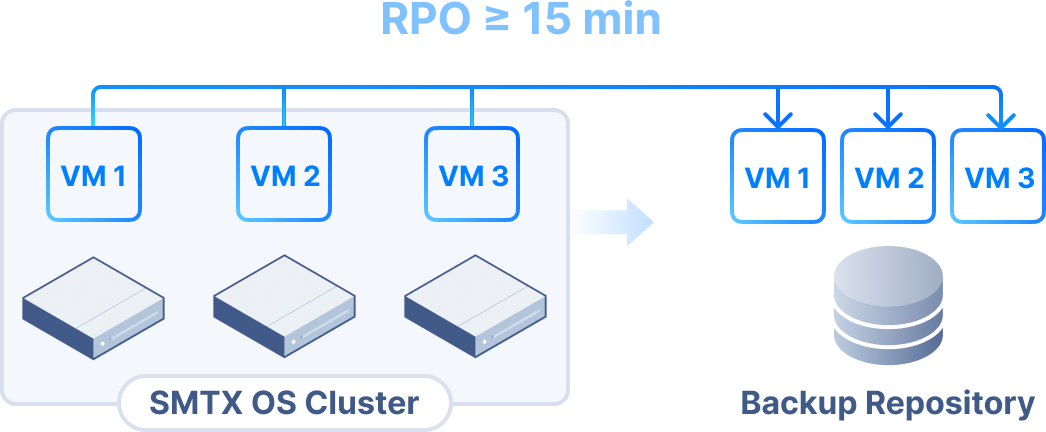 MetroX
Real-time data synchronization between two availability zones in a form of cluster stretching. When the primary availability zone fails, the service recovery capability with RPO=0 and minute-level RTO is provided.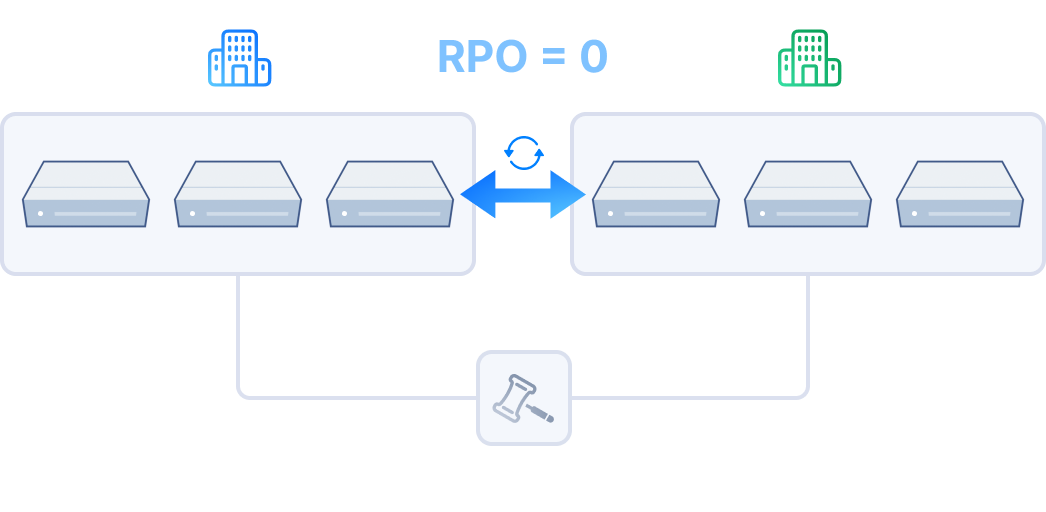 Asynchronous Replication
Reduce network dependence among different sites, replicate data among multiple clusters, and restore the business at a remote site with one click, to meet the data protection requirements with RPO ≥ 15 minutes.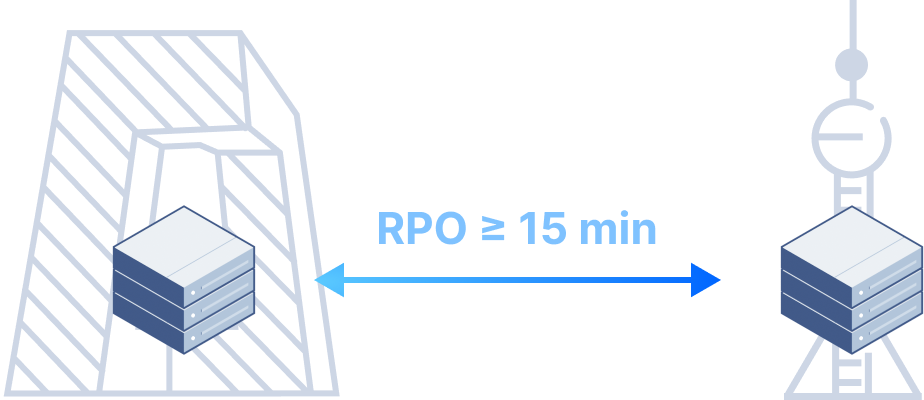 Flexible and Open
Converged Deployment
Based on VMware Virtualization
SmartX's distributed block storage ZBS can be deployed on the same node as VMware hypervisor to implement a hyper-converged solution.
When using this architecture, SMTX OS runs in a virtual machine (which is called SCVM) on ESXi.
The compute virtualization services are provided by VMware ESXi.
By passing through the RAID card (HBA/JBOD mode) to SCVM, all the hard disks on the servers will be taken over by SCVM, providing distributed block storage services.
Deployment Architecture
Overview
Mature Ecosystem, Combined Advantages
While using the familiar VMware virtualization and all its ecosystem (such as disaster recovery, anti-virus, etc.), you can obtain all the advantages of SmartX's hyper-convergence and distributed storage.
High Reliability
In addition to the high reliability of distributed storage ZBS, SMTX OS additionally provides SCVM high availability to ensure that, when SCVM fails, the virtual machines on the node can still access storage services.
Virtualization and Storage Decoupling
While being compatible with the rich versions of ESXi, SmartX's distributed storage modules can be upgraded individually at any time to obtain the latest version.
View SMTX OS Compatible ESXi Versions
MetroX Disaster Recovery
The MetroX disaster recovery solution can be implemented by combining the high availability of vSphere virtual machines and the MetroX features of distributed storage ZBS.
View the Architectural Diagram
Other Scenarios
How to Migrate the original VMware system which is based on traditional storage?
Easily migrate virtual machines from the VMware ESXi platform to the SMTX ELF platform with SMTX® Migration Tool.