Make VDI More Smooth and Economic, Easy to Manage and Scale with Stable and Powerful SmartX HCI
HCI Boosts VDI Experience
In traditional architecture, storage is too centralized and unable to increase concurrency. Desktops only respond slower as the number grows. HCI can significantly improve the VDI experience.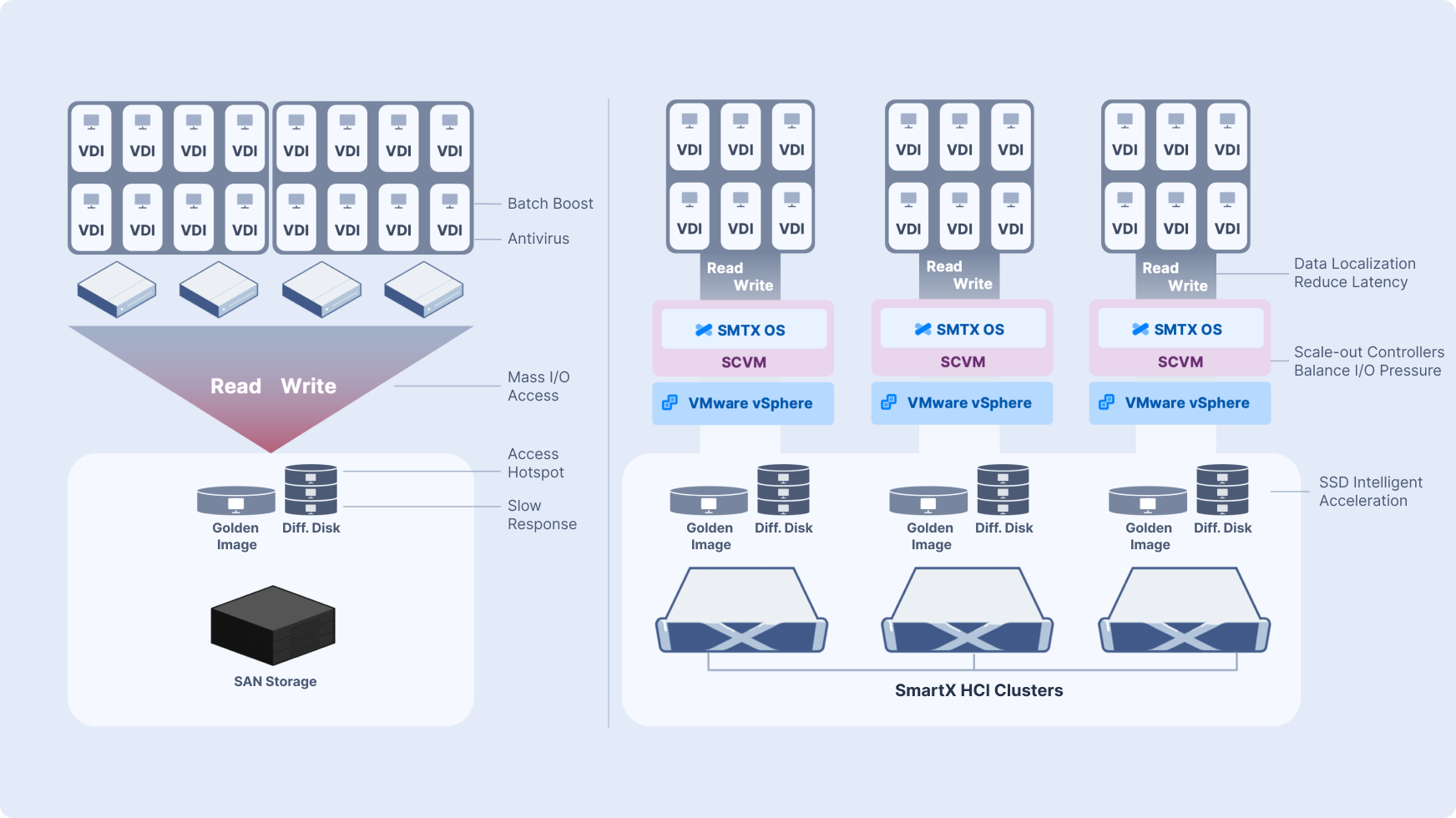 Supported Desktop Virtualization Softwares
Citrix Virtual Apps and Desktop (Originally XenDesktop and XenApp)
In this circumstance, you can deploy SmartX HCI with 2 choices of hypervisor: Citrix XenServer and VMware vSphere
VMware Horizon View
In this circumstance, you can deploy SmartX HCI with one choice of hypervisor: VMware vSphere
Features
Intelligent Cache Acceleration
Automatic tiering of hot and cold data. Cold data automatically sinks to HDD, and hot data remains in the cache layer, improving read/write performance, eliminating "boot storms".
Data Localization Access
Compute and storage come closer in HCI. Data localization allows desktops to read the local data of servers nearby, shortening I/O path, reducing storage access latency, and effectively improving user experience.
Multi-Controller Architecture
Enhances concurrent access and disperses IO pressure. Each SmartX HCI server is deployed with a virtual storage controller, with desktop storage access distributed to multiple controllers; the virtual storage controller can expand freely, making the large-scale expansion of desktops very easy.
Accelerate ROI of VDI
Increase desktop density by 15% using Intel®️ Optane™️ to deploy intensive office desktops.
Reduce memory cost by 25% with Intel®️ Optane™️ persistent memory and DRAM memory.
Fully meet the demand of general office VDI with smooth user experience.
Achieve higher desktop density with the same hardware cost.
Simplified Shared Desktop Solution, Reduced Cost
Zero cost on virtual desktop software license using Microsoft shared desktop solution.
Zero cost on hypervisor license using SMTX OS built-in virtualization ELF.
Shared desktop, greatly reducing hardware resource requirements.
Suitable for internal office desktops with basic needs.
Desktop Quick Launch, Simplified Management
Easy to deploy, greatly improving desktop launch speed.
Freely expand the desktop without worrying about storage performance.
Integrated HCI deployment with VMware vSphere, unified management with server virtualization.