Why Choose SmartX HCI?
Reliable and Stable
The core components have been tested and verified in the production environments of a large number of financial services and institutions over a long period. Stability is guaranteed.
Excellent Performance
End-to-end optimization from virtualization, storage to the network layer; the world's first ultra-low latency solution based on Optane Persistent Memory (PMem) and 100Gb high-speed network; long-term verification of competitive performance by actual customer business.
Flexible and Open
Supports multiple hypervisors including VMware ESXi, Citrix XenServer or SmartX's free native ELF; can be delivered either as all-in-one appliance or as standalone software, the latter supports mainstream server hardwares.
Simple and Agile
You can invest on-demand and expand online based on your business needs, starting with only three nodes.
What Does SmartX HCI Include?
Core Software
SMTX OS
SmartX HCI's core software, with built-in distributed block storage, native hypervisor and advanced components including Asynchronous Replication, Intra-City MetroX, Network and Security. Supports other hypervisors from VMware and Citrix, etc.
Learn about SMTX OS
Software and Hardware All-in-One Product
Halo Appliance
Halo hyper-converged all-in-one appliances are based on dual-socket or quad-socket mainstream servers with built-in SMTX OS hyper-converged software, providing users with out-of-the-box all-in-one product delivery.
Learn about Halo Appliance
Management Platform
CloudTower
CloudTower is the centralized, unified management software for SmartX infrastructure, providing rich management functions, user-friendly graphical interfaces (GUIs) and integrated interfaces for managing one or more hyper-converged clusters.
Learn about CloudTower
Pure software
Widely compatible with mainstream servers.
Flexible support for heterogeneous clusters.
The delivered product is the HCI software SMTX OS.
All-in-one appliance with pre-loaded SMTX OS
The overall service of both software and hardware makes the operations & maintenance easy and simple, by providing a complete, unified management.
The delivered product is the Halo Appliance.
Choose a suitable hardware platform to build a hyper-converged system?
Download the hardware compatibility list.
SmartX's Native Hypervisor ELF
You can have production-level virtualization capabilities
without extra fees.
The delivered product is the HCI software SMTX OS or Halo Appliance, without needing additional virtualization software.
VMware vSphere
Continue to use the complete ecosystem of VMware virtualization, while still enjoying the advantages of SmartX hyper-convergence.
The delivered product is SMTX OS or Halo Appliance, and users need to purchase additional VMware virtualization products.
CloudTower is a unified management software for SmartX infrastructure and a required product component of the SmartX hyper-converged system.
Learn about CloudTower
Deployment Architecture
SmartX Native Virtualization Solution
VMware vSphere Virtualization Solution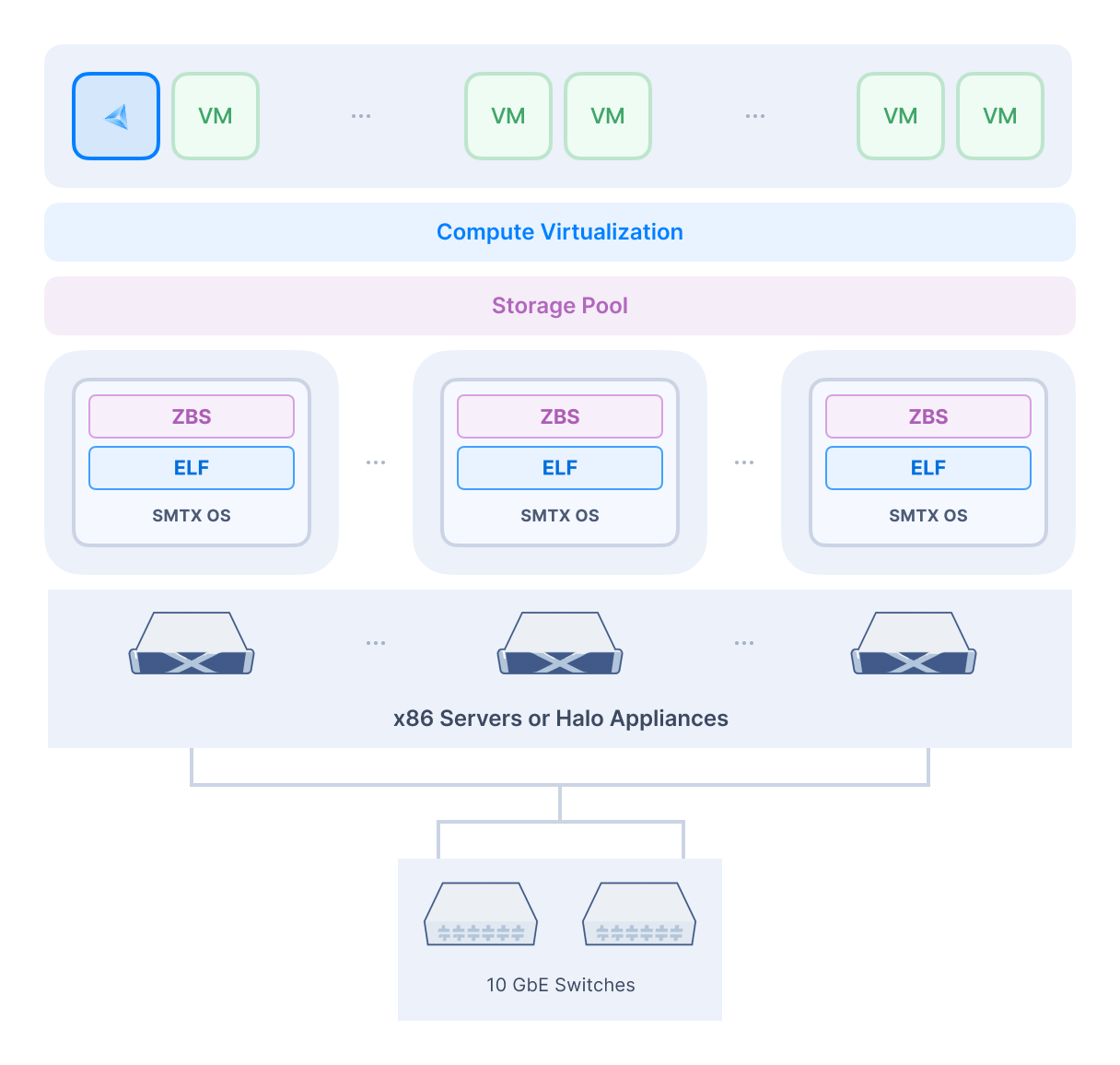 Deployment and Operation/Maintenance
Follow our interactive online tutorials and experience the simplicity and convenience from installation to operation brought by SmartX HCI.
Online Trial
Use SMTX Migration Tool to easily migrate VMware vSphere virtual machines to a cluster running SmartX's native hypervisor ELF.
Experience the fully automatic and non-interruptive upgrades. The upgrade of system core software is one of the most concerned functions for IT operation & maintenance personnel. The one-click upgrade of SmartX HCI software brings a fully automatic upgrade experience without business interruption, thus avoiding the risk of manual operations.
SmartX Hyperconverged Infrastructure
A product brief of SmartX Hyperconverged Infrastructure.