Resource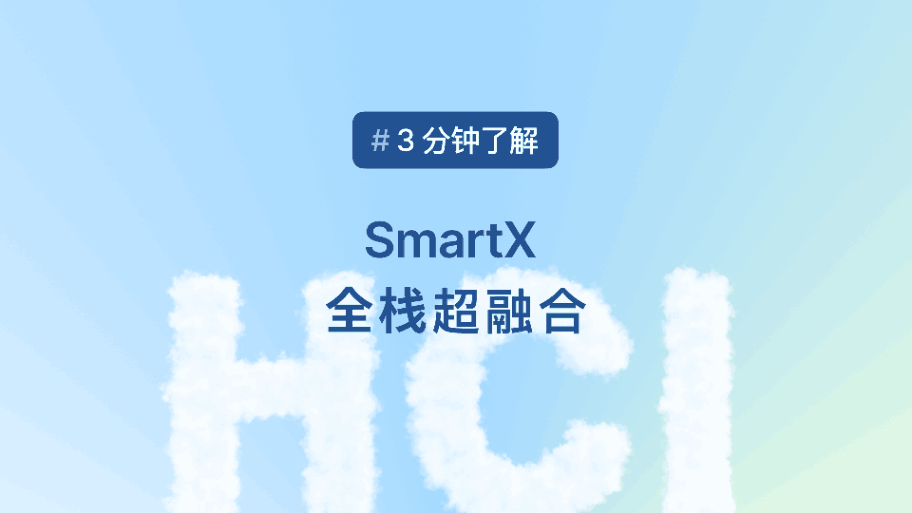 06:00
Introducing SmartX HCI in 360 Seconds
Do you find legacy infrastructure difficult to operate and maintain, requiring a lot of space and a significant initial investment? Explore how SmartX HCI and its 4 critical capabilities can address these issues.
Why SmartX HCI?
Choose SmartX HCI for its 4 core capabilities.
01.
Investment on Demand and Quick Resource Allocation
Start from 3 nodes
Scale out online by adding disks or nodes
Rapid deployment and scale-out within hours
02.
Support Multiple Hypervisors and Hardware
Support VMware ESXi and SmartX native hypervisor ELF
Compatible with industry-standard x86 servers
Support servers of different brands within one cluster
Provide all-in-one HCI appliances
03.
Support Mission-Critical Applications
Rich high availability features
End-to-end performance optimization
Network and security feature for "Zero Trust" strategy
Proven in production environments across financial services and other industries
04.
Intelligent Operations & Maintenance with Zero Downtime
"0" service disruption during scale-out and software and hardware upgrades
"0" manual operation in automatic data recovery and data rebalance after scale-out
"1" click in resource utilization, log collection, and other operations
"1" interface to manage multiple clusters and datacenters
Product Portfolio
Core Software
SMTX OS
The SmartX HCI's core software with built-in distributed block storage, native hypervisor, and a variety of advanced features including asynchronous replication, active-active clustering, backup and recovery, as well as network and security. Hypervisors from VMware and Citrix are also supported.
Learn about SMTX OS
Software and Hardware All-in-One Product
SMTX Halo HCI Appliance
Halo hyper-converged all-in-one appliances are based on dual-socket or quad-socket mainstream servers with built-in SMTX OS hyper-converged software, providing users with out-of-the-box all-in-one product delivery.
Learn about SMTX Halo HCI Appliance
Management Platform
CloudTower
CloudTower is the centralized, unified management software for SmartX infrastructure, providing rich management functions, user-friendly graphical interfaces (GUIs) and integrated interfaces for managing one or more hyper-converged clusters.
Learn about CloudTower
DOCUMENT
SmartX Hyperconverged Infrastructure
A product brief of SmartX Hyperconverged Infrastructure.
Pure software
Widely compatible with mainstream servers.
Flexible support for heterogeneous clusters.
The delivered product is the HCI software SMTX OS.
All-in-one appliance with pre-loaded SMTX OS
The overall service of both software and hardware makes the operations & maintenance easy and simple, by providing a complete, unified management.
The delivered product is the Halo Appliance.
Choose a suitable hardware platform to build a hyper-converged system?
Download the hardware compatibility list.
SmartX's Native Hypervisor ELF
You can have production-level virtualization capabilities
without extra fees.
The delivered product is the HCI software SMTX OS or Halo Appliance, without needing additional virtualization software.
VMware vSphere
Continue to use the complete ecosystem of VMware virtualization, while still enjoying the advantages of SmartX hyper-convergence.
The delivered product is SMTX OS or Halo Appliance, and users need to purchase additional VMware virtualization products.
CloudTower is a unified management software for SmartX infrastructure and a required product component of the SmartX hyper-converged system.
Learn about CloudTower
Deployment Architecture
SmartX Native Virtualization Solution
VMware vSphere Virtualization Solution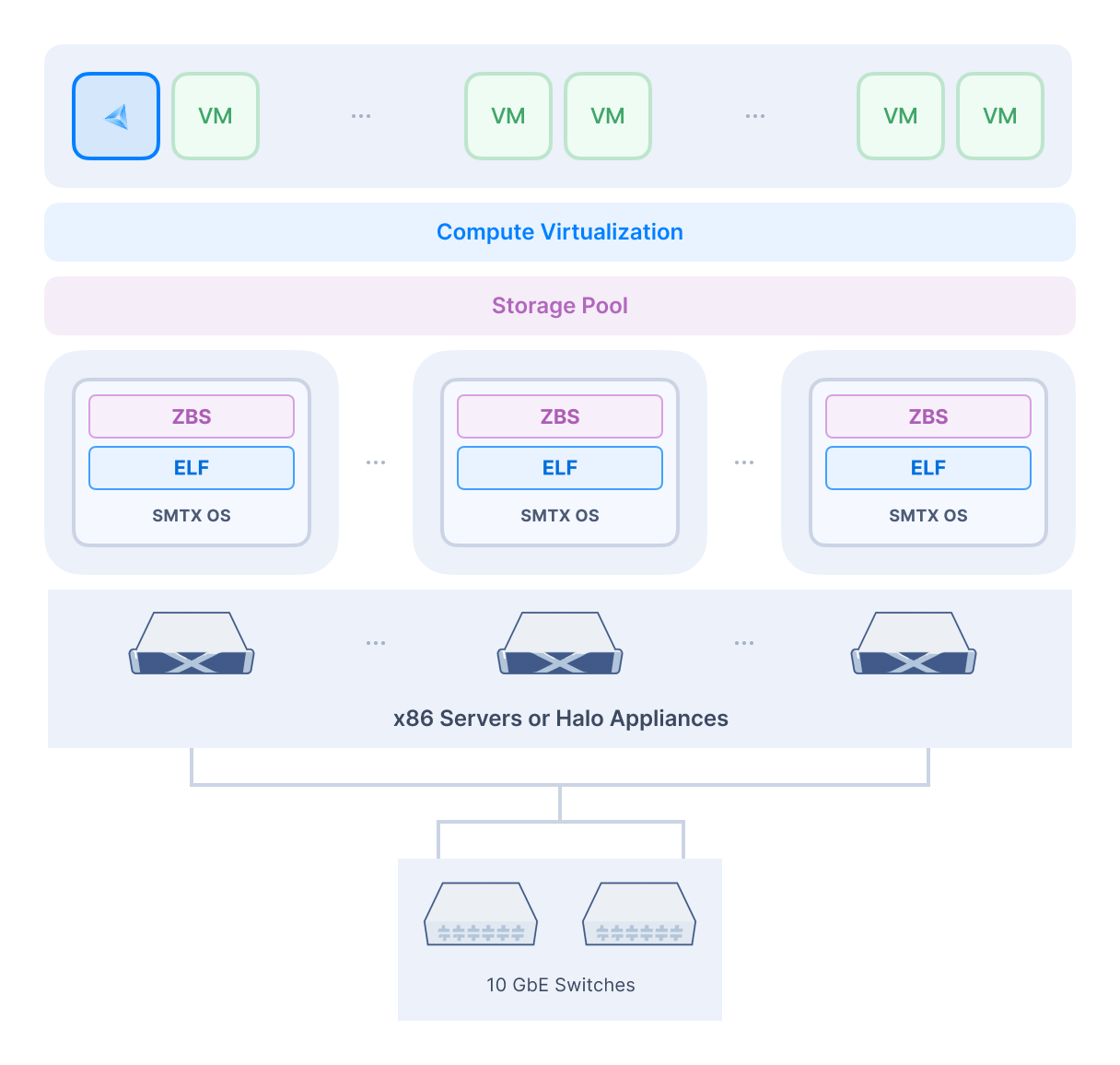 Optimized Experience
Follow our interactive online tutorials and experience the simplicity and convenience from installation to operation brought by SmartX HCI.
Online Trial
Use SMTX Migration Tool to easily migrate VMware vSphere virtual machines to a cluster running SmartX's native hypervisor ELF.
Experience the fully automatic and non-disruptive upgrades. SmartX HCI helps you achieve 1-click software upgrades and dynamic hardware upgrades with zero downtime.
Read More
Easily Build Modern Infrastructure with SmartX HCI
Start from 3 nodes and on-demand investment

Reduce budget and risk
Choice of hypervisor (VMware or SmartX ELF)

Compatible heterogenous servers / existing in-house environment

Rich functions (e.g. virtualization, storage, network & security, management, active-active, asynchronous replication)
Complete installation and configuration within 2 hours

Resources go online within 1 day

Save more than 50% rack space
Battle-tested stability in FSI production environment

End-to-end optimization drives ultimate performance

Large amount of cases to guarantee "production-readiness"
EASY O&M1
"0" service disruption during scale-out and software and hardware upgrades

"0" manual operation in automatic data recovery and data rebalance after scaleout

"1" click in resource utilization, log collection, and other operations

"1" interface to manage multiple clusters and datacenters