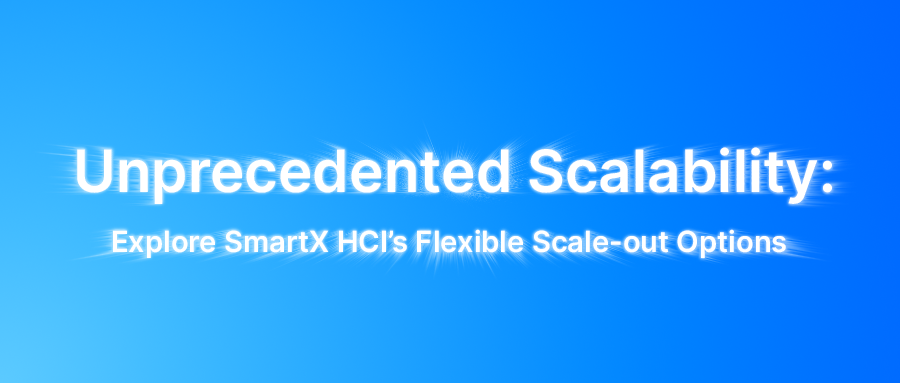 Due to the limitation of centralized storage, it's usually difficult and risky for the IT infrastructure based on legacy virtualization architecture to scale out. Hyperconvergence, on the contrary, enables flexible expansion and on-demand investment as it streamlines the architecture by converging compute virtualization and distributed storage. This is one of the most critical reasons why more enterprises are turning to HCI.
As a leading HCI innovator, SmartX is committed to provide HCI products and services with more flexible and of-your-choice scalability. SmartX HCI is compatible with universal servers and supports the integration of various mainstream hardware. In particular, for storage pools on HDDs or SSDs, SmartX provides customers with a wider range of servers and related devices and components to choose from.
In this article, we introduce three ways to achieve worries-free scale-out using SmartX HCI and compare the scalability of HCI clusters between SmartX and VMware. The three solutions can be summarized as follows:
Add storage devices to the node online

Reduced scale-out granularity enables the seamless adding of even one HDD or SSD to the storage pool.
Hot/cold data auto-tiering enables online scale-out and replacement of storage devices in cache tier and storage tier separately.
In terms of all-flash cluster, SmartX HCI leverages non-tiered architecture to increase the utilization of high-performance storage. All SSDs can be added or replaced online.
Data distribution can be rebalanced automatically after the scale-out, without the demand of manual operation and the risk of business interruption.

Expand compute and storage resource by adding nodes to the cluster online

Allow the integration of servers from different brands and with different models and configurations within the same cluster.
Data distribution can be rebalanced automatically after the scale-out, without the demand of manual operation and the risk of business interruption.

Unified management of storage pools using the central management platform CloudTower
SmartX HCI storage configuration and scale-out solutions
First, let's go through the minimal requirements of local storage (HDD or SSD) for each node in a SmartX cluster.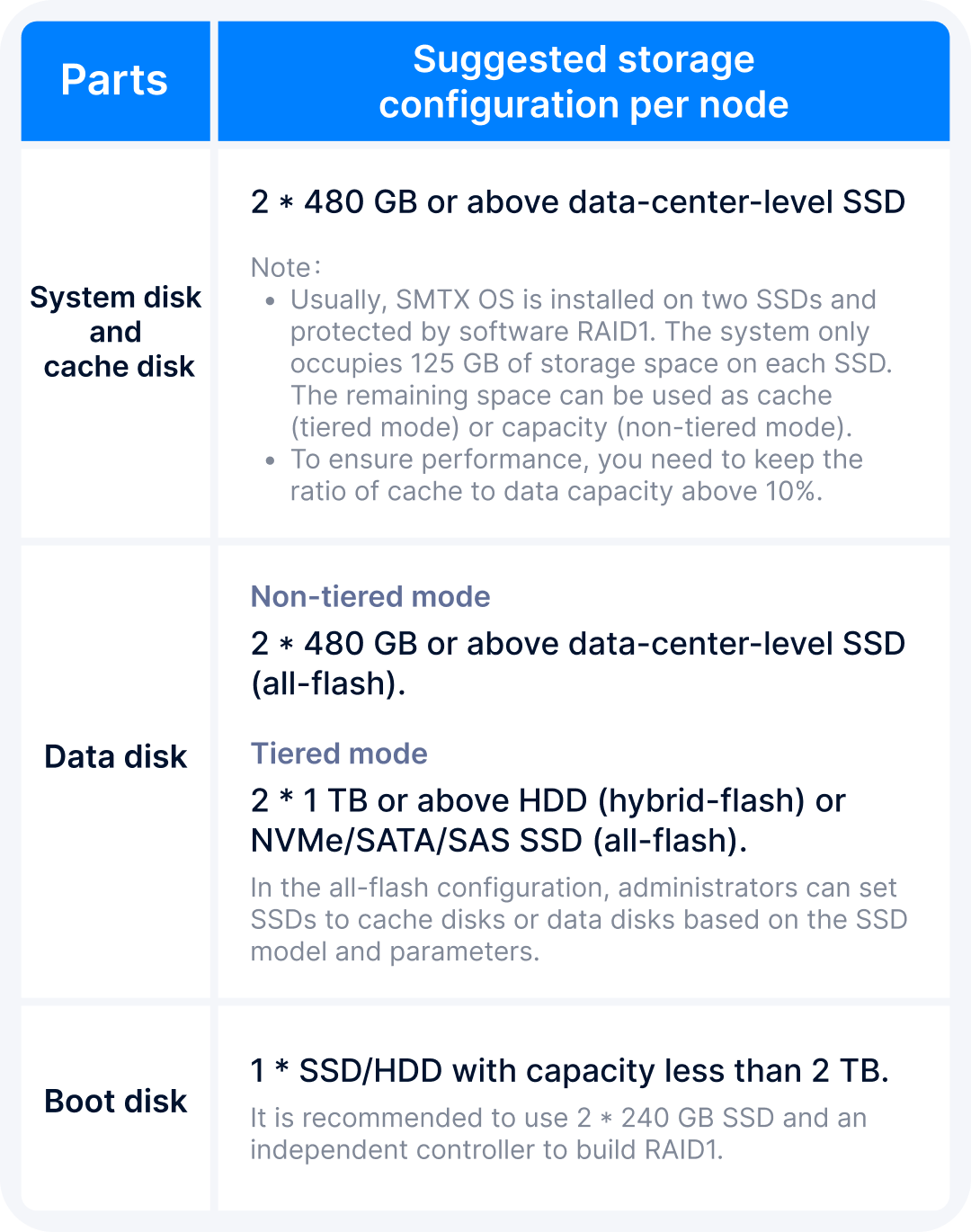 Notably, each cluster should consist of at least three servers configured as above, which is the minimal scale of a SmartX HCI cluster. If you need more storage and cache capacity, there are three solutions with SmartX HCI:
1.Add data disks and cache disks to the node
A disk's capacity will be integrated into the storage pool by adding the disk to any node in the cluster.
SmartX's distributed storage intelligently balances storage on each node and data disk. So each node can have disks with inconsistent capacities and each cluster has nodes with different total capacities.
For higher storage performance, we recommend using products with the same performance, for example, 7200 RPM for all HDDs, for all data disks on each node.
We also recommend using SSDs (as cache disks) with the same performance and endurance, for example, IOPS=50,000 and DWPD=3 for all SSDs, on each node.
While it's easy to construct a brand new cluster in which all nodes are configured with the same hard disks, this can be impossible for a legacy cluster throughout the expansion. However, SmartX allows users to build heterogeneous nodes where hard disks can have different models and capacities through independently-developed storage management and replica distribution technologies.
To add data disks to the node, please keep in mind that
In a SmartX hyperconverged cluster, the total capacity of a single node does not exceed 80 TB.
The capacity ratio between cache disks and data disks shall not be less than 10%. If the total number of disks on the data 45tier increases, you may need to add or replace cache disks accordingly.
The maximum total capacity of cache disks on a single node is 16 TB.
If all the data disks and cache disks on every node are under redundancy protection, users could also leverage the management panel and replace disks online without any data loss and business interruption.
2. Add nodes to the cluster
If the capacity can not be increased by simply adding disks to a server, users can add nodes to the HCI cluster, which also expands the CPU, memory and storage resources within the cluster.
Similar to the problem that users may encounter through the first solution, it can be difficult to keep newly-added servers and components the same as that in the legacy cluster. SmartX provides an alternative solution that makes the build and management of the heterogeneous cluster possible. Featuring the auto-balancing of storage resource in disks and nodes, SmartX HCI could integrate servers with different models and configurations into one cluster. Users could continuously enlarge the cluster by adding servers and benefit from new servers' higher performance and denser capacity.
Notably, if joined servers have different configurations, they should meet following requirements:
New servers must use the same CPU architecture as original servers, but it is not mandatory to use servers of the same brand.
All related components must meet the requirements on the SmartX hardware compatibility list.
The local storage devices (HDDs and/or SSDs) on the node must have the same structure (all-flash or hybrid-flash, tiered or non-tiered) as the servers in the existing cluster. However, it is not required to use storage devices of the same model and capacity.
Note: SmartX supports the following CPU brands: Intel, AMD, Kunpeng, and Hygon. SmartX supports the following mainstream server brands: Dell, Lenovo, Supermicro, HP, Huawei, Digital China, Inspur, H3C, Suma, and xFusion.
3. Unified management of multiple clusters and VM migration
Although SMTX OS (SmartX HCI software) could support maximumly 255 nodes and provide 6PiB storage capacity per cluster, the management becomes more complex as the cluster grows. Moreover, when it comes to classifying storage pools according to business categories, controlling cluster growth, or preventing the simultaneous breakdown of multiple nodes in a cluster, scale-out by adding new clusters can be a preferable choice.
The unified management of multiple clusters can be achieved through SmartX's central management platform CloudTower. It supports horizontal expansion and enables enterprises to manage a larger resource pool. Besides, CloudTower reduces O&M scale through the separate management of clusters, which increases cluster availability and business continuity.
Meanwhile, VMs can be migrated across clusters managed by CloudTower 2.0 through hot migration, cold migration and staged migration. For more information, please refer to SmartX Releases CloudTower 2.0: Enhances Simplicity and Security for Operations & Maintenance.
Scalability comparison: SmartX vs. VMware
Here, we compare the scalability of SmartX and VMware HCI in terms of technology and scaling requirements.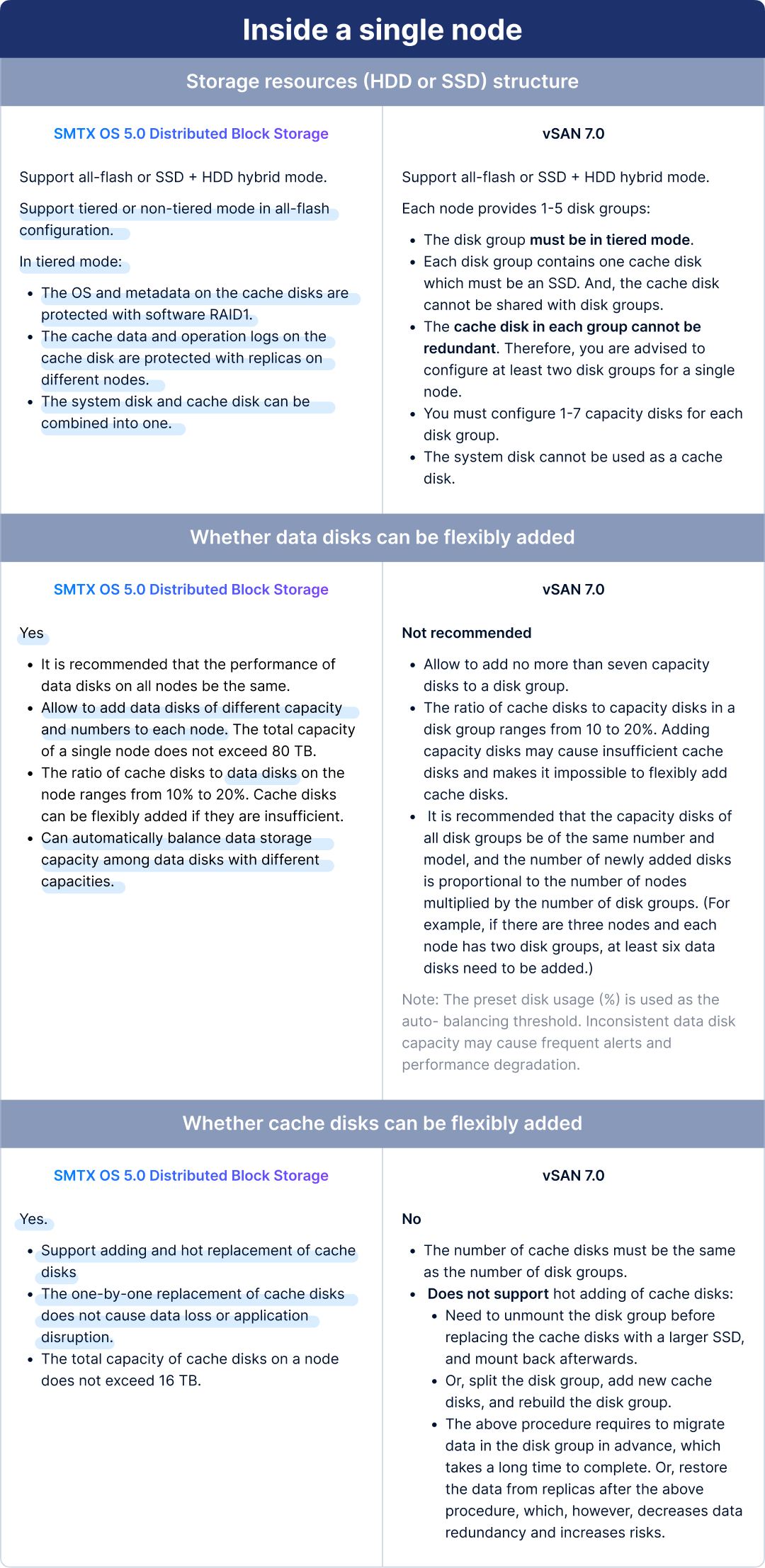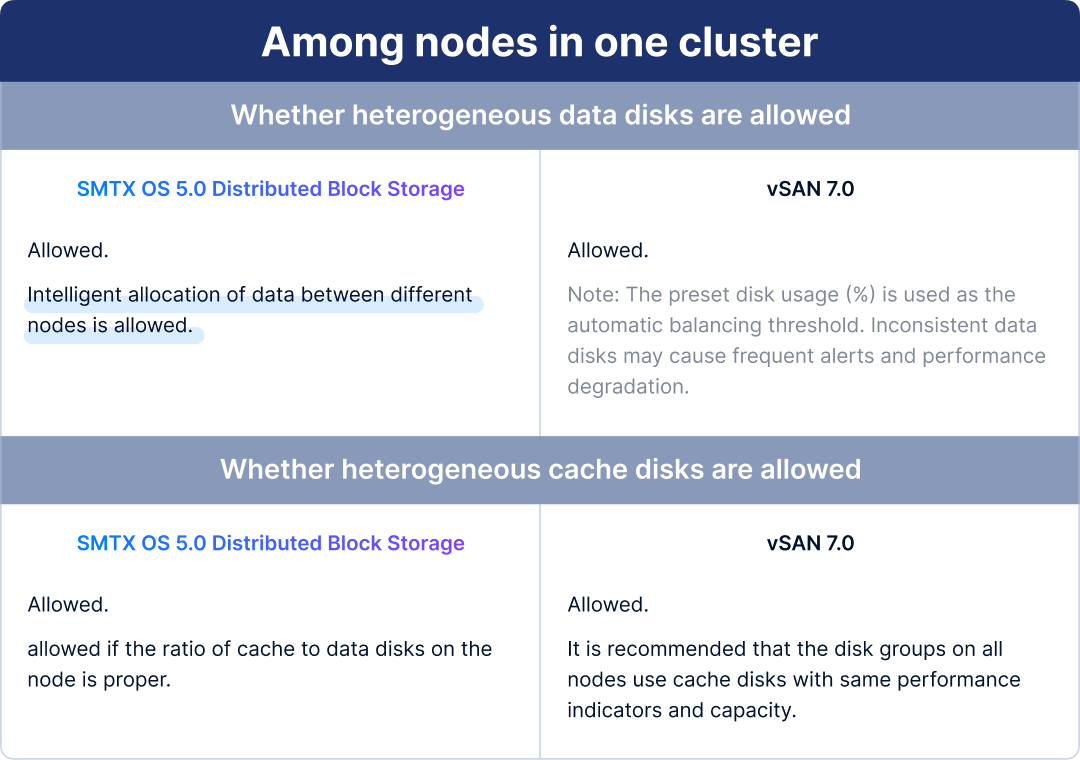 In short, if nodes in a vSAN cluster cannot achieve disk group and node consistency, the overall I/O performance of the cluster may decrease significantly. Therefore, the design of a vSAN cluster is based on hardware correspondence. While clusters can run on inconsistent hardware configurations for short periods of time, they cannot support enterprise-level performance and reliability. In another way, SmartX-HCI-supported clusters provide multiple scale-out choices, with the high reliability proven in the production environment.
How SmartX HCI achieves flexible and of-your-choice scalability
The secret of SmartX HCI's scalability lies in its distributed block storage technology. It is based on LSM, an independently developed distributed file system, that pools local hard disks (SSDs + HDDs) on servers. Distributed storage resources are organized by metadata services developed by SmartX. Metadata records information about local disk resources of all nodes in a cluster, enabling fine-grained and precise control over storage resource distribution in a HCI cluster. This not only improves I/O performance, but also increases flexibility through, for example, configurable storage policies, distributed replicas, data storage and I/O locality, and data auto-balancing among nodes, etc.
Besides, with SmartX HCI, users can enjoy a streamlined and elastic O&M experience. The cluster starts with only 3 nodes, and IT professionals can easily accomplish scale-out by simply inserting or adding new disks during business hours. In addition, the cluster expansion can be achieved with zero downtime, with the quick auto-balancing of data distribution.
Case Study
Currently, more and more enterprises have achieved on-demand investment and best-practice configurations through SmartX HCI.
For example, to keep up with the rapid business growth, Minmetals Futures used SmartX's native hypervisor ELF to scale out 3 times (from 4 nodes to 10 nodes) and gradually replaced legacy Supermicro servers with PowerEdge R740xd. Through the hardware upgrade, the company refreshed servers one by one and didn't encounter any outages. Besides, Minmetals Futures leverages CloudTower to collectively manage 7 clusters located in 5 data centers. For more information, please refer to How to achieve seamless and zero-downtime upgrade of IT infrastructure software and hardware?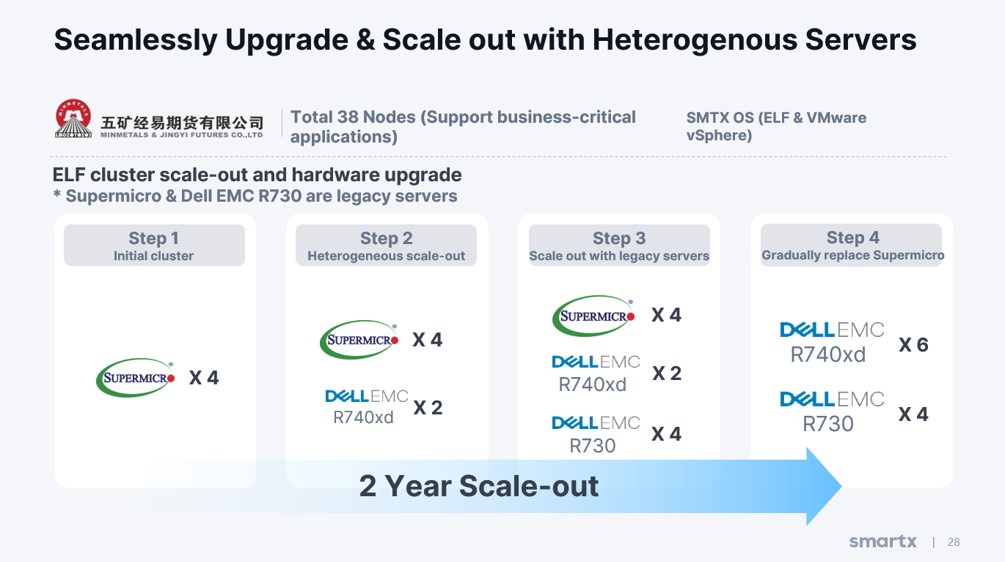 Continue Reading
Social Media
For more updates, join us on Slack and follow
@SmartX Inc.
on social media.