A recent joint lab testing by SmartX and Intel finds out that SMTX OS, core software of SmartX, combined with Intel 2nd Gen Xeon Scalable Processors and Intel Optane SSD DC P4800X can create a hyperconverged infrastructure that produces significant system performance gains and reduces the latency for low IO queue depth, mission-critical workloads such as Oracle Database.
As a leading hyperconverged infrastructure (HCI) provider, SmartX closely collaborates with industry leaders in order to apply the most advanced hardware innovations into the HCI products. The joint review is carried out to showcase how SMTX OS orchestrates with Intel Optane SSD DC P4800X to enhance the system performance for Oracle Database.
SMTX OS is a simple yet powerful solution that enables the buildup of an agile and efficient modern data center. It features powerful built-in virtualization ready for production applications. The enterprise-grade distributed block storage guarantees a high-performance, stable, reliable virtualized environment. 
SMTX OS also provides data protection needs at all levels with asynchronous/synchronous backup/disaster recovery solutions. At the same time, its single pane of management provides end-to-end visibility, combined with rich monitoring data and intuitive presentation, simplifying operation and maintenance tasks.
Optane SSD  Overview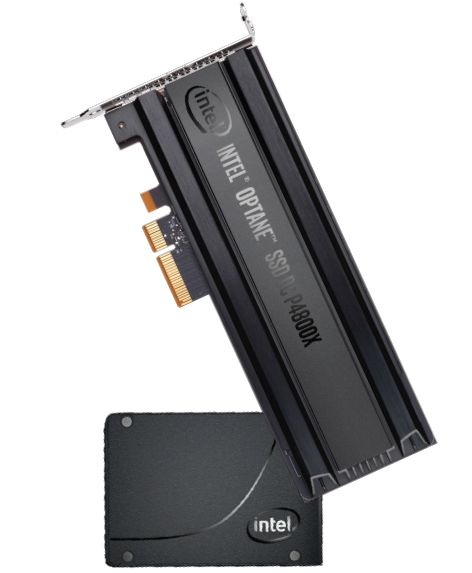 Intel Optane SSD DC P4800X is the first product to combine the attributes of memory and storage. With an industry leading combination of high throughput, low latency, high QoS and ultra-high endurance, this innovative solution is optimized to break through data access bottlenecks by providing a new data storage tier. 
The DC P4800X accelerates applications for fast caching and fast storage to increase scale per server and reduce transaction costs for latency sensitive workloads. In addition, the DC P4800X enables data centers to deploy bigger and more affordable datasets to gain new insights from large memory pools.
The joint lab testing uses Intel P4600 to evaluate the performance difference between 3D XPoint and NAND products.
Test Environment
1. Hardware environment
2.Software environment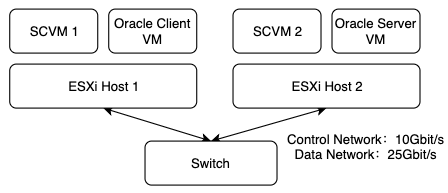 HammerDB, an open source software is leveraged for the benchmarking test of Oracle Database.
Test Result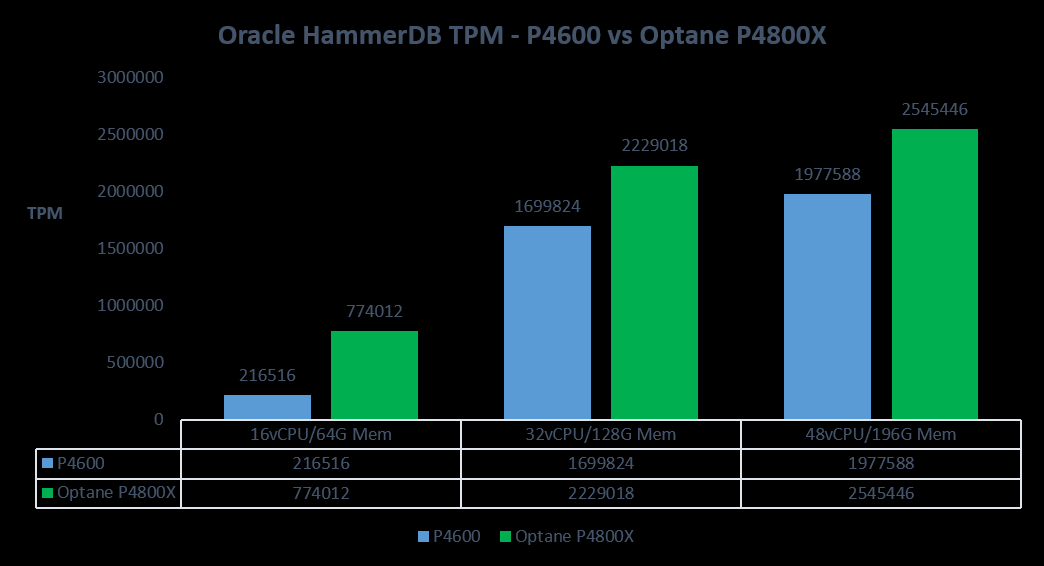 The testing result as above showcases the HammerDB TPM differences between Optane P4800X and P4600.
1.Under the configuration of 16vCPU/64G Mem, P4800X achieves 3 times TPM as compared with P4600.
2.Under the configuration of 32vCPU/128G Mem, as well as 48 vCPU/192 G Mem, the TPM of P4800 is 30% higher than P4600.
3.At the same time, P4800X delivers more stable TPM benchmarking than P4600. There is no significant performance fluctuations or performance loss when more vCPU/Mem is consumed during the test.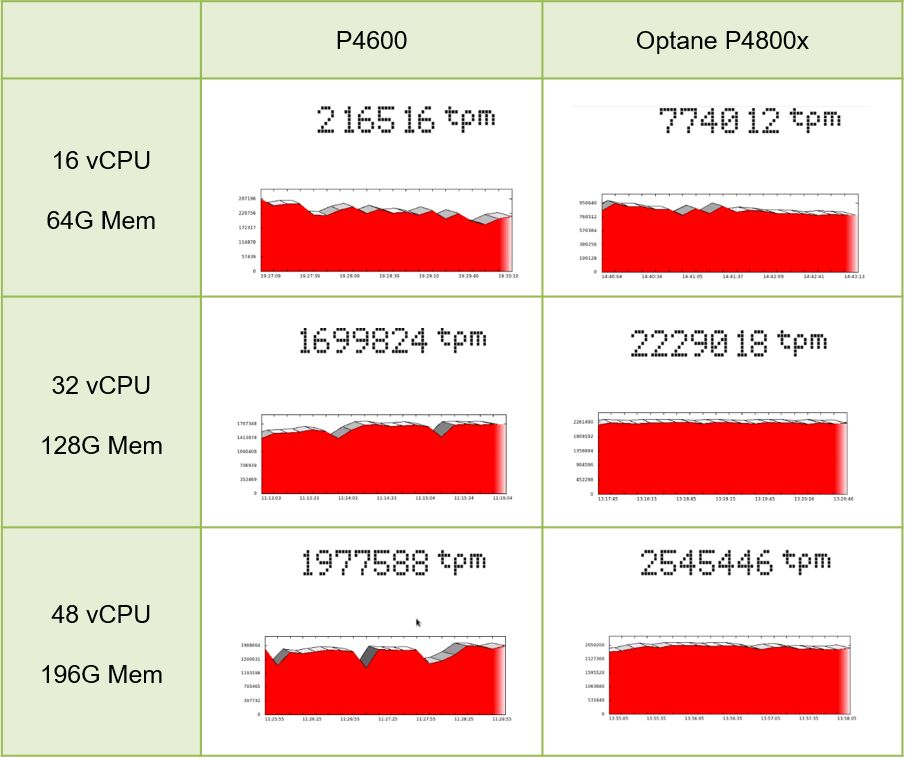 Applicable Scene Recommendation
In conclusion, the lab test proves that SMTX OS + Optane P4800X demonstrates extremely high performance for Oracle Database, as compared with NAND SSDs. The solution can be applied for more low-queue depth, latency-sensitive and mission-critical workloads as well. With its high endurance, the life of the DC P4800X is extended, making it suitable for write-intensive applications such as online transaction processing, write caching, boot, and logging.
Continue Reading
Social Media
For more updates, join us on Slack and follow
@SmartX Inc.
on social media.