Leading Hyper Converged Infrastructure (HCI) provider SmartX announces that it partners with Rancher Labs to launch a joint solution which delivers production-proven distributed block storage and HCI platform for container architecture, at The 3rd Enterprise Container Innovation Conference (abbreviated as "ECIC") held by Rancher Labs. 
The joint solution enriches the applications of containers in more production environments, and will help more enterprises to leverage container technology and HCI to simplify enterprise IT DevOps and boost productivity.
Survey shows that container technology is getting popular very fast globally. According to Gartner, more than 75% of global organizations will be running containerized applications in production environment by 2022, which represents a significant increase from less than 30% today. However, the application of container technology for production brings challenges to storage, network topology and security. A user survey found out that persistent storage is the No.1 challenge for containerization. At the same time, most of the containers still run on virtualized platforms while the platforms based on traditional storage architecture are complicated and expensive for small and big businesses alike.
SmartX and Rancher address the pain points of the enterprises together by integrating their expertise across HCI and container management to build an HCI platform for containers in production environment. 
Specifically, SMTX OS, the core operating system of HCI self-developed by SmartX, supports both Docker and Kubernetes for big scale virtualization and containers. SMTX OS provides industry leading distributed block storage services, built-in KVM-based virtual computing platform, as well as simple, intuitive DevOps management interface.With SMTX OS, the container applications will be supported by reliable, high-performing, scalable and easy-to-use IT infrastructure, which not only meets the requirements of the production environment, but also reduces complexity and TCO for container, orchestration, virtualization and distributed storage.
At the same time, Rancher's full software stack enables enterprises to manage multiple Kubernetes clusters across any infrastructure, including private, public clouds, virtual machines and physical machines, etc. Rancher's tools allows users to manage containers both on-premises and in the cloud for Docker and Kubernetes to truly deliver CaaS for enterprises.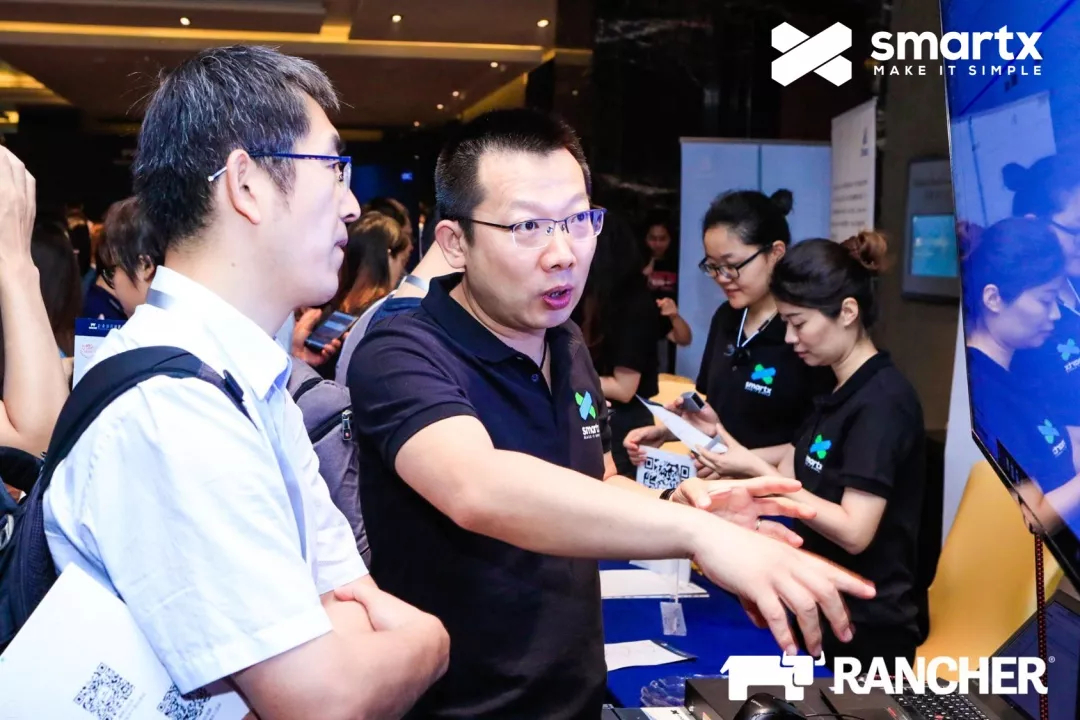 With the two companies announcing the collaboration, users are now able to allocate resources to automatically deploy Kubernetes Clusters through Rancher on SmartX HCI platform. With the solution, the two companies build an innovative and a full stack solution to deliver container, orchestration, virtualization, storage and management. The joint solution not only leverages the scalability, ease of management of HCI, but also the high-resource utilization and high deployment speed of containers, which enhances the performance of IT, improves productivity, and simplifies the management and operation to empower an efficient, lightweight and agile container infrastructure platform for production environment. At the same time, users may also utilize the distributed storage provided by SMTX OS to enable persistent storage on Kubernetes. 
As a leader of HCI solution, SmartX is dedicated to building a new generation of software-defined IT infrastructure based on x86 hardware platform. With its user-oriented R&D strategy, SmartX has achieved many success cases in financial, manufacturing and healthcare verticals, including Taikang Life, Guotai Junan Securities, Haier Group, BOE, etc.
With its open ecosystem partnership program SEPP (SmartX Ecosystem Partnership Program), SmartX has also established collaborations with Citrix, Mellanox, Commvault, Rancher, etc, in order to meet with the diversified IT infrastructure needs from international and domestic clients. Collaboration with Rancher is a new initiative of SmartX in container field which the company will keep supporting in the future. SmartX will continue to work for production-ready container environments to accelerate users' business innovation.
Continue Reading
Social Media
For more updates, join us on Slack and follow
@SmartX Inc.
on social media.