SmartX, a modern IT infrastructure innovator, announced today that it was recognized as Asia/Pacific Customers' Choice in the 2022 Gartner Peer Insights "Voice of the Customer": Hyperconverged Infrastructure Software. This is the 2nd year that SmartX has been named an APAC Customers' Choice in this field.
"Being recognized as a 2022 APAC Customers' Choice for Hyperconverged Infrastructure Software for us is the reflection of our commitment to delivering world-class products and customer services," said Yinan Ku, CMO of SmartX. "We will continue to innovate for the purpose of making IT simple for our customers and modernizing the IT infrastructure." 
This recognition is based on feedback and ratings from 80 verified end-user professionals who have experience with SmartX products in the 18-month period ending on 28 February 2022. Overall, SmartX rated 4.8 out of 5 stars, with 97% reviewers saying they would recommend SmartX products. 
SmartX has received 123 reviews since the market began to be tracked within the Gartner Peer Insights platform and holds an average score of 4.9 out of 5 as of 5 May 2022.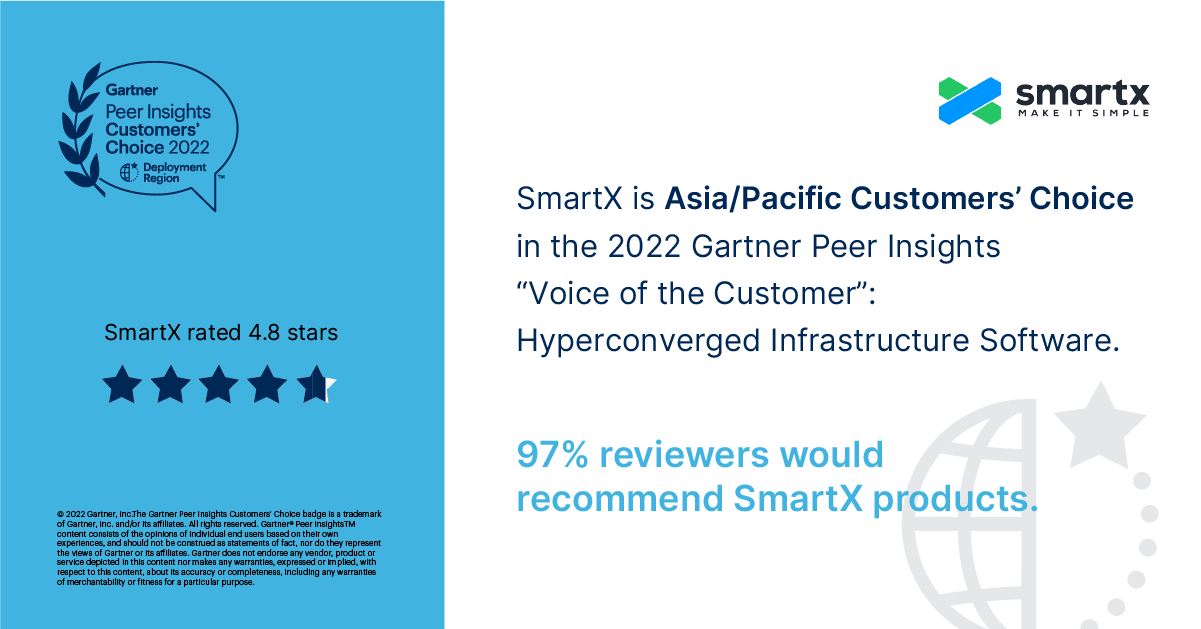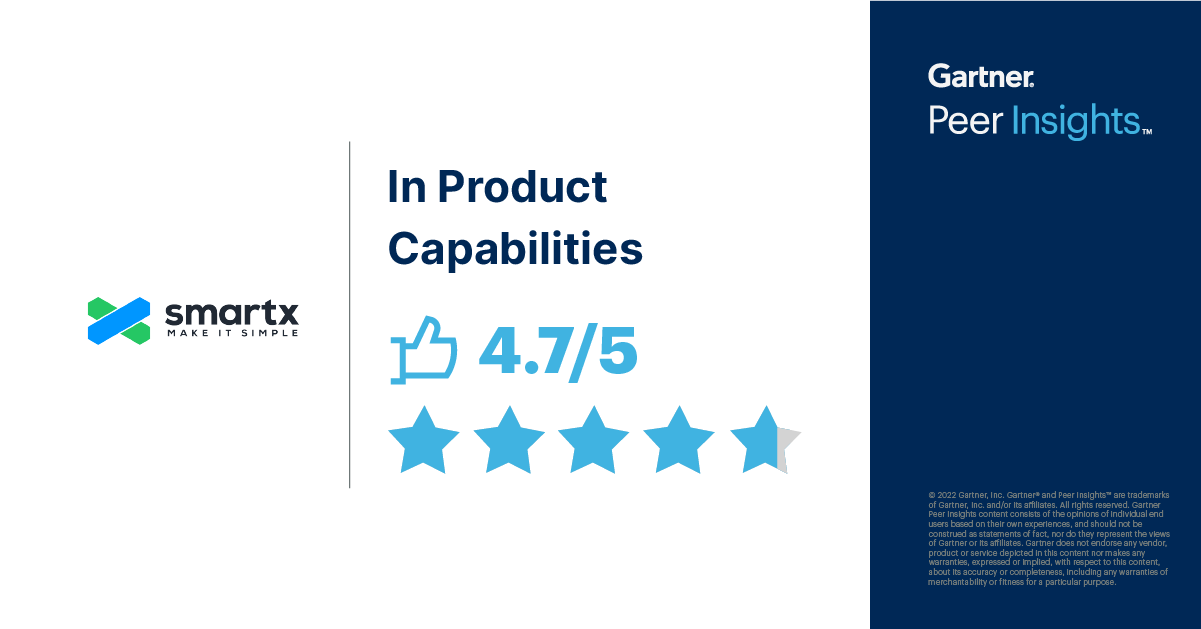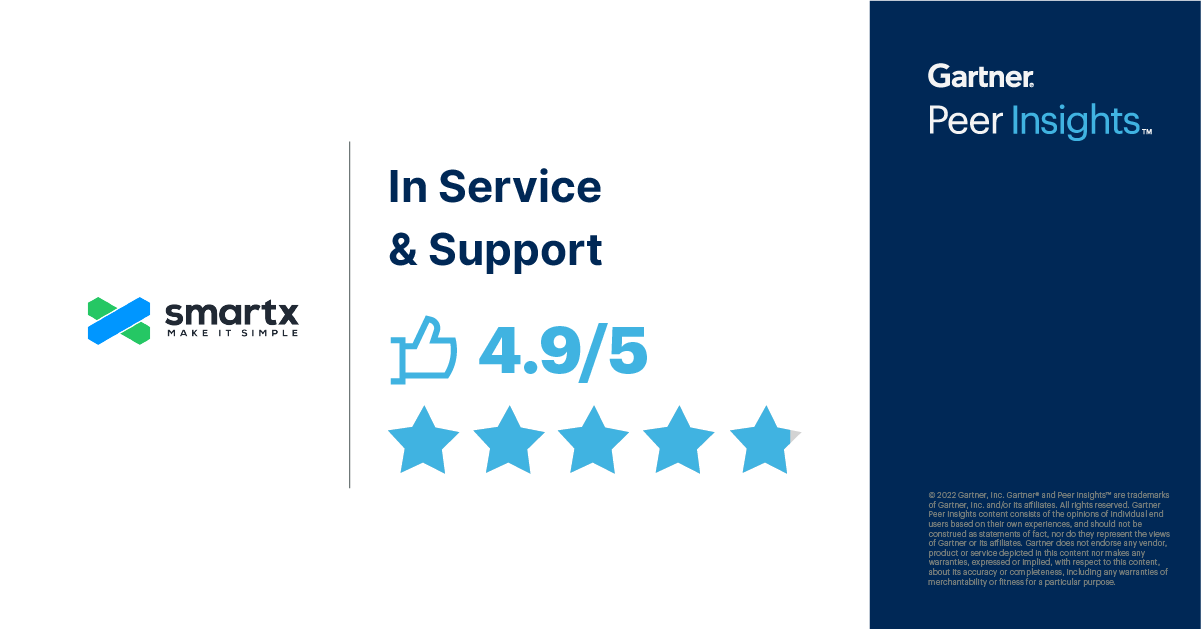 SmartX customers said:
Stable And Reliable Products & Professional And Efficient Services
1. The product provides production-ready capability in terms of performance and stability. We have used it for almost a year and have not had any problems. This has strengthened our confidence in scaling up its use in our production environment. 2. Because we are using it in a production environment, SmartX's proactive inspection services have enabled us to keep track of the status and prevent the risk of the hyper-converged cluster and provided guarantee for the stable operation of the production environment. 3. Our system changes usually take place during nighttime when we are not at work. No matter how late it is, SmartX's service engineers can always give us a timely response and provide solutions to our problems.
— IT manager in banking industry
The Best Elastic Architecture For Elastic Business
The demand for IT resources in the brokerage industry fluctuates with the stock market, which also increases the elasticity of our resources demand. Our development testing and production environment continue to require new resources, but the deployment and delivery of resources on the traditional architecture is extremely inefficient, which is unable to meet our fast-growing business demands. With rapid deployment and elastic resource expansion, hyper-convergence can well satisfy our needs. Under the same hardware conditions, the performance of SMTX hyper-convergence is even better, which greatly increases the efficiency of our work. SmartX's proprietary financial closed-loop service, from IT planning and consulting in the preparatory stage, to the stage of implementation and deployment, and to the after-sales support, have all given us a good user experience.
— Operation and maintenance engineer in securities and invest industry
Hyper-Convergence Accelerates The Construction Of Private Cloud Resource Pool
Considering the construction of our new plant and the movement between old and new plants, we need an underlying architecture that is easy to operate and maintain to ensure the continuity of business. In late 2000, we started to approach hyper-convergence manufacturers and, after a thorough technical exchange with SmartX, we began testing the product in May 2000, and its capabilities totally met our expectations. In the ring test with other manufacturers under the same hardware conditions, SmartX demonstrated excellent performance, and its platform is also more stable and easier to operate. It has helped us build the infrastructure of private cloud, and bring down IT operation & maintenance cost, and also reduced the complexity of operation & maintenance.
— IT engineer in manufacturing industry
High Performance, Virtualization & Hardware & Accessory-Level Coupling Architecture
We came to know about SmartX from a case. Through earlier communication and more than 3 months of testing, we have fully verified the technical capability, implementation and deployment capability, service capability,data migration capability, and performance stability of the product, all of which are up to our expectations. In terms of the functions of the functions of virtualization platform, it has better performance than the KVMs in our bank. Meanwhile, it can be used on the servers of different brands, and the coupled architecture is compatible with the situation in our bank. During the deployment and migration process, SmartX's technology team demonstrated excellent technical capabilities, ensuring the smooth migration of data and business, and the closed-loop service system tailored for the financial industry was widely recognized in our bank.
— O&M engineer in banking industry
More customer reviews on SmartX are available here. 
Gartner, "Gartner Peer Insights 'Voice of the Customer': Hyperconverged Infrastructure Software," Peer Contributors, 28 April 2022.
Notices and Disclaimers: 
Gartner® and Peer Insights™ are trademarks of Gartner, Inc. and/or its affiliates. All rights reserved. 
Gartner® Peer Insights™ content consists of the opinions of individual end users based on their own experiences, and should not be construed as statements of fact, nor do they represent the views of Gartner or its affiliates. 
Gartner does not endorse any vendor, product or service depicted in this content nor makes any warranties, expressed or implied, with respect to this content, about its accuracy or completeness, including any warranties of merchantability or fitness for a particular purpose.
About Gartner Peer Insights:
Gartner Peer Insights is a free peer review and ratings platform designed for enterprise software and services decision makers. Reviews go through a strict validation and moderation process in an effort to ensure they are authentic. Now it covers 425 software and services markets, generating 450,000 reviews on more than 18,000 products.
Continue Reading
Social Media
For more updates, join us on Slack and follow
@SmartX Inc.
on social media.