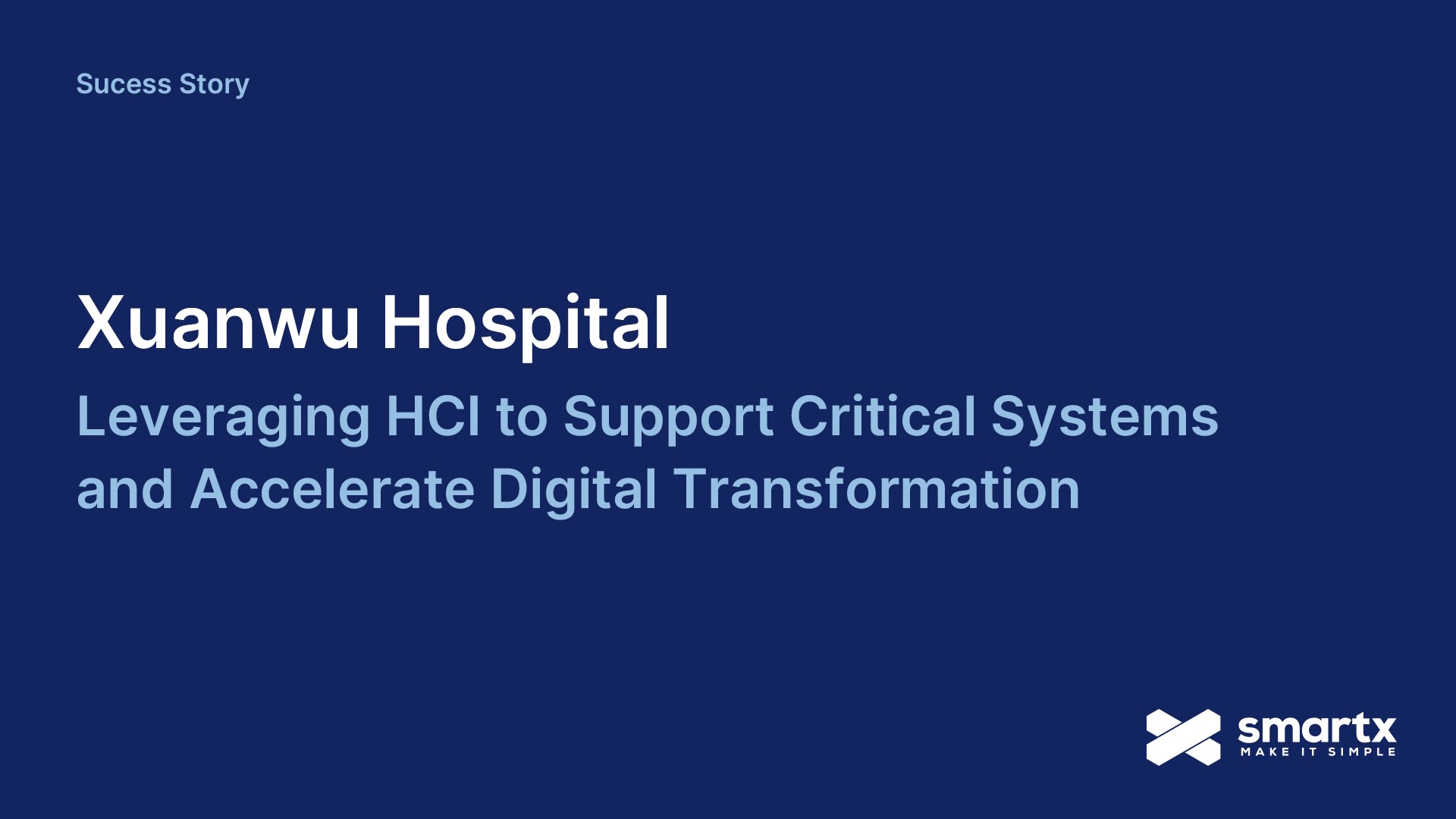 Founded in 1958, Xuanwu Hospital Capital Medical University is a large Grade 3 and Class A comprehensive hospital featuring clinical practice and research on neuroscience and gerontology. Committed to providing professional and convenient patient services, Xuanwu Hospital is more than delighted to embrace IT innovation, and leads the healthcare digital transformation through the adoption of SmartX HCI.
In this interview, Liang Zhigang, Director of Information Center of Xuanwu Hospital, shared the overall achievements of digital transformation at Xuanwu Hospital, reasons for choosing HCI as IT infrastructure and SmartX as HCI vendor, and how SmartX HCI provides support to mission-critical applications as well as digitalization of hospital services.
Click here to watch the interview.
The following is the transcript of the interview.
Hello, everyone! Very glad to have this interview. I'm Liang Zhigang from the Information Center of Xuanwu Hospital Capital Medical University.
Xuanwu Hospital is a Grade 3 and Class A public hospital featuring neuroscience and gerontology. The hospital has been working on digital transformation since the 1990s. By that time, the focus was put on the construction of financial systems. Since 2010, to comply with government regulation, we have been modernizing information systems with electronic medical records as the core.
Within the last two years, we promoted the digital transformation of the hospital roughly through the following aspects.
First, to meet higher authorities' requirements of information system modernization, we have enhanced information interconnectivity and the EMR system. Particularly, in the last year, Xuanwu Hospital achieved Grade 5 and Class B in the national review of hospital information interconnectivity. Also, we are listed as an EMR-Grade-5 hospital by National Institute of Hospital Administration, NHC. This is the first step of Xuanwu Hospital's digital transformation. Put another way, we adopt a review-driven principle to construct, transform and apply information technologies.
Our second focus is patient services. The top priority of our hospital is to provide high-quality medical services for patients. Since the beginning of the COVID-19 pandemic, we have been promoting online diagnosis and treatment. It is very important to satisfy patients' demands for online services, to break down the fence or boundary between online and offline services, and to decouple patient services and physical contacts. The ultimate goal is to optimize the workflow of our services so that patients can save unnecessary visits.
Thirdly, Xuanwu Hospital is more than happy to embrace new technologies that can contribute to digital transformation. These include hyperconvergence, public cloud, private cloud, distributed compute and storage, etc. In my opinion, these technologies are very helpful to develop new hospital services and explore rich application scenarios.
Xuanwu Hospital introduced HCI for several reasons.
First, HCI solves the problem of compute and storage resources pooling, i.e., the problem of resource pool construction. Compared with the traditional architecture that involves physical server, storage and fiber switch, and legacy virtualization, the biggest advantage of HCI, I think, is to pool compute and storage resources, managing overall resources in a software-defined approach.
Another advantage of HCI, in my view, is its elastic scalability, i.e., capability to expand horizontally. This is because the progress of digital transformation of a hospital is carried out at its own pace and can be adjusted every year. However, traditional architecture and legacy virtualization often require one-time investment, making it difficult to scale out on demand. With HCI, on the contrary, we could flexibly expand capacity of compute and storage depending on annual plans, tasks, procedures and budgets, fully achieving the requirements of digital transformation.
Moreover, ensuring hospital systems' continuity and reliability also drives us to adopt HCI. As far as we know, a hospital shall provide services 24/7. HCI provides an effective solution by preventing the problem of single point of failure in traditional architecture and legacy virtualization. Through a multi-replica mechanism, HCI safeguards data reliability and system continuity. Meanwhile, if one compute or storage node fails, the overall service will not be significantly affected. This facilitates the hospital to provide services as usual even if unexpected failures happen.
Last but not least, HCI can reduce the complexity of operations and maintenance. This is because the number of IT professionals working at our hospital will not exceed 30 as the core business of a hospital is to provide medical treatment, let alone administrators who take charge of hardware stability.
With HCI, we hope two problems can be effectively solved.
The first is to reduce the overall O&M pressure. As a software-defined technology, HCI can easily allocate hardware resources including compute and storage resources. This enables a rapid deployment of service systems.
Secondly, HCI provides a visualized approach for O&M engineers to quickly master the new infrastructure and manage systems. This approach not only reduces learning costs but also improves the overall work efficiency.
When choosing HCI products, we had several concerns: First, like other IT infrastructures, we would conduct a comprehensive testing and evaluation of introduced technologies or devices. After trying the same or similar products from multiple vendors, we usually evaluate them in detail in terms of performance, user-friendliness of interface, and overall effectiveness, and select the product that is most suitable for us according to the evaluation results.
Second, because the deployment and maintenance of all hardware devices are carried out by our engineers, we hope to choose an HCI product with a simplified interface and low learning costs so that our engineers can master and operate easily.
Third, we place great importance on products' cost-effectiveness. We hope to be able to procure the product that is ideal for the development of the hospital's IT systems with a limited budget. So the HCI product that meets the hospital needs while being cost-effective is what we prefer. Of course, it doesn't mean we would imprudently choose the product with the lowest price. The product with the best cost-effectiveness and matches the hospital development best is what we need most.
The fourth is the vendor's technical service capabilities. This is important because hospital services are very exceptional and have high demands for service continuity and reliability. Vendors that can immediately help us with troubleshooting whenever failure occurs are more preferable.
Finally, we prefer to work with a vendor that is exclusively professional in HCI. Only a vendor that focuses on the development and deployment of HCI products is the one we want to work with and the one that can ensure the stable and reliable running of the overall service system.
Therefore, we finally chose SmartX as our HCI vendor.
I believe Xuanwu Hospital is experienced in HCI application. Based on our previous exploration, we believe that the stability and reliability of HCI can meet the hospital's requirements for running core service systems. Therefore, when upgrading HIS system, we deployed all servers running core services on HCI without hesitation.
Our HIS inpatient system has been running smoothly for more than a year without any catastrophic failure since it was introduced in July 2021.I think, this gave us more confidence to cooperate with SmartX in the near future.
Besides the HIS application server, we have also deployed the entire DevTest environment for HIS on SmartX HCI. Xuanwu Hospital is launching the new outpatient system, and all the system testing, interconnection and development are carried out on SmartX HCI. I believe it is a good example of Xuanwu Hospital using HCI to support core services.
In fact, Xuanwu Hospital has just achieved a Grade 5 in EMR review conducted by NHC. Some of our service systems, testings, and interfacing that need to be modified have also been deployed on SmartX HCI. Therefore, SmartX played a big role in helping us pass the high-level EMR review.
We have been using SmartX HCI for more than one year, and there are some insights I'd like to share.
First, HCI has greatly ensured the high availability of our core services. Once after HIS was launched, one physical node of HCI failed unexpectedly. But our services ran smoothly without any latency or downtime. After contacting SmartX, they resolved the problem in a short period of time, and enabled the system to run more stably and reliably. This case also reflects SmartX's customer-centric service principle.
Second, it truly reduces learning costs and is operational-friendly for engineers. As SmartX HCI is a software-defined product, its user-friendly and simplified interface makes it easy for our engineers to quickly master the product. I believe it can also help us improve deployment efficiency, give full play to the role of engineers during the O&M, reduce overall learning costs, and improve the overall efficiency in hospital management.
Thirdly, we highly appreciate SmartX HCI's flexible scale-out. When launching HIS, we initially decided to deploy three nodes with two replicas. With the development of our services, we scaled out the HCI cluster to five nodes with three replicas. There was no system downtime during the scale-out process, which ensured the service continuity, especially the stable running of clinical services.
Xuanwu Hospital has great expectations for a more holistic application of SmartX HCI. We have the following plans for the near future.
First, our traditional core service systems, such as the surgical anesthesia system and the PICS system play a very important role for our hospital in providing stable services. Yet, currently the two systems have been used for more than 15 years. So we are now implementing gradual upgrades to them. The new versions of the two systems will be deployed on SmartX HCI. This is already on the work schedule for the second half of the year.
Secondly, to provide patient-oriented services, the construction of Internet hospitals, especially online services, are also our top priorities. We are now planning to gradually transfer all online services to SmartX HCI.
Third, there are concerns for our legacy virtualization products. We have several hundred virtual machines, but they have been running for a long time and need to be upgraded or replaced. We are also planning to transfer all the services running on virtual machines to SmartX HCI. These are what we have planned so far.
In my opinion, SmartX provides not only HCI products, but also distributed protection among virtual machines, i.e. east-west traffic security. This new technology prevents the limitations of perimeter firewalls by reinforcing inner-system security with microsegmentation. We would also use this technology to ensure system stability in the near future.
Continue Reading
Social Media
For more updates, join us on Slack and follow
@SmartX Inc.
on social media.