Superior Stability, Performance, and Unified Management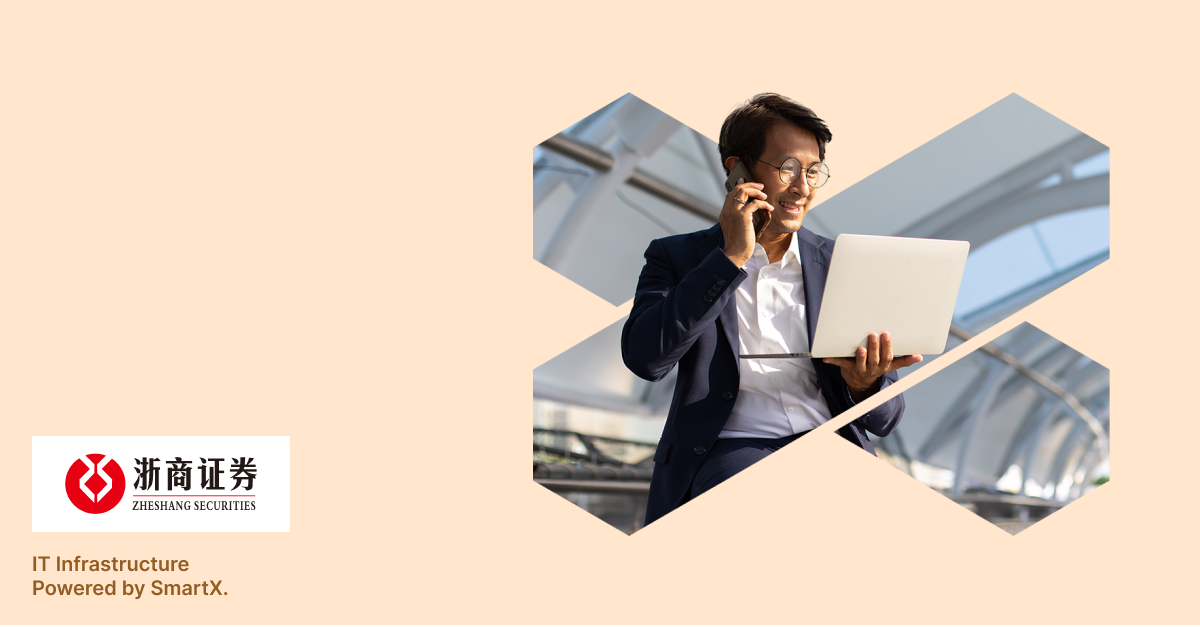 About Zheshang Securities
Zheshang Securities Co., Ltd. (abbr. Zheshang Securities) is a Chinese listed securities company that mainly offers integrated investment and financial services.
Recent years have seen the digital transformation of the securities industry driven in large part by emerging technologies like cloud computing and distributed computing. To keep up with the times, Zheshang Securities made the decision to modernize its IT infrastructure by moving its data center to the cloud.
In late 2018, Zheshang Securities made the first move by building a private cloud environment using hyperconverged infrastructure (HCI) solutions from VMware and Nutanix, which increased the scalability of IT infrastructure. Also, with the help of VMware vRealize Automation which automates cloud resource self-service and the delivery process, the company's business expanded rapidly.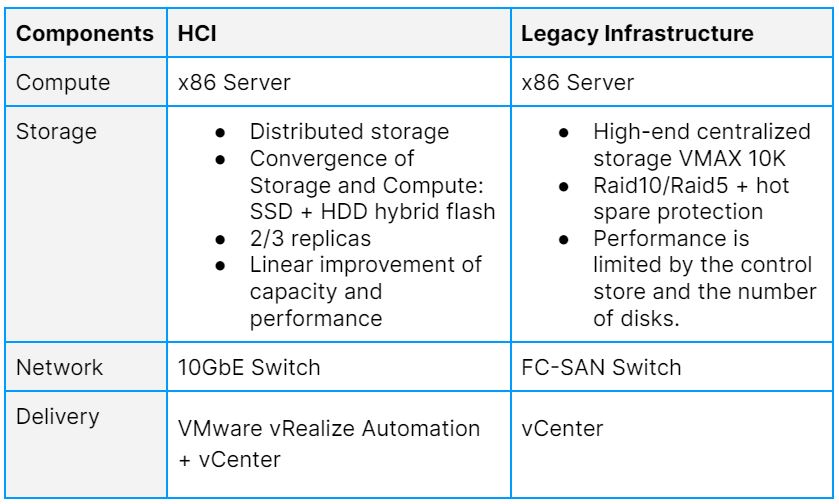 In 2020, to provide better services, Zheshang Securities decided to introduce new HCI products. As a result, it conducted a proof of concept (POC) for HCI products from SmartX, VMware, and other vendors.
POC in Database Application Scenarios
Assessment Goals
Determine whether the product's TPS and stability meet the requirements in the production environment by using Hundsun's Oracle testing scripts that simulate the trading order scenario.

Determine whether SmartX HCI is capable of supporting MySQL by comparing the testing results with those in the production (vSAN) environment. 

Determine whether SmartX native hypervisor ELF can satisfy the daily demands and replace the existing VMware ESXi virtualization platform.

Verify SmartX HCI's compatibility with different brands of servers.
Configurations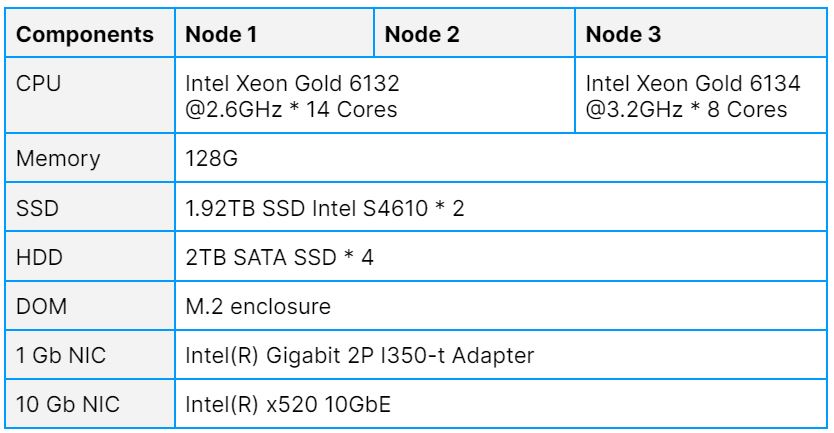 Test Scenario 1: Hundsun's Simulated Trading Order Scenario Based on Oracle 11g
Method
30 PDC scripts ran concurrently for approximately 3 minutes. Each script was loaded with 300,000 data entries and orders were submitted every thousand. Data loading speed and database volatility were used to assess performance stability.
Results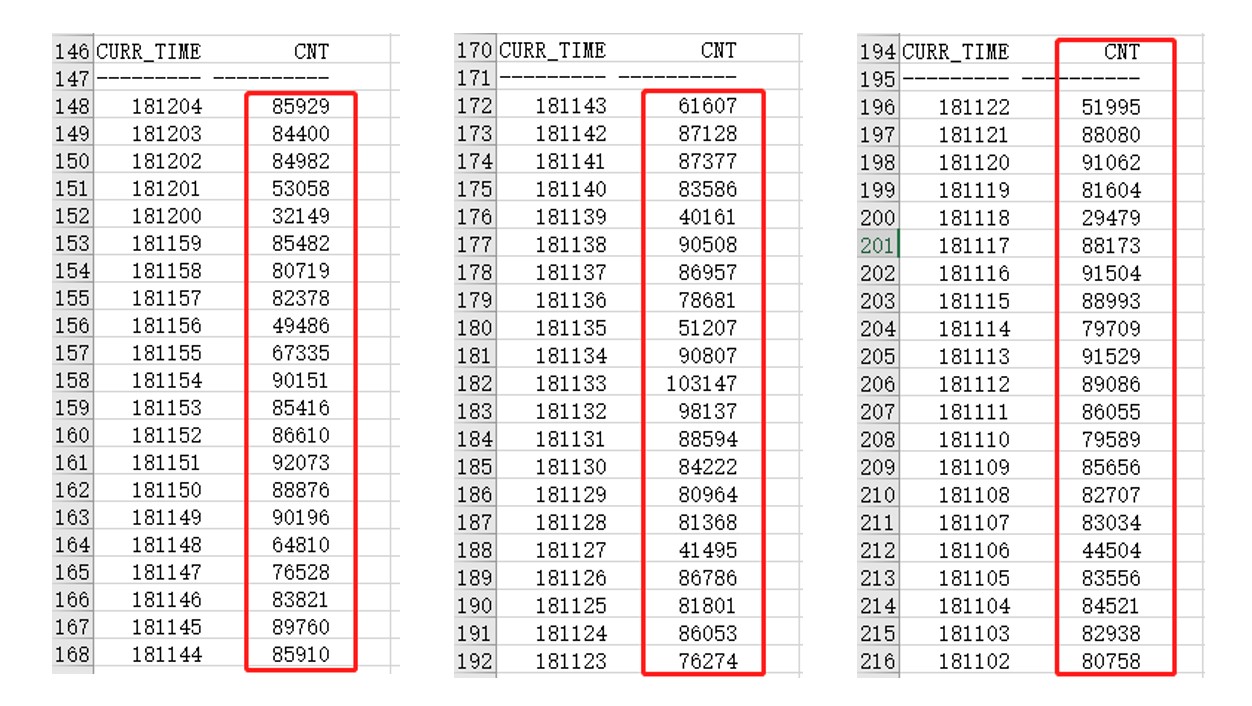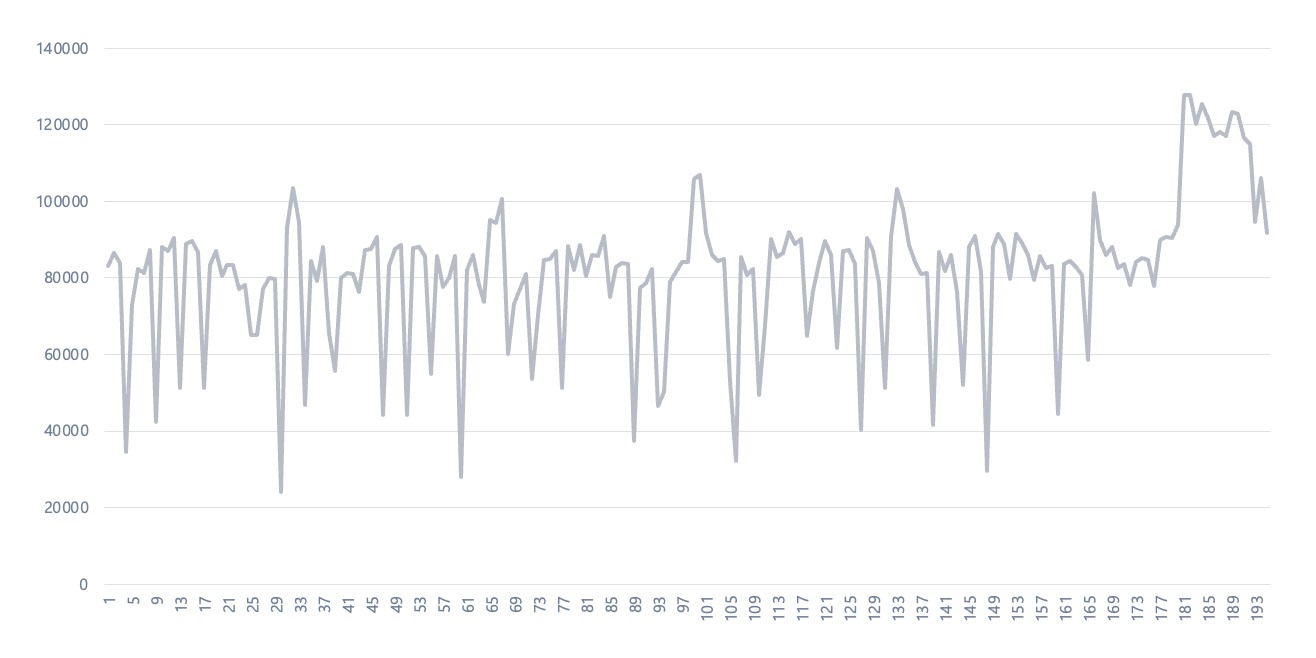 Conclusion
The database based on SmartX HCI loaded 60,000-100,000 data entries per second, which was comparable to the performance in the Nutanix HCI and vSAN environments. This test, which required the platform to process more workloads than in the production environment, confirmed that SmartX HCI could meet the storage performance and stability requirements of core business services.
Test scenario 2: Support of MySQL Database
Method
We used sysbench, the third-party stress test tool, to test the performance of MySQL based on SmartX HCI (with ELF virtualization), SmartX HCI (with VMware ESXi), and vSAN separately.
Scripts
Data preparation: 
time sysbench –threads=100 –tables=10 –table_size=10000000




–db-driver=mysql –mysql-host=127.0.0.1 –mysql-port=3306




–mysql-user=root –mysqlpassword=1234567 oltp_read_write prepare
Data running:
sysbench –threads=100 –tables=10 –table_size=1000000 –time=100




–dbdriver=mysql –mysql-host=127.0.0.1 –mysql-port=3306




–mysql-user=root –mysqlpassword=1234567 –report-interval




=0 oltp_read_write run
Results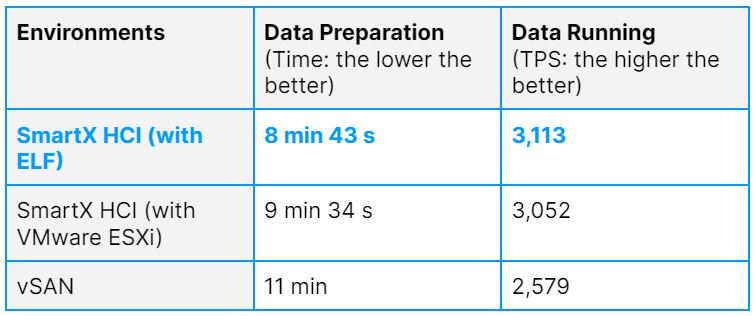 Conclusion
In terms of TPS and the time taken, the SmartX-HCI-supported MySQL database outperformed that of vSAN platform by 20% at most. Using the same distributed storage ZBS, SmartX HCI based on ELF provided better performance than that based on VMware ESXi.
Zheshang Securities eventually chose SmartX HCI after being impressed by its performance, stability, and hardware compatibility.  
Solution
Since the initial deployment in 2021, Zheshang Securities has been using SmartX HCI to support multiple cloud platform storage resource pools and disaster recovery resource pools, as well as multiple Dev/Test and production services: 
Test environment: Centralized trading, Hithink, asset management and investment bank, big data platform, etc.. 

Production environment: Online transaction, customer relationship management (CRM), accounting, AI-powered customer service, online account opening, bond duration management, etc..  
Owing to the stable performance of SmartX HCI, the system runs robustly even with each node hosting nearly 40 VMs (totally 10 nodes supporting 395 VMs). 
At the moment, these resource pools are distributed across the data centers in Xiasha and Yuhang, and are managed centrally via CloudTowerSmartX native management platform .
In addition, Zheshang Securities has introduced a third-party cloud management platform for the unified management of VMware clusters, SmartX HCI clusters, dedicated cloud platforms, public cloud resources, and physical machines. The platform provides various benefits, including an integrated access portal, improved delivery efficiency, and the unified distribution and installation of middleware, monitoring, infrastructure security, and the CMDB agent.
The cloud management platform is also linked to the ITIL platform and CMDB to achieve the whole lifecycle management of resources. Users can apply for resources on the cloud management platform, which will automatically transfer the application afterwards to ITIL for the following procedures such as application approval, resource delivery, monitoring, CMDB, infrastructure security, and automated firewall setup.
Next Step
In the future, Zheshang Securities will collaborate with SmartX to conduct industry research and explore how to leverage SmartX HCI to build active-active clusters in two regions' three data centers. The user also plans to adopt micro-segmentation, ZBS, and IOMesh, which is SmartX's cloud-native storage product, to boost innovation and empower business services.
---
Notices and Disclaimers:
Nutanix is a trademark of Nutanix, Inc., registered in the United States and other countries. All other brand names mentioned herein are for identification purposes only and may be the trademarks of their respective holder(s).
Performance tests are measured using specific computer systems, components, software, operations and functions. Any change to any of those factors may cause the results to vary. You should consult other information and performance tests to assist you in fully evaluating your contemplated purchases.
Continue Reading
Social Media
For more updates, join us on Slack and follow
@SmartX Inc.
on social media.