Famous noodle chain store Jiumaojiu has chosen SmartX Hyper Converged Infrastructure (HCI) to migrate and expand its existing infrastructure to power its business expansion across 140+ chain restaurants in 7 cities in China.
Jiumaojiu started its business 24 years ago in Haikou, Hainan Province in China with a noodle bar called "Shanxi Noodle King". 
For all these years, Jiumaojiu has dedicated to "cooking a bowl of good noodles" with its handmade noodles, bringing the noodle experience of Chinese customers to a whole new level.
Fast expansion and diversified brand operations challenge the legacy infrastructure
Among the 24 years' development, it took Jiumaojiu 17 years to open its first 19 restaurants. However, the remaining 120+ chain restaurants have been opened in less than 7 years. The rapid speed of expansion and diversified operations of the brand laid a heavy burden on its legacy IT infrastructure.
1. Specifically, the quick growth of the business made it difficult for the existing computing and storage resources to accommodate, due to the inflexibility of the infrastructure. Newly added storage array only brought more data silos, which resulted in low system utilization and increased maintenance difficulty.
2. The traditional architecture of servers plus entry-level storage array caused long database query time and frequent database locking, which led to low efficiency and hurt the experience of all the store managers. Even the full SSD array could not make the data access faster.
3. The company also made heavy investment in purchasing storage and other hardware equipment, making the whole system TCO high and ROI low.
As Jiumaojiu's IT infrastructure needed to support more restaurants, multi-brands and new businesses, it hopes to build a new IT infrastructure with higher performance, more flexibility, more security and stability.
HCI enables stronger performance,better flexibility and system stability to power Jiumaojiu's business development
Back in February 2018, Jiumaojiu and SmartX had three times in-depth meetings and collaborative discussions to formulate a detailed solution.
In April 2018, the two companies conducted a POC test, in which the logistics distribution system database query time witnessed a significant drop from 621 seconds down to 157 seconds. As a result, Jiumaojiu made the decision to deploy SmartX's HCI to power its business growth.
In August 2018, SmartX spent one month to help Jiumaojiu to migrate some of its core business systems and databases from a VMware virtual environment to SmartX's virtual machine service and optimized the business systems as well.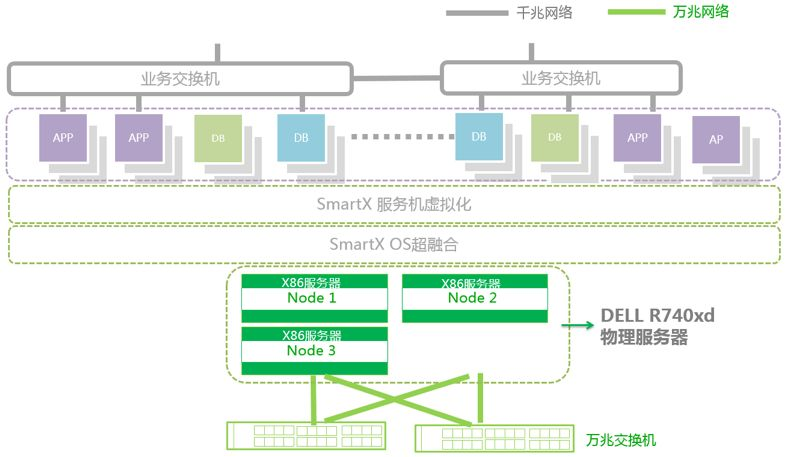 Currently, SmartX HCI has been carrying Jiumaojiu's logistics and delivery Oracle database system, SRM web, SRM APP and an SRM DB (Oracle) system, as well as WeChat ordering system.
Jiumaojiu sees evident performance and productivity benefits from SmartX HCI
Thanks to SmartX's HCI platform, Jiumaojiu has completely broken the bottleneck of computing, storage capacity and database query speed, which laid a solid foundation for Jiumaojiu in the future.
Not only has Jiumaojiu entrusted its core businesses and database systems to HCI, the company has also made HCI its default platform to its other mission-critical applications, which will further drive Jiumaojiu's digital transformation in the future.
It used to take us about five minutes to perform only one data query task. Now, the system responsive speed is two times as high, but without any disastrous database locking. The HCI made it very easy to scale up, by simply adding on HDDs to our existing servers or by adding new x86 servers to expand the computing and storage clusters. SmartX gives us much more control and visibility into our IT spend. The agile HCI also prepares us ready for future business development.
—— the IT project leader of Jiumaojiu
Continue Reading
Social Media
For more updates, join us on Slack and follow
@SmartX Inc.
on social media.