By Zhaohui Li, Deputy General Manager of the Information Technology Support Center at Shenwan Hongyuan Securities, and Shuang Yang, Manager of IT Infrastructure O&M at Shenwan Hongyuan Securities
Shenwan Hongyuan Securities is a merged company of Shenyin & Wanguo Securities (first joint-stock security company in China) and Hongyuan Securities (first listed security company in capital market in China). We provide comprehensive financial industry services for enterprises, individual investors, financial institutions and government.
As a renowned security company, Shenwan Hongyuan is committed to provide best services to our customers. Particularly, upgrading our IT infrastructure to ensure business continuity and optimize application performance is the first and foremost step to achieve this goal.
In this article, we share how we accomplished the digital transformation of IT infrastructure by replacing legacy virtualization with hyperconvergence, and specify various values we have gained since we used hyperconvergence to support mission-critical application systems.
Challenges
Previously, Shenwan Hongyuan Securities was using a "virtualized server + high-available SAN storage" platform to build the virtualized resource pool and support more than 90% of business systems in the production environment. However, in 2021, having been used for more than 6 years, both the platform's hardware and software could no longer meet the requirements of the company's business development.
These challenges include:
Solutions
To solve the above problems, we did a thorough investigation on future demands for business upgrade as well as IT infrastructure innovation. As a result, hyperconvergence, as a cutting-edge resource pooling technology, got our attention.
Compared with traditional architecture, hyperconvergence has more advantages:
Integrated architecture: Hyperconvergence converges compute virtualization and storage and deploys them on the same server node. This helps to save cost on rack space and energy consumption, especially when servers are deployed in IDC.
Unified network deployment: Hyperconvergence uses 10 GbE network instead of dedicated fabric switch.
Flexible scalability: Start from three nodes. Increase capacity and performance on demand by adding nodes.
Easy O&M: Use one console to manage VMs and storage. Simplify and automate many operations throughout the entire product O&M lifecycle.
After comprehensively examining hyperconvergence vendors' technology maturity, market share, software stability, features, services & support and brand reputation, we decided to select products from SmartX, DELL VxRail and Nutanix. Although DELL VxRail has better compatibility with VMware vSphere, it only provides all-in-one products. Nutanix, though, can deliver HCI products with third-party servers in recent years, has a higher demand for hardware compatibility.
Eventually, SmartX stood out as its products achieved both compatibility and flexible delivery options. SmartX can provide hyperconvergence in pure software and with no hardware vendor and model lock-in. Users could save cost by fully leveraging legacy servers or just purchasing new servers. Besides, SmartX has other advantages such as its independently developed technologies, rich application scenarios and the highest market share in Chinese FSI industry, support of heterogeneous clusters, on-demand investment, local delivery and responsive services & support.
Therefore, we finally chose SmartX and DELL VxRail to run some of our business systems.
Outcomes
Asset Management System: The First Step of IT Infrastructure Transformation
Initially, we deployed two hyperconverged clusters, using HCI products of SmartX (with Inspur servers) and DELL VxRail, to support the asset management system. Asset management is a departmental application, which requires a small number of nodes to ensure the system's high reliability, availability and security. Application's isolation is also needed. Owing to hyperconvergence's flexibility, we support asset management business with dedicated hardware at the lowest cost. This solution perfectly meets business demands and is highly appreciated by the asset management business department.
In addition, the surplus resources of the hardware investment can support the operation of other businesses, leading to a large reduction of unit cost. SmartX HCI's dynamic capacity expansion capability also makes it easy to extend the range of supported business, for example, to asset custodian and FICC services. We could simply add new nodes to the cluster as the business grows, without the worry of incompatibility among hardware, including CPU with different generation and basic frequency. Besides, there is no downtime during the scale-out, ensuring the business continuity.
There are more benefits we gained from HCI and distributed storage throughout the use and maintenance of asset management system, including
Lowered TCO. As the number of hardware devices decreases, the rack room, cable, electricity consumption and maintenance tasks are also reduced;
Fast deployment. Servers only need tens of minutes to be deployed since they were put on the rack;
High stability and performance. The integration and optimization of virtualization and distributed storage enhance the system's performance;
Streamlined O&M. Use one platform to manage, monitor, update and operate the cluster;
Flexible scalability. No single point of failure;
Compatibility between hardware and software;
Comprehensive support provided by a single vendor on both compute and storage virtualization.
Disaster Recovery: Unlock More Rich Values of Hyperconvergence
In 2021, we decided to build a remote DR cluster. We had two requirements for our vendors. First, using legacy servers to build the system for a lower cost. Second, DR clusters' performance had to exceed 50% of clusters in the major production environment.
Based on these requirements, we paid particular attention to IT infrastructure's following capabilities:
Match with the company's overall IT infrastructure transformation strategy;
Avoid over-investment in hardware while satisfying the DR requirements;
Simplified O&M;
Great scalability and support of on-demand investment. Support the consistent growth of capacity and performance.
Having realized SmartX HCI's various benefits, we continued to adopt SmartX's solution to build the remote DR cluster, which turned out to be a wise decision. SmartX completely met our requirements by constructing a DR cluster with legacy servers and a few new disks and other components. The cluster uses a 10 GbE network instead of an additional SAN switch. And the DR cluster's performance reaches 58% of business systems in the production environment.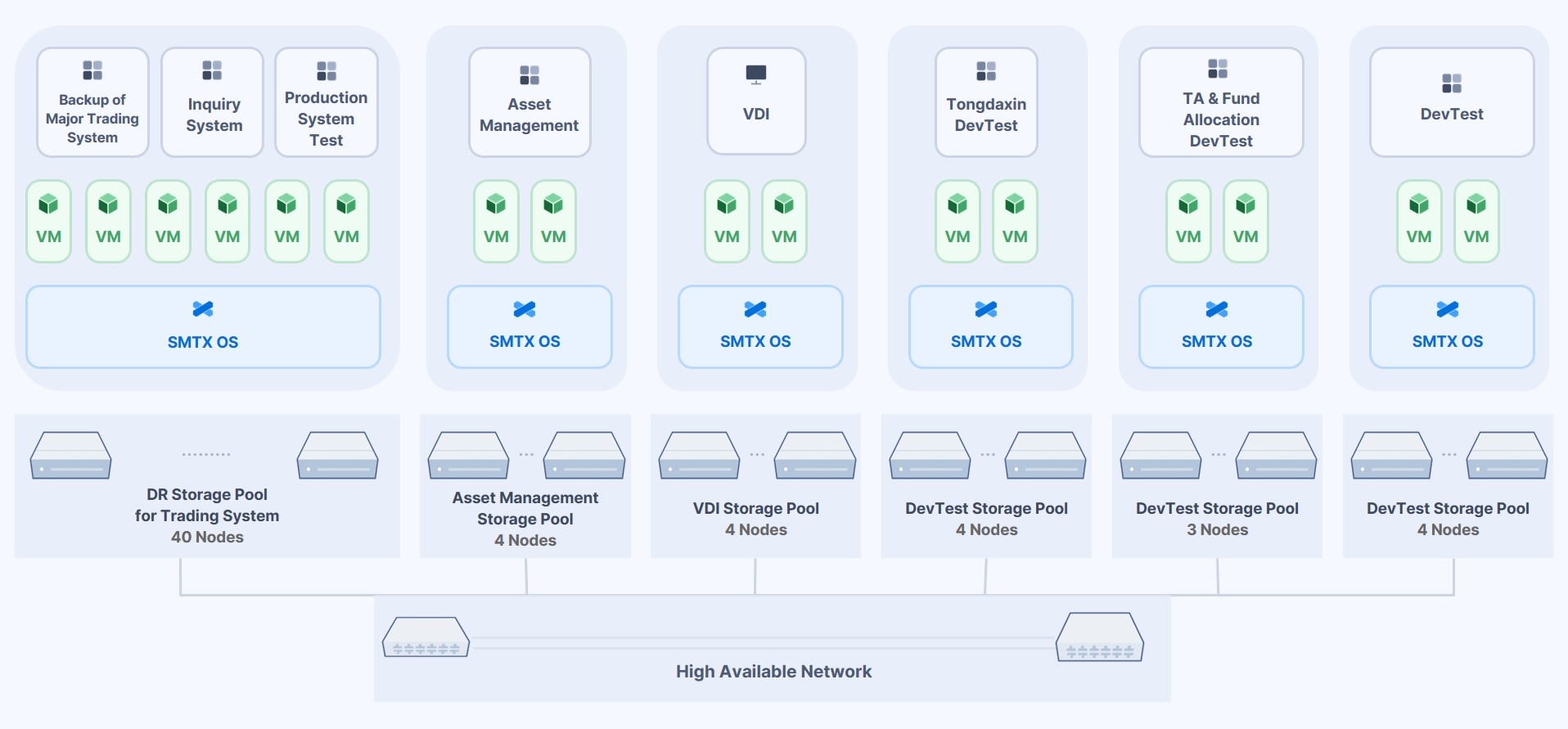 After the DR cluster was built, hyperconverged clusters not only are used as static backup systems, but also support more and more business systems. Now we also run daily inquiries and tests related to the production system on these clusters, achieving a full utilization of resources. This further convinces us of hyperconvergence's flexibility and adaptability.
Other Insights
Strong support from the IT infrastructure layer is indispensable to business innovation. For an innovative business, there are two main demand uncertainties over infrastructure: the uncertainty of resource types and amount, and the uncertainty of usage time and lifecycle. In view of this, it is somewhat reckless and risky to adopt a mature business model and apply dedicated infrastructure according to an estimated amount of resources. Rapid depletion of resources or resource idleness are possible consequences.
Therefore, adopting a technology that can upgrade as business grows and enables on-demand scale-out, i.e., hyperconvergence, will facilitate enterprises create more business values. Platforms with great flexibility and adaptability like such will be prevalently used to support FSI production systems in the near future.
Continue Reading
Social Media
For more updates, join us on Slack and follow
@SmartX Inc.
on social media.