Challenges Facing Remote Factory IT Infrastructure
Generally, large and mid-size manufacturing companies have multiple factories distributed nationwide and even worldwide, to accomplish manufacturing tasks. Most factories are using information systems like MES for an effective execution of manufacturing operations and to keep connection with headquarters.
However, keeping these systems running stably is not an easy job. IT infrastructure that provides fundamental support to systems in terms of compute, storage and networking capabilities is more than decisive; even a single problem occurring to IT infrastructure may lead to manufacturing downtime and significantly affect business services. Thus, the construction and maintenance of IT infrastructure stays at the core of remote factory IT system management.
Unlike headquarters which have a professional IT team that enables rapid troubleshooting, remote factories and branch offices may find it difficult to hire sufficient personnel with required IT skills and to make O&M more efficient, due to the remote location and diverse manufacturing tasks.
Moreover, most factories still use the traditional three-tier architecture of "server (virtualization) + SAN switch + SAN storage", which creates more challenges to IT infrastructure O&M, including:
Increasing O&M efforts: The complex structure and manual operations involved in troubleshooting (e.g., disk and node failures) make IT infrastructure O&M more difficult, time consuming, and risky. 
Low management efficiency: Due to the lack of a unified management platform and related tools, IT engineers have to manage factories and branches separately, as well as multiple panels at the same time.
High construction and O&M costs: Traditional architecture necessitates not only dedicated hardware and networks, but also larger rack room space.
How SmartX HCI Could Help
SmartX, a leading HCI innovator, assists manufacturing companies in addressing the aforementioned remote factory IT infrastructure challenges with a comprehensive HCI solution. SmartX HCI streamlines IT infrastructure architecture and significantly reduces O&M difficulties by replacing traditional architecture with "industry-standard server + SMTX OS (core HCI software, including distributed block storage ZBS and native hypervisor ELF) + 10 GbE switch."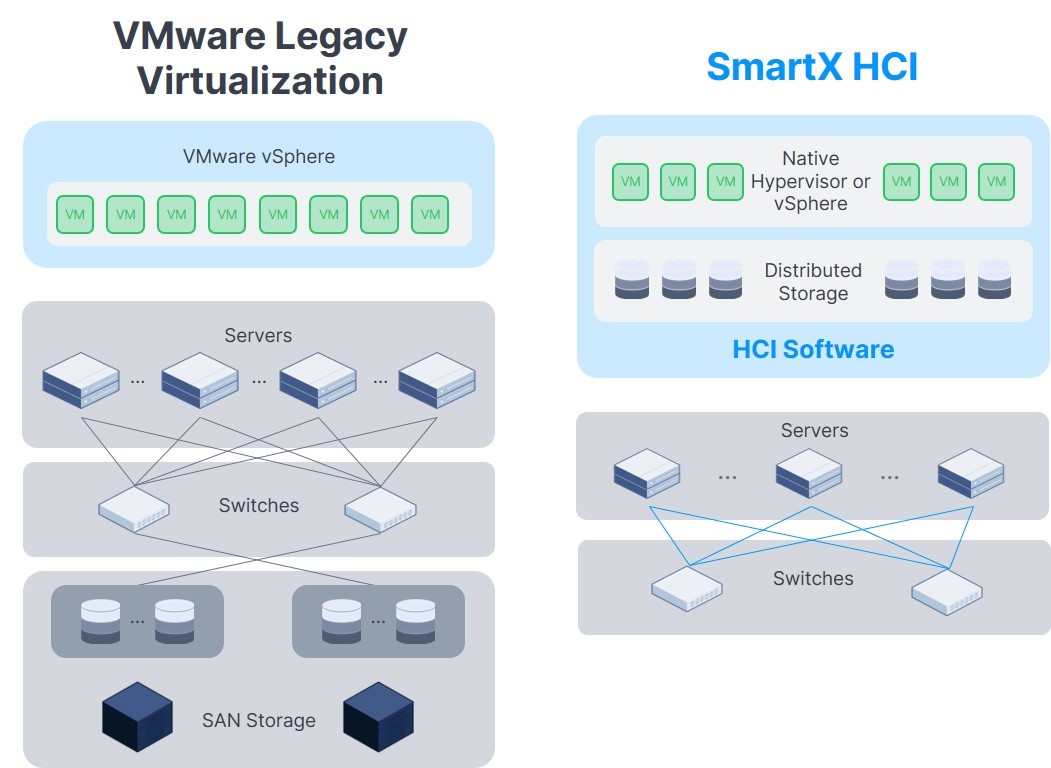 Empowered with SmartX HCI's 4 core capabilities – investment on demand and quick resource allocation, supporting multiple hypervisors and hardware, supporting mission-critical applications, and intelligent operations & maintenance with zero downtime – SmartX HCI provides remote factories with the following values and advantages.
Support Various Production Services and Mission-Critical Applications
With independently-developed distributed storage at its core, SmartX HCI features highly-optimized performance and a full range of data protection, providing reliability and availability required by mission-critical applications and other production services at remote factories. Some data protection features include:
The multiple replica mechanism and automatic data recovery policy ensure business continuity and data integrity when the hardware fails.
HA for virtual machines provides "high-availability" protection to VMs supporting critical applications. Even if the server fails, business can be restored within 3 minutes without the need for human intervention.
Snapshot Management allows users to take snapshots on a customized time cycle. It can prevent logic disasters and quickly restore VMs.
For factories with higher requirements on business continuity, SmartX also provides active-active clustering and cross-site replication solutions to help factories address rack-level disasters.
So far, SmartX HCI's high performance and stability have been verified in the production environments across finance, medical, and manufacturing industries. In particular, in the manufacturing industry, a large number of companies have been using SmartX HCI to support mission-critical systems such as MES, ERP, WMS, PLM and CRM, etc.
Reduce O&M Pressure with Intelligent Design
IT infrastructure based on traditional architecture requires IT staff to manage servers, SAN switch, SAN storage and virtualization separately. SmartX HCI, on the contrary, enables remote factories to save time, costs and efforts by providing a streamlined architecture and easy O&M operations.
"0" business disruption throughout the scale-out and upgrade of software and hardware. Support one-click upgrade of software and dynamic upgrade of hardware (achieved through heterogeneous scale-out and VM migration).
"0" manual operation throughout data recovery and data rebalance after scale-out.
Improve resource utilization and collect logs with only "1" click.
Manage multiple clusters and data centers using "1" interface. Provide all-rounded visualization of infrastructure status and capacity. This enables IT professionals to manage multiple HCI clusters in several factories collaboratively and remotely. CloudTower 2.0 also introduces new features such as content library and access control and security settings for better cluster isolation, scalability, and ease of management.
Reduce Procurement and Using Costs
Since HCI removes independent SAN switch and SAN storage, it only takes less than ⅙ of the devices and 20% of the rack space required in the traditional architecture (without virtualization) under the same service. The electricity consumption is also largely reduced. For factories using legacy virtualization, HCI could also save costs of independent storage and servers. Besides, HCI could improve rack space utilization by more than 30% and decrease cooling and UPS consumption.
In addition, if users adopt SmartX native hypervisor ELF, no additional license fee of VMware virtualization will be needed. Of course, it is totally applicable for users to continue using VMware virtualization on SmartX HCI.
Support On-Demand Investment and Flexible Configuration
By decoupling hardware and software, HCI helps users avoid vendor lock-in and enable on-demand selection of hardware devices. In particular, SmartX HCI is compatible with a wide range of mainstream servers and CPUs. This gives factories more options when it comes to infrastructure construction.
Case Studies
Case A
Group B manages multiple steel mills across the country. Most of these mills are located in remote places and, as a result, are in lack of professional IT engineers to constantly operate and manage their IT infrastructure. Additionally, Group B used traditional architecture to support remote sites' data centers. The diverse facilities, stubborn hardware, complex structure and low cost-effectiveness made it more difficult to manage factories' IT infrastructure and business services. Eventually, the group decided to replace the legacy infrastructure with a more stable, simplified and reliable one.
After evaluating several HCI products, Group B started to apply SmartX HCI in some newly-built mills located in different regions. The group used HCI software and built clusters based on servers of multiple brands. SmartX accomplished the deployment of HCI clusters within a week, completely satisfying users' requirements of the rapid launch of systems and applications.
So far, 5 remote factories of Group B have been using SmartX HCI. Each factory has deployed 4 to 6 nodes supporting all production service systems including ERP, MES, industry networks management system, facility management system, and production line management systems.
Most importantly, SmartX frees IT engineers from heavy workloads through the unified management platform which allows the IT team at the headquarters to collectively manage, operate and maintain HCI clusters in remote factories.
Case B
As a well-known multinational electronics contract manufacturer, Company H planned to replace the legacy virtualization with their own private cloud for worldwide branch offices. For security concerns, the IT infrastructure supporting branch sites' production service systems should strictly comply with the intranet isolation policy. That is, each branch requires an independent IT infrastructure deployed in the intranet to support production service systems such as MES, SAP, and production line systems.
However, in this case, a private cloud may not be a viable option. The user's private cloud is built on OpenStack and Ceph and has a complex architecture that necessitates independent maintenance. Furthermore, with each cluster beginning with at least 20 nodes, the construction cost of all branches' new IT infrastructure is exorbitant.
After contacting SmartX, the company learnt about HCI's advantages, and was impressed by its simplified architecture, easy O&M, and flexible scalability. Moreover, the user believes that SmartX HCI's outstanding capabilities in supporting active-active, Oracle RAC, and various critical applications and services for manufacturing companies can totally meet their requirements for the new infrastructure. This drove them to conduct a POC over SmartX HCI for more than half a year.
Eventually, the POC result exceeded the user's expectations. They were particularly impressed that, when compared to their private cloud solution, SmartX HCI demonstrated superior performance with a more streamlined architecture and fewer devices; with the same hardware configuration, the 3-node SmartX HCI cluster exhibits higher IOPS and lower latency than the 7-node private cloud solution.
Currently, Company H has deployed 40 SmartX HCI nodes at 5 branch companies located in China and Southeast Asia. Except for supporting branch offices' production service systems including MES, SAP, and production line management systems in the intranet, SmartX also helps one branch with their Dev & Test services. Moreover, the Southeast Asia factory decides to completely shift from the original private cloud to SmartX HCI for all service systems in the near future. Other factories are also planning to use SmartX HCI to construct active-active clusters and support the Oracle RAC database of critical production services.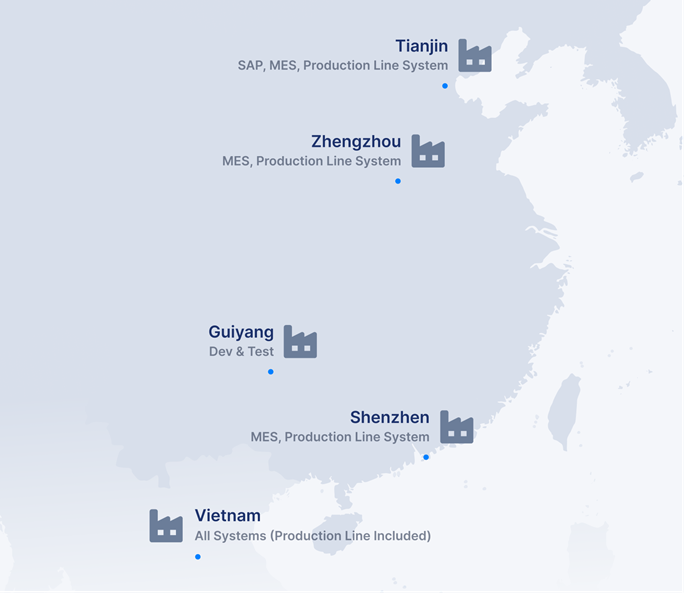 In addition to the high performance and reliability, SmartX HCI empowers the company's business development with the following values:
Reducing procurement and using costs: All HCI clusters are equipped with SmartX native hypervisor ELF. This freely available virtualization not only increases the stability and availability of infrastructure but also helps the user save procurement and using expenses.
Flexible configuration: HCI was delivered in pure-software format, which allows the user to choose the most cost-effective and suitable x86 servers.
Efficient O&M and unified management: HCI's simplified architecture accelerates the deployment and makes O&M much easier. The user could also use CloudTower to conduct visualized management over all HCI clusters across the globe in the future.
Learn more about our ROBO solution:
https://www.smartx.com/global/solution/it-branches/
Download SmartX HCI product brief here:
https://www.smartx.com/global/resource/
Continue Reading
Social Media
For more updates, join us on Slack and follow
@SmartX Inc.
on social media.