Minmetals Futures Co., Ltd. is one of the first futures companies established in China. It has a registered capital of RMB 2.715 billion, making it one of the top China futures companies. The company's main business covers futures brokerage, asset management, risk management and international business.
With rapid business expansion, Minmetals Futures not only needs to build its own data center in its new office building in Shenzhen, but also to rent IDC for futures trading in Dongguan, Shanghai, and Dalian to meet clients' demand for the rapid access to systems.
The company's previous IT infrastructure was based on the traditional three-tier architecture with high cost and poor scalability. To solve these problems, the company introduced OpenStack, which, however, turned out to be difficult to operate and maintain, making it unsuitable for the company's new business systems.
After a thorough investigation over various architectures, Minmetals Futures decided to adopt hyperconvergence due to its capability in avoidance of single point of failure, rapid deployment, and flexible scale-out.
So far, Minmetals Futures has expanded capacity eight times with a total of 38 nodes deployed, all based on SmartX HCI products. The application scenarios have also been expanded to mission-critical systems such as institutional withdrawal (global trading system), asset management system, mobile apps, exchange testing environments, custody system, simulation system, DevOps system, and Dalian Commodity Exchange market-making system.
Read the previous case study of Minmetals Futures here.
In this article, we explore how Minmetals Futures achieved a seamless upgrade of IT infrastructure hardware and the unified management of multiple data centers across China.
Dynamic Upgrade of IT Infrastructure: Refreshing Hardware Step by Step
SmartX HCI enables clusters to scale out linearly and heterogeneously. Starting with 3 nodes, the capacity and performance can be easily expanded online in a single resource pool with zero downtime. Data will be automatically balanced within the cluster after capacity expansion. Moreover, to achieve a smooth and flexible upgrade of hardware, SmartX HCI provides heterogeneous hardware support by allowing an integration of servers of different brands.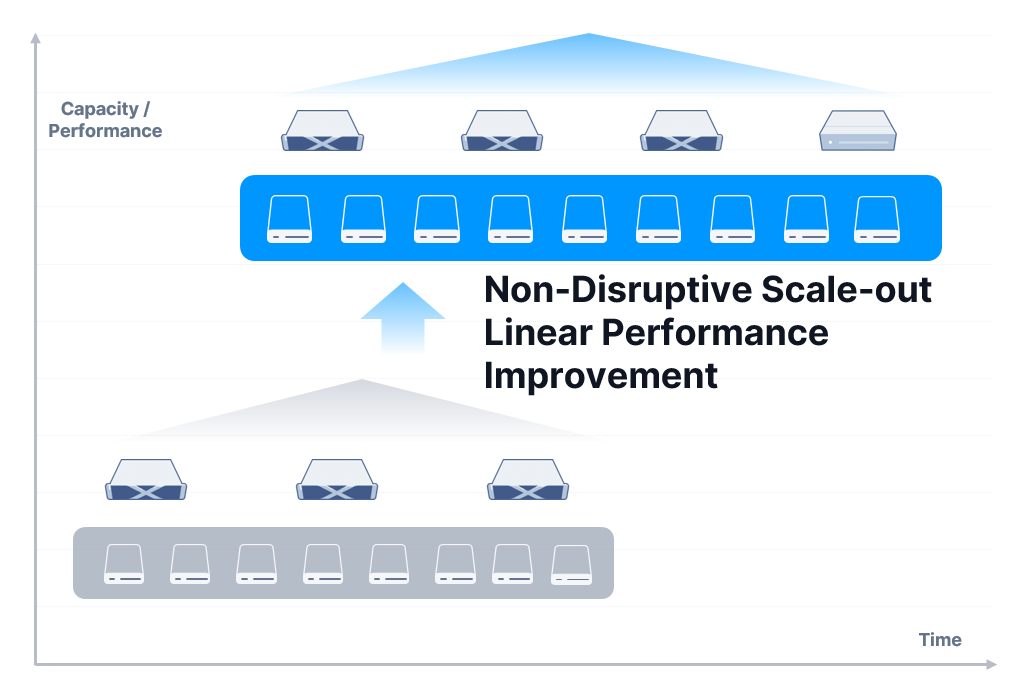 Minmetals Futures, particularly, benefits a lot from SmartX HCI's flexible scalability. To keep up with the rapid business growth, Minmetals Futures used SmartX's native hypervisor ELF to scale out 3 times (from 4 nodes to 10 nodes) and upgraded hardware through a rolling mechanism. The whole upgrade didn't cause any disruption to mission-critical services.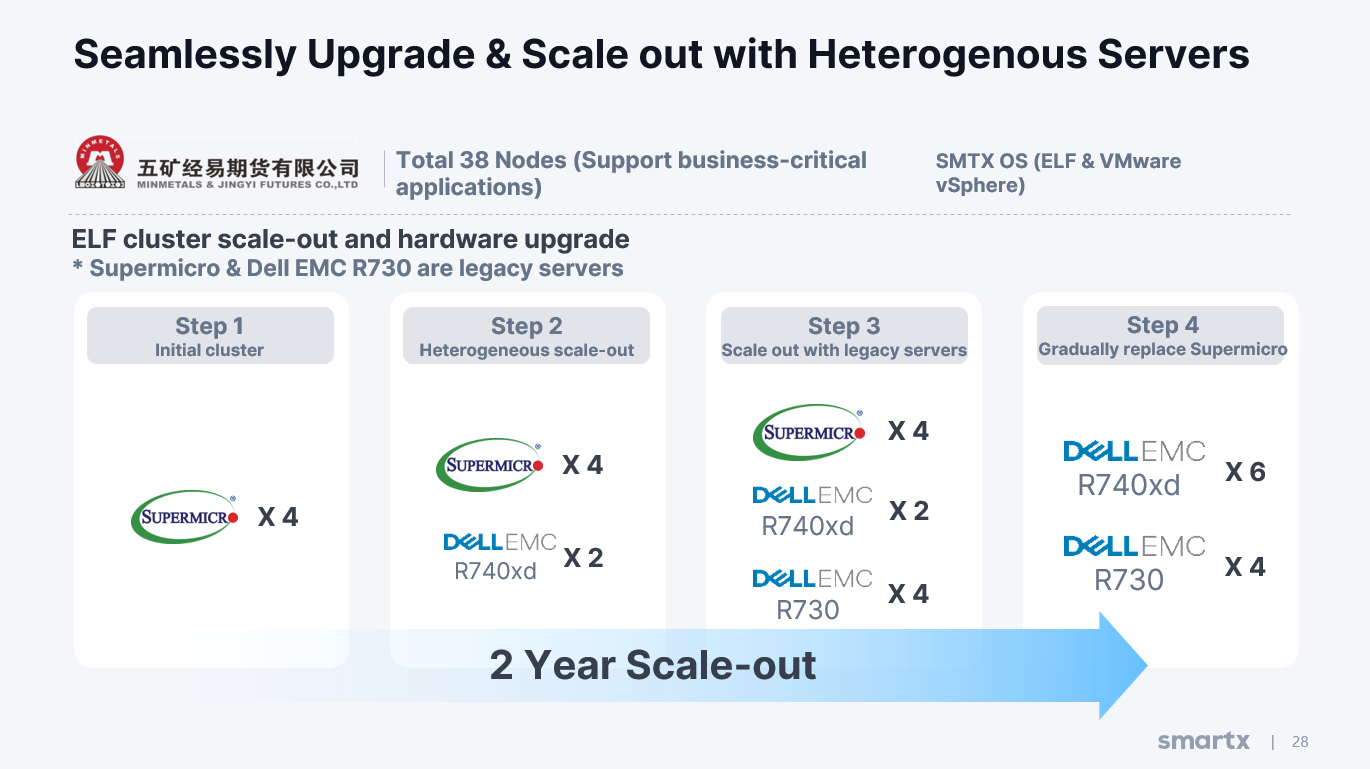 In 2018, Minmetals Futures deployed 4 nodes based on Supermicro servers using SmartX HCI. This formed the original cluster.
In 2019, Minmetals Futures scaled out for the first time by integrating 2 nodes based on PowerEdge R740xd servers into the cluster.
In 2020, the company continued to scale out and added 4 nodes based on their recycled servers of PowerEdge R730 to the heterogeneous cluster.
In 2021, Minmetals Futures replaced 4 legacy Supermicro servers with 4 PowerEdge R740xd.
Simplified O&M: Unified Management of Multiple Clusters
As SmartX's centralized management platform, CloudTower enables IT professionals to effectively manage more than 100 clusters with only one interface. This is to say, users don't have to switch among platforms to manage compute, network and storage at the same time. Administrators could gain a holistic view of real-time resource usage through a data summary of multiple data centers and clusters. Moreover, CloudTower reduces O&M tasks of cross-cluster sharable configurations and resources by allowing users to modify only one copy and apply it to all clusters.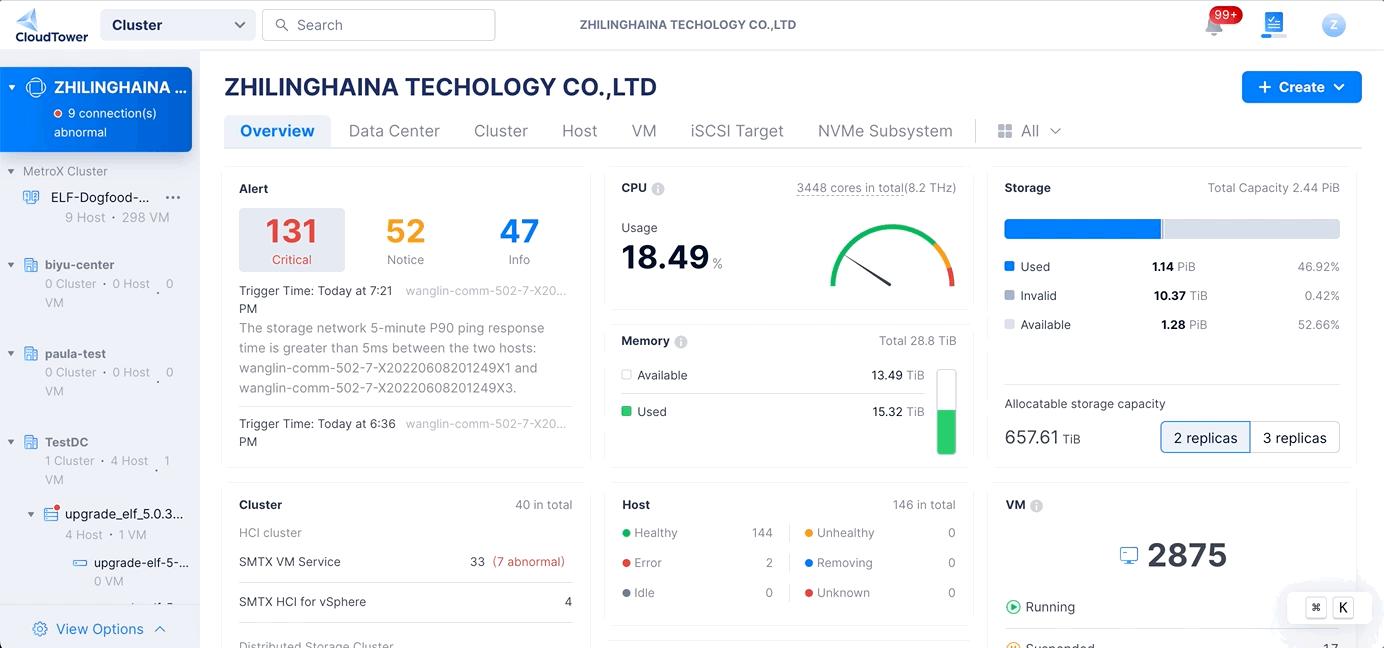 A sample of CloudTower interface
Currently, Minmetals Futures deploys 7 SmartX HCI clusters in 5 data centers which are located in 4 cities of Shenzhen, Dongguan, Shanghai, and Dalian. Two sets of CloudTower, which are managed by only 2 IT professionals, are used for daily O&M of clusters, largely reducing O&M workloads by 80%.
CloudTower set A: Manage 2 OA clusters in Dongguan's and Shenzhen Headquater's data center.
CloudTower set B: Manage 5 production clusters in Dalian's, Shanghai's, and Shenzhen Headquater's data centers.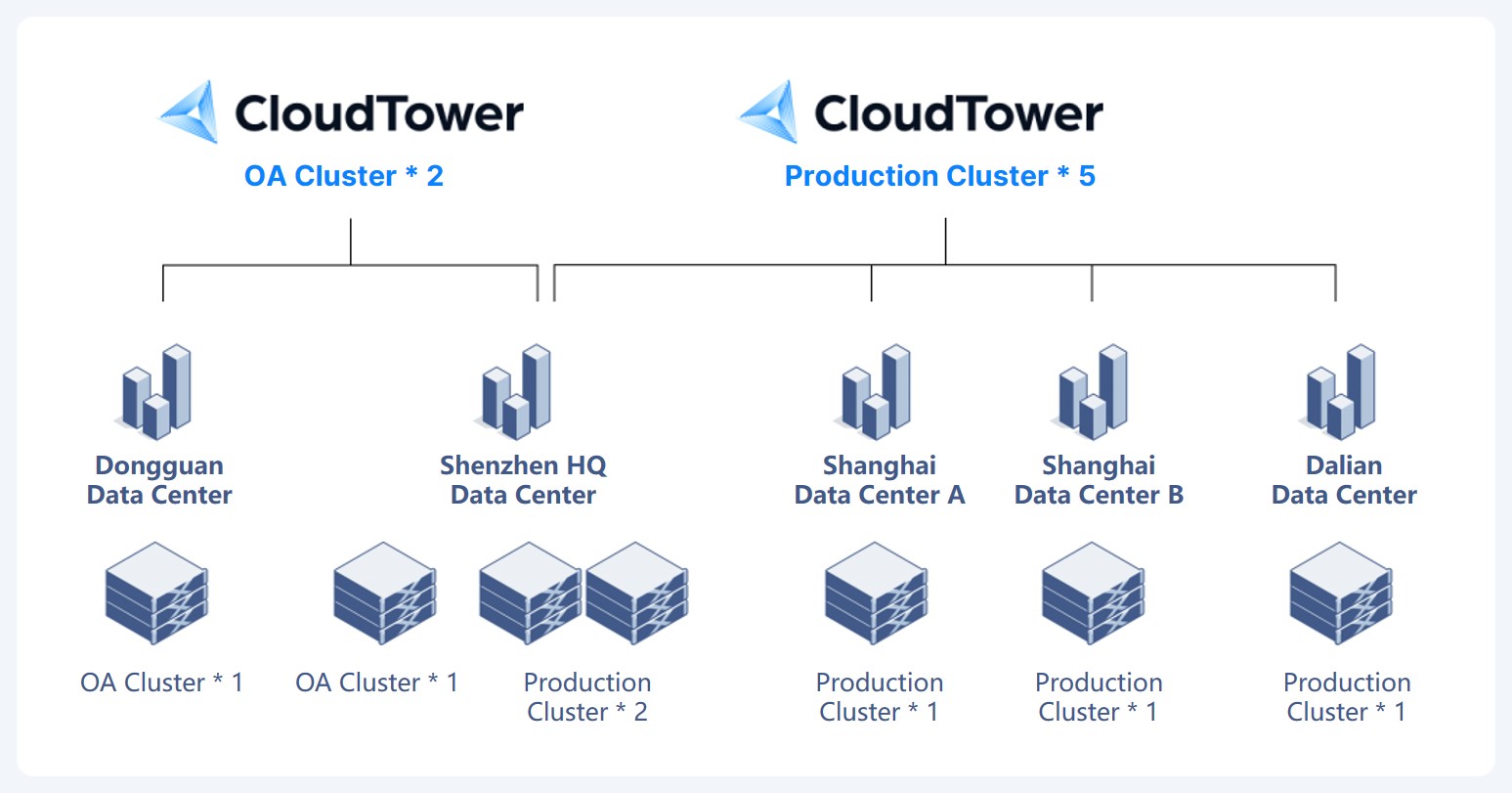 Continue Reading
Social Media
For more updates, join us on Slack and follow
@SmartX Inc.
on social media.