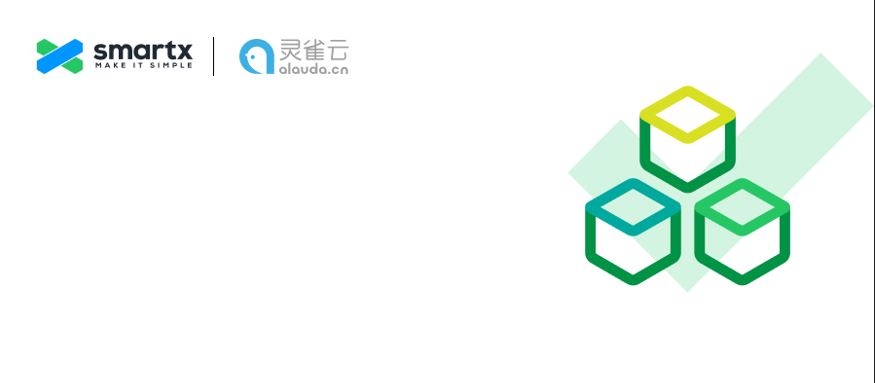 Recently, SmartX and Alauda, one of the leading cloud-native platform providers, jointly launched a cloud-native solution with full-stack HCI and container platform. Combining SmartX's HCI and Kubernetes services with the Alauda Container Platform (ACP), this joint solution provides customers with one-stop services for enterprise cloud, accelerating the cloud-native transformation of enterprise IT infrastructure.
Background
As cloud-native technologies matured, more customers have adopted Kubernetes and expanded its deployment to the production environment. Therefore, enterprises require an open container cloud platform based on an elastic, high-performance, and highly available IT infrastructure to meet the demands of production-level availability and unified management of heterogeneous clusters. This will not only provide stable operation for both cloud-native and traditional applications but also improve the efficiency of IT infra management.
Joint Solution
To meet such demands, SmartX collaborates with Alauda and provides a full-stack HCI solution for enterprises to build lightweight, stable, and cost-efficient cloud platforms.
In this solution, SmartX HCI software SMTX OS and SMTX Kubernetes Service (SKS) form the IaaS layer, providing production-ready operation and management capabilities for both virtualized and containerized applications.
Alauda provides the container-native platform through ACP. Using Kubernetes as the control plane, ACP supports one-click deployment, automated O&M, continuous upgrades, and flexible scaling of Kubernetes clusters, helping users manage the entire lifecycle of business applications from Dev/Test to deployment, operation, and maintenance.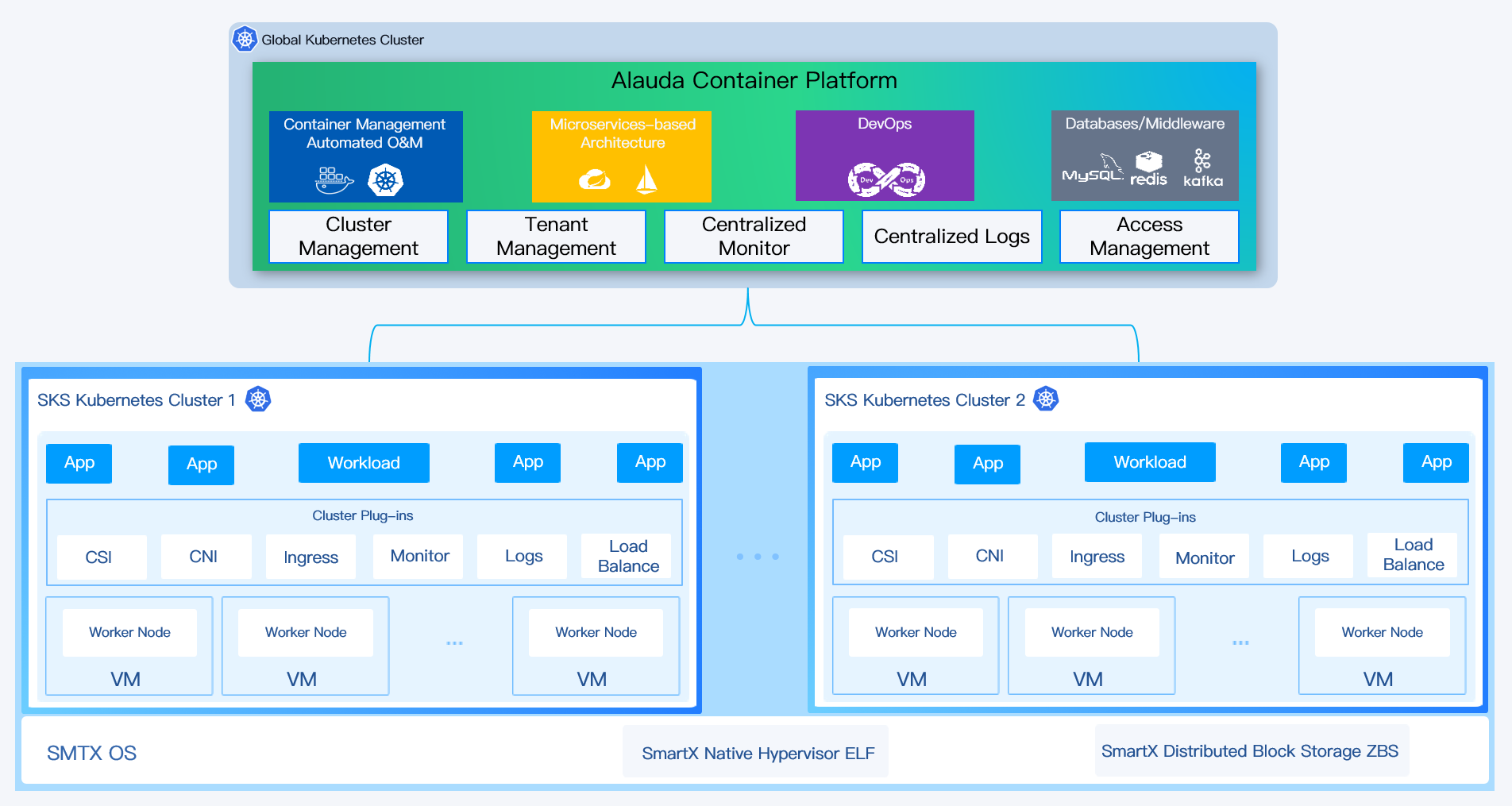 Features and Benefits
Modernized Architecture
Diverse deployment modes: Support disaster recovery, hybrid cloud, multi-cloud, and many other deployment modes, with scales ranging from a single node to thousands of nodes. Allow users to implement full lifecycle management of Kubernetes clusters, including quick creation, scaling, upgrading, and more.
Out-of-the-box: With various built-in tools, this solution is ready-to-use and avoids customization.
Extensive compatibility: Support mainstream servers and CPUs.
Empowering Business
Full-stack solution: Integrate container, DevOps, microservices, and database middleware capabilities that are aligned with business needs.
Support agile development: Provide complete support for development, testing, and launch.
Flexible O&M: Provide flexible and automated O&M for business services.
Production-level capabilities: Provide stable, highly reliable, and high-performance enterprise-level storage.
Security and Stability
Operational security: Provide a variety of security capabilities such as network security, vulnerability detection, ACL, and so on.
Shift-left security: Improve code and mirror image security.
Business stability: Improve business stability through middleware and service DR, and the support of horizontal and vertical scaling of containers.
Comprehensive Support
Full-stack verification: Provide comprehensive adaptation and verification of OS, Kubernetes clusters, container cloud platforms, DevOps, microservices, and data services.
Support services: Both SmartX and Alauda are fully responsible for the solution and will provide professional support services through close collaboration.
Purchase and Consultation
If you need more information about the joint solution, please contact SmartX sales representatives or consult in our Slack community.
You may also be interested in:
SmartX Releases SKS 1.0, Offering One-Stop Solution to Build Production-Ready Kubernetes Clusters
Why Should I&O Team Be Prepared to Take over Kubernetes Deployment and O&M?

Continue Reading
Social Media
For more updates, join us on Slack and follow
@SmartX Inc.
on social media.