Background and Challenges
Founder Fubon Fund is the first cross-strait joint venture fund management company approved by China Securities Regulatory Commission. The company previously adopted traditional virtualization architecture to support its business systems, resulting in the frequent occurrence of storage system single points of failure. In addition, the company's DR (disaster recovery) plan for the data center was quite complicated, with databases of CC, risk control and valuation systems running on physical servers in a cluster of multiple database instances. Also, as the company had been using EMC VNX 5600 with hybrid storage for a long period of time, the configuration was relatively outdated and the performance did not match business needs.
All of these problems necessitate a full upgrade of the company's IT infrastructure.
Solution
The digital transformation journey began in 2017 when Founder Fubon Fund first approached SmartX engineers. Initially, the company utilized SmartX HCI to support peripheral office and production systems. After testing the excellent performance and stability of HCI, Founder Fubon Fund expanded its data center's application scenarios to include database clusters and DR reinforcement.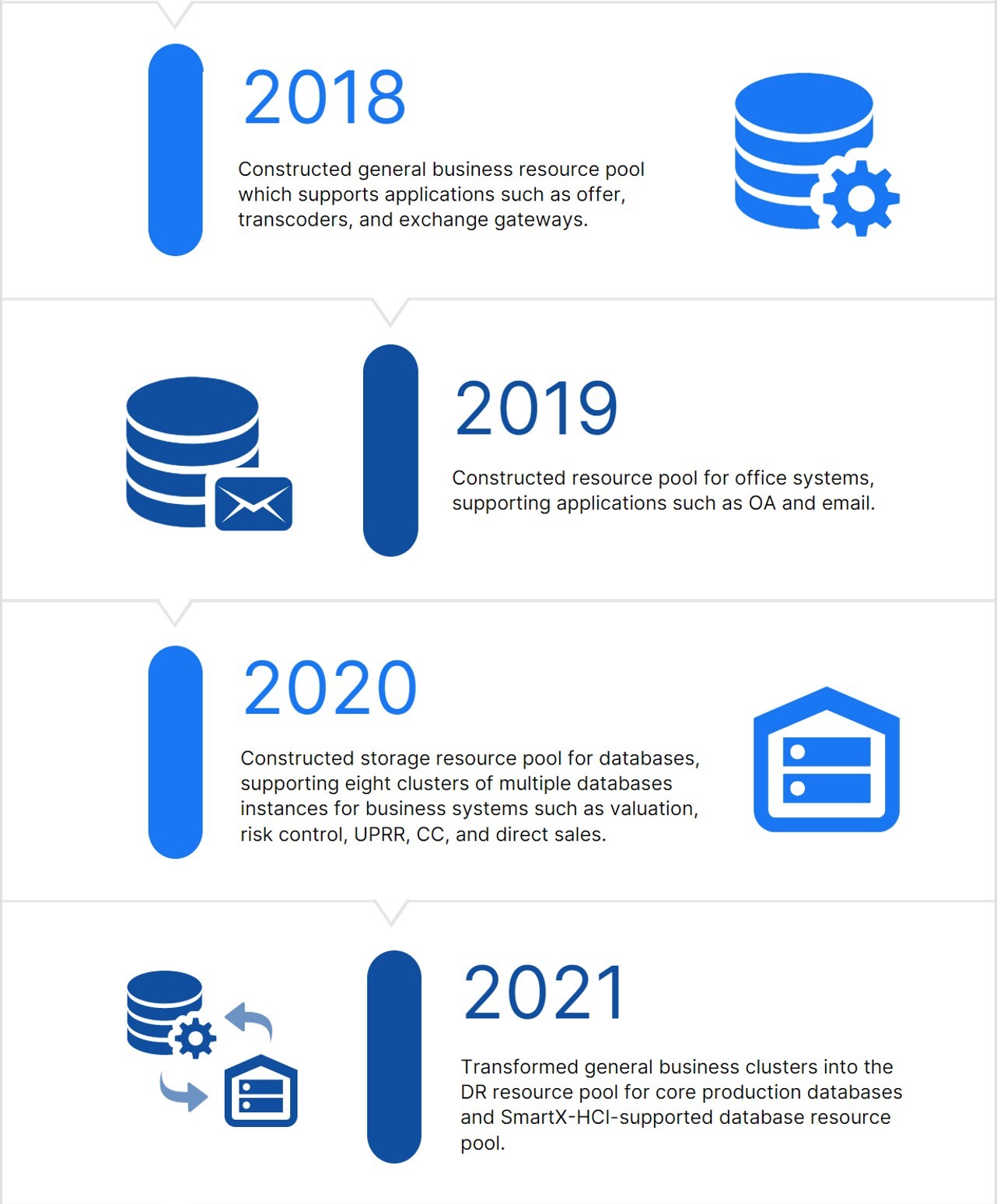 Using SmartX HCI to Support 8 Multi-Database-Instance Clusters
It's quite common among numerous organizations to leverage multiple databases to support mission-critical systems. Each database's storage capacity ranges from several hundred gigabytes to many terabytes. Whether it's a database appliance or a physical server with mid- to high-end storage, mainstream solutions, in order to match the high demand for performance and reliability, typically require a large financial outlay (millions to several million RMB). Not to mention concerns with sophisticated O&M and inadequate scalability.
Compared with the above solutions, using SmartX HCI to support databases can be more advantageous in:
Openness: SmartX HCI is not only capable of simultaneously running numerous databases, but also a variety of applications, including middleware, Web, OA, ERP, CRM, and transaction systems.
Flexibility: Start from 3 nodes, capacity and performance can be expanded online in a single storage pool by adding additional nodes or parts.
Easy O&M: Based on industry standard servers and Ethernet switch, SmartX HCI enables a unified management of compute, storage and network.
Low TCO: HCI effectively reduces expenses in procurement, rackspace, O&M, licensing, etc.
These benefits prompted Founder Fubon Fund to deploy 8 multiple database instances on four-node HCI clusters supported by SMTX Halo HCI Appliance, thereby ensuring the reliable performance of CC, risk control, valuation, direct sales, UPRR, and other applications.
Fully Leveraging SmartX HCI to Strengthen Database DR Capabilities
Moreover, with SmartX HCI, users can utilize production clusters as DR resource pools for databases supporting mission-critical applications. When an outage occurs, databases can be quickly switched from production to DR clusters without any impact on business continuity.
Founder Fubon Fund innovatively transformed its SmartX-HCI-supported general business cluster into a database DR resource pool. Data in 8 multi-database-instance clusters and core production databases that support O32 and TA systems will be synchronized to the general business resource pool and Shenzhen Securities Communication Corporation enterprise cloud via database replication. The benefits are threefold: 1) strengthening core database DR capabilities, 2) supporting mission-critical applications in DR environments, and 3) providing support for other applications and services.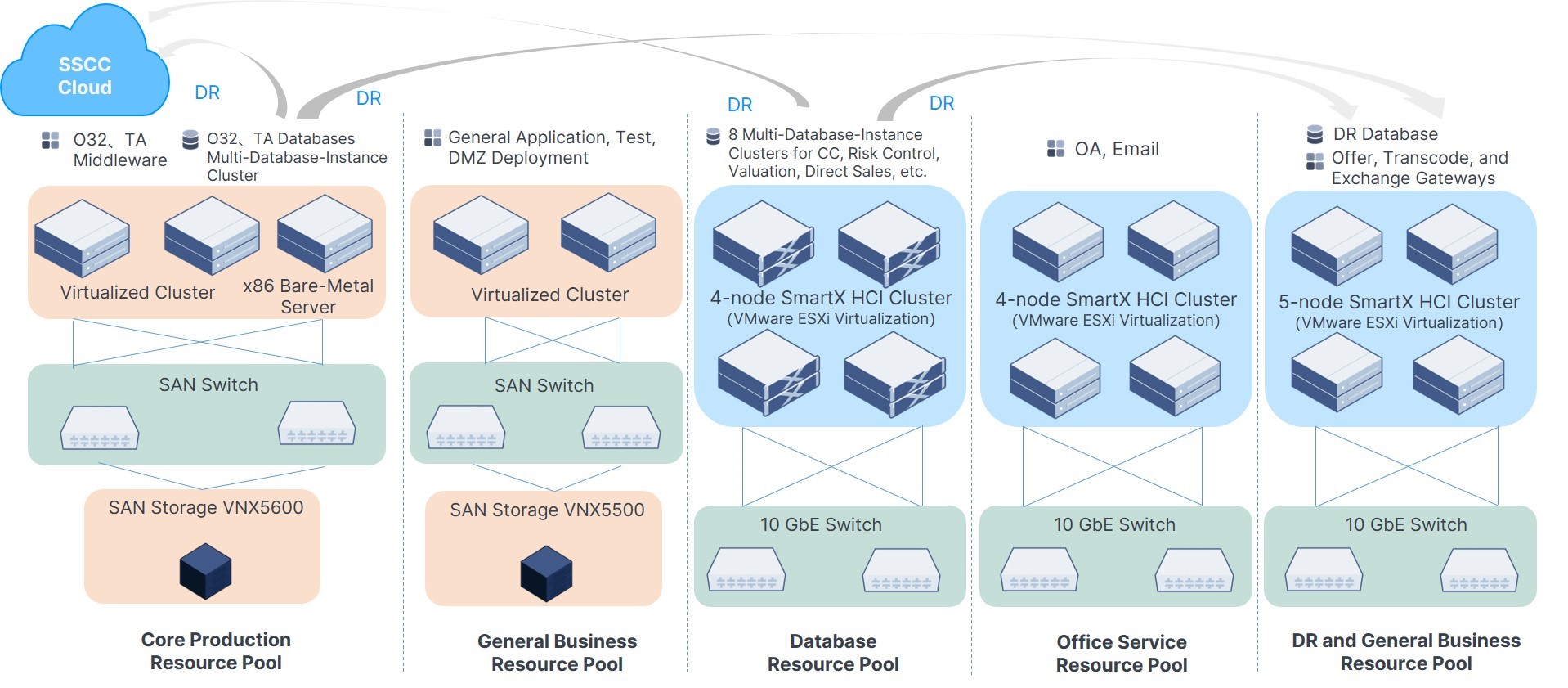 Outcomes
Construction of storage resource pool: Using SmartX HCI to support the production and disaster recovery resource pools of core databases with on-demand scalability.
Enhanced performance and reliability: The stable operation of 8 multi-database-instances on four-node SmartX HCI clusters satisfies all user requirements for cluster performance, reliability, and manageability.
Improved cost-efficiency: There is no need to pay for database replication or to construct independent DR clusters, which reduces the overall cost of building database production and DR storage resource pools.
Excellent DR capabilities: The second-level RPO and minute-level RTO help the company meet regulation requirements and build a solid business guarantee.
Increased utilization: The DR resource pool also runs business services such as offer, transcode, and exchange gateways.
You can find more information about SmartX's database DR solutions and successful stories in this blog, or check out our website for more disaster recovery solutions.
Continue Reading
Social Media
For more updates, join us on Slack and follow
@SmartX Inc.
on social media.