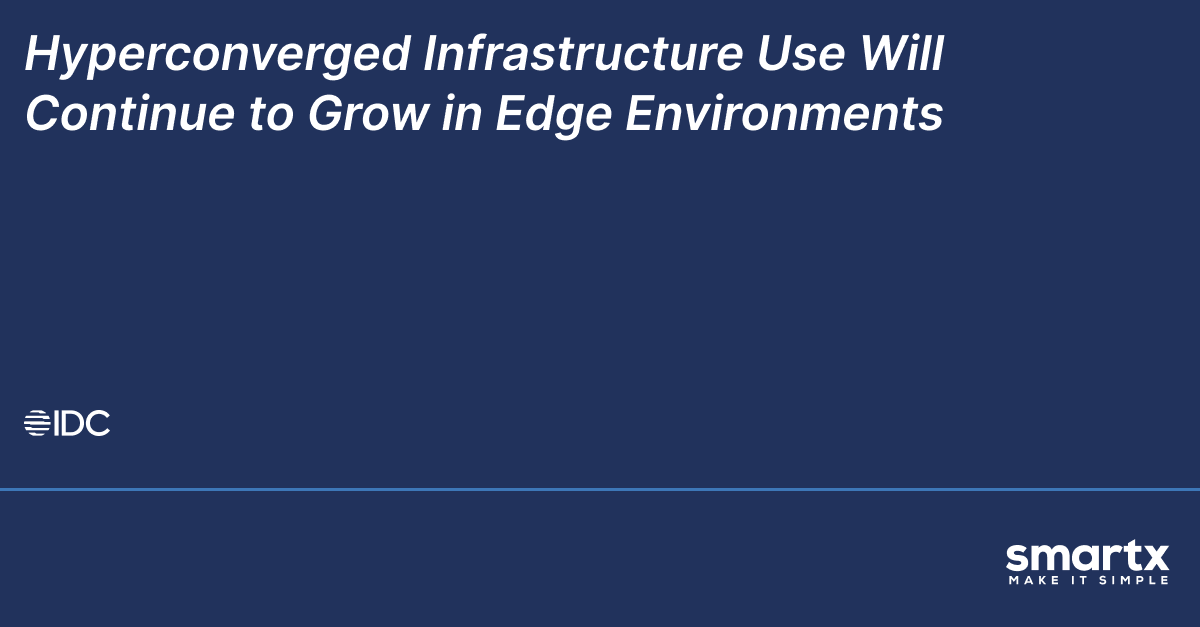 The recent IDC Perspective report, "Hyperconverged Infrastructure Use Will Continue to Grow in Edge Environments", has highlighted the growing use of HCI at edge sites. SmartX is featured in the report as an HCI vendor offering multiple deployment options.
According to the report, consolidated HCI systems have the advantages of simple operation and maintenance and the combination of hypervisor, compute, storage, and networking technologies. Therefore, an increase has been seen in HCI deployment to deal with workloads at edge sites, including remote-office and branch-office (ROBO) applications to big data analytics, artificial intelligence (AI), and the Internet of Things (IoT). IDC recommends that enterprises choose a suitable HCI product after careful evaluation of their workloads and offers a list of edge HCI vendor profiles for reference.
This report has evaluated a dozen of top HCI vendors including Nutanix, Microsoft, VMware, etc. IDC offers the deployment overview of SmartX as below:
HCI options supported:
Branded appliance with SmartX HCI software: SMTX Halo
HCI software for deployment on certified server hardware: SMTX OS
HCI software for deployment on any standard server hardware: SMTX OS
Top 3 edge HCI use cases:
Manufacturing production lines
Coal mines
Toll stations
Edge HCI deployment size (average, estimate):
Number of nodes: 3
Storage capacity: 50 TB
Customer HCI deployment location (estimate):
Core data center: 80%
Edge: 20%
SmartX HCI offers a stable and simple solution for edge locations to support various workloads. The solution's key benefits include:
Supporting mixed workloads: a single solution provides compute, storage, network, and other resources for virtualization and container workloads.
Stability and high availability: the product core is battle-tested in production environments, with enterprise-grade features including networking and security, back and recovery, etc.
Solution flexibility: customers can flexibly choose suitable server, storage, and networking configurations according to their performance and cost requirements.
Operation simplicity and intelligence: customers can manage all edge nodes and clusters with 1 platform and easily upgrade the infrastructure without business interruption.
Learn more about SmartX HCI and its ROBO and Edge solutions:
SmartX Hyperconverged Infrastructure Product Portfolio Brief
SmartX Makes IT Simple (IDC Vendor Profile)
SmartX HCI for Healthcare Solution Brief
SmartX HCI for Manufacturing Solution Brief
You might also be interested in:
SmartX Included in 2023 Gartner's Market Guide for Full-Stack HCI Software
SmartX Is Once Again Named a Fast Mover in HCI by GigaOm
Continue Reading
Social Media
For more updates, join us on Slack and follow
@SmartX Inc.
on social media.