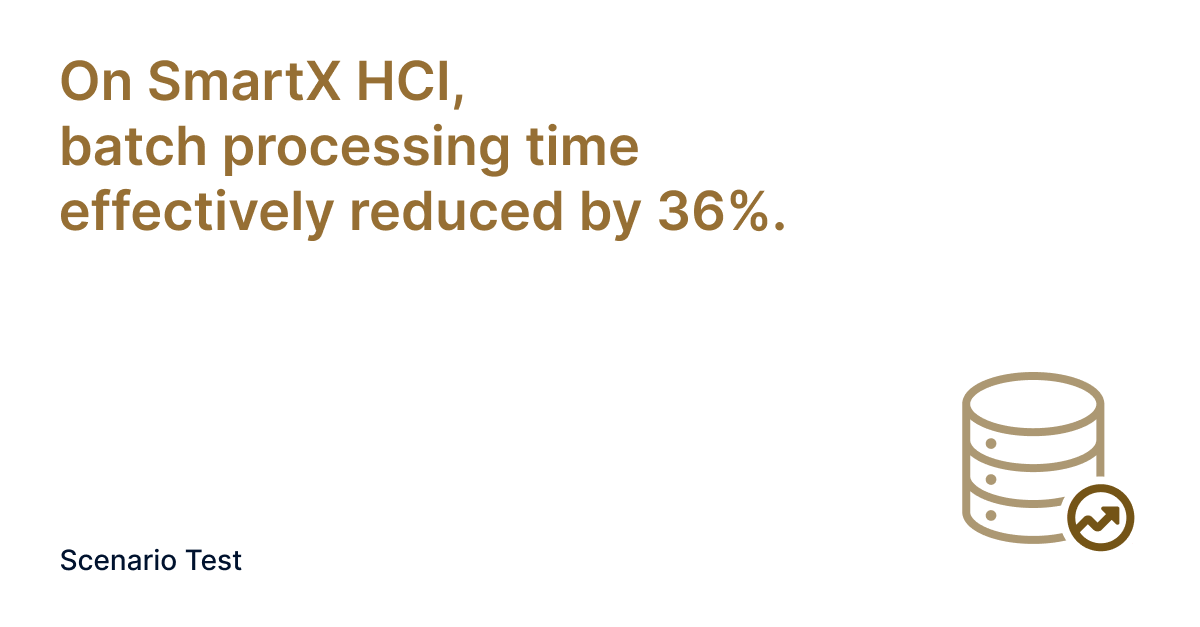 Hyperconvergence (HCI) has gained increasing recognition among customers due to its software-defined architecture and integrated deployment. As a result, HCI's application scenarios have gradually expanded to encompass most production services. However, questions remain as to whether HCI is capable of supporting mission-critical applications such as databases.
To address this issue, in this article, we will discuss how SmartX HCI optimizes Oracle data warehouse batch processing performance with compelling test results.
About Data Warehouse
A data warehouse is a data management system for business analysis and reporting. Data is periodically extracted from transactional systems, relational databases, and other sources and loaded into the data warehouse, which can centralize and integrate large volumes of data from multiple sources. Business analysts, data engineers, data scientists, and decision-makers access the data using business intelligence (BI) tools, SQL clients, and other analytical applications to gain valuable business insights and improve decision-making.
Project Background
A financial customer has been using the Oracle data warehouse in the production environment to process data for the Crystal Reports system. Before the enhancement, as the business volume and data amount kept increasing, the performance of the Oracle data warehouse for batch processing saw apparent deterioration.
Usually, the batch processing starts at midnight and finishes at 6 a.m. If the data volume grows, the batch processing time might extend and affect business services during the day. Therefore, the customer hoped to optimize the IT infrastructure and reduce the data warehouse batch processing runtime.
Meanwhile, as the data warehouse in the production environment still ran on IBM minicomputers, which had been in use for a long time, the client also wanted to explore the possibility of migrating the workloads to x86 servers so as to avoid O&M risks and complexities.
Given these reasons, SmartX assisted the client in testing the Oracle data warehouse's batch-processing performance on SmartX HCI platform.
Test Target
The purpose of this test was to verify the batch processing performance of Oracle data warehouse on SmartX HCI. We compared the processing time under the same data volume between the existing solution and the SmartX HCI solution, with a shorter duration indicating better performance. The complete test took 3 rounds.
Production Environment
Data Flow

During the test, data was initially extracted from the DB2 database using Informatica (an ETL tool) and loaded into the Oracle data warehouse. After that, Oracle data warehouse started data batch processing.
Hardware Topology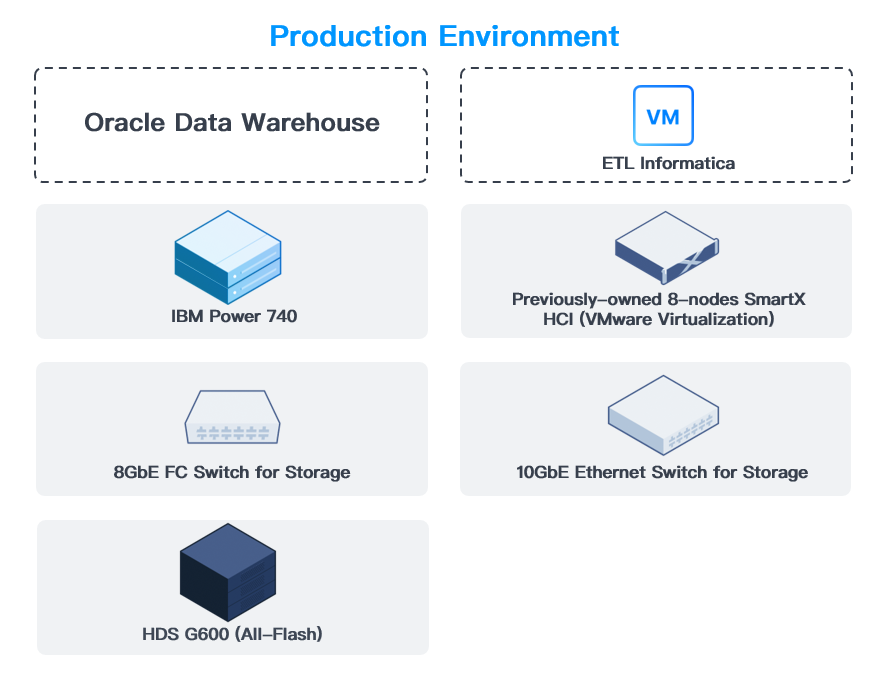 Data Warehouse Hardware Configuration
In the production environment, Oracle data warehouse was deployed on IBM AIX.
Testing Environment
Hardware Topology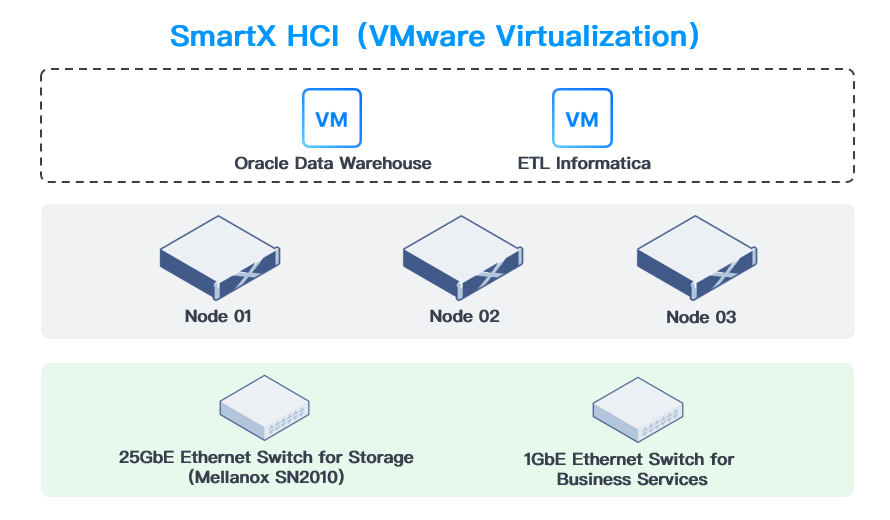 HCI Server Hardware Configuration

Data Warehouse Hardware Configuration
In the testing environment, Oracle data warehouse was deployed on RHEL 4.8 OS.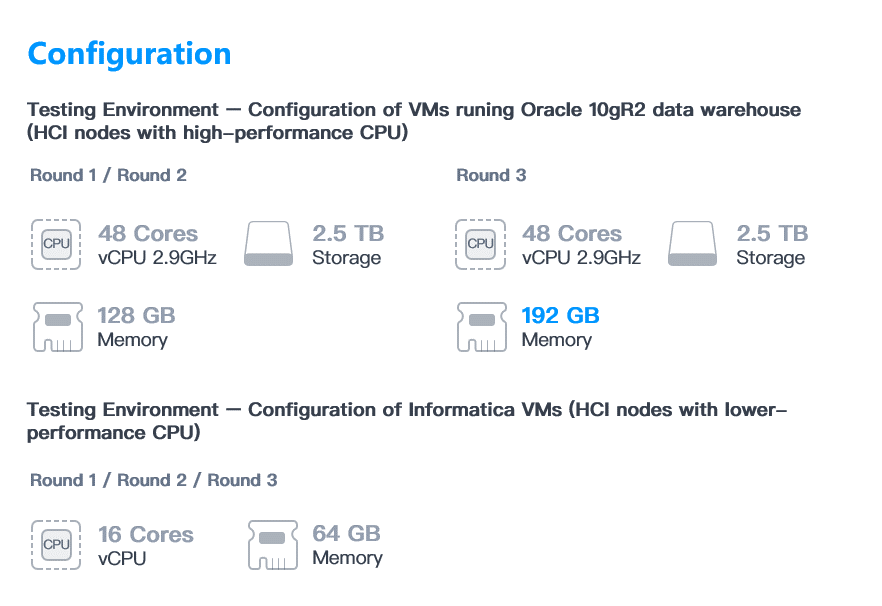 Test Results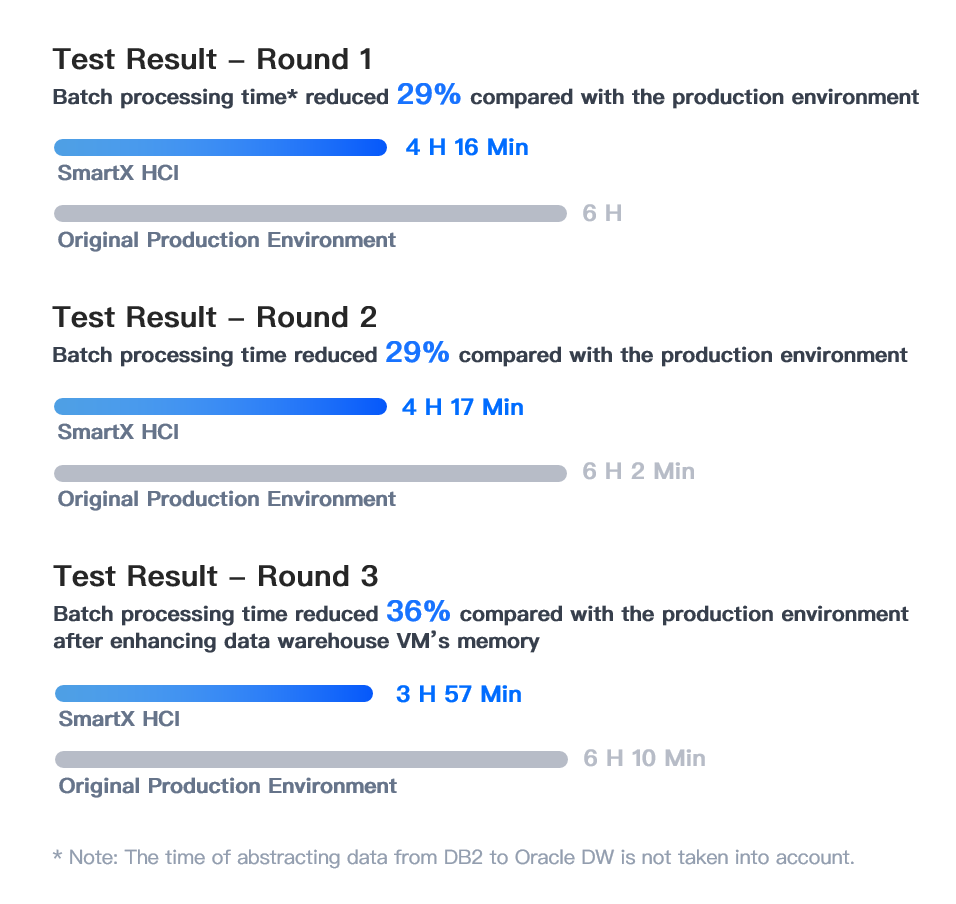 Conclusions and Highlights
After multiple rounds of testing, the batch processing supported by SmartX HCI showed notable performance improvements compared with that based on the minicomputer and centralized storage. The batch processing time was effectively reduced by 36%, gaining high recognition from the client.
The feasibility of migrating Oracle data warehouse from minicomputers to x86 servers was validated, confirming customers in using SmartX HCI to replace minicomputers and centralized storage.
The Oracle data warehouse batch processing business typically operates at night, while the HCI can accommodate various business operations, including other applications and databases, throughout the day. This increases the utilization of IT infrastructure's hardware resources.
More Benefits
The above tests verified the advantages of using HCI to support batch processing in the Oracle data warehouse. In addition to this, SmartX HCI also brings the following values to enterprises for mission-critical business operations:
Improved reliability and availability: SmartX currently offers users a wide range of HCI disaster recovery and backup solutions that enhance the system's reliability and availability while increasing O&M efficiency and reducing costs. To learn more about the solutions, please refer to our previous blog: Three Manufacturing Customers Share Their Insights on SmartX HCI Disaster Discovery Solutions.
Simplified O&M: As HCI is software-defined and based on universal commercial servers, it can significantly reduce IT infrastructure complexity and costs compared to traditional minicomputer solutions.
Integrated resources: For the majority of financial clients, the hyperconvergence of virtualized computing and distributed storage can effectively integrate compute and storage resources, further reducing the overall IT complexity and investment costs.
Elastic scalability: SmartX HCI's horizontal scalability allows for an on-demand expansion of capacity and computational resources as well as the near-linear improvement of performance.
Visit our website to learn more about how SmartX HCI provides innovative support to our FSI customers.
You may also be interested in:
Zheshang Securities: An Ex-User of VMware and Nutanix HCI Embraces SmartX HCI
Caida Securities: Transforms IT Infra to Meet Service Agility and Stability Demands with SmartX HCI [Interview]
Founder Fubon Fund: Database Disaster Recovery and Storage Resource Pool with SmartX HCI
Continue Reading
Social Media
For more updates, join us on Slack and follow
@SmartX Inc.
on social media.