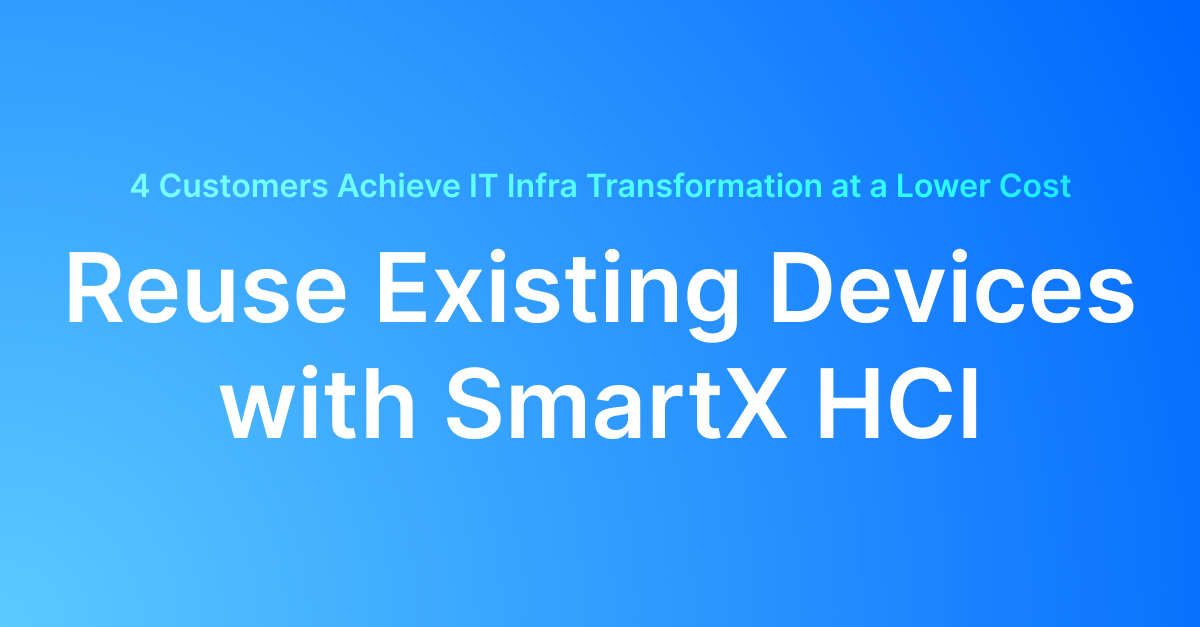 When businesses upgrade their IT infrastructure to hyperconvergence (HCI), they often hope to cut costs and improve resource utilization by repurposing existing hardware devices like servers. However, this can be challenging in practice as the selected HCI product may not be compatible with the existing hardware or may only be available in a packaged hardware form. Another challenge is managing both legacy and new hardware devices in a unified manner.
To address these issues, SmartX offers an HCI solution that separates the software and hardware components, provides flexible delivery options, and supports heterogeneous clusters. With this solution, businesses can improve their IT architecture's efficiency while reducing costs. In the following section, we will share four customer use cases where SmartX HCI has helped businesses in industries such as finance and healthcare to reuse their devices effectively.
An Insurance Customer: Support Dev/Test with SmartX HCI Clusters Comprised of Cross-CPU-Generation Servers
An insurance company had originally set up its Dev/Test environment based on VMware virtualization, with 10 nodes of "blade servers + NAS storage" and 4 nodes of "x86 servers + EMC storage." However, the company required to optimize the architecture as they experienced a shortage of computing resources and performance bottleneck.
In order to save resources and costs, the user decided to reuse three existing Dell PowerEdge R740xd servers and two Inspur x86 servers. With SmartX HCI, the user successfully integrated legacy servers as a 5-node HCI cluster with only a few components added, supporting 370 virtual machines. Furthermore, as SmartX HCI is capable of supporting heterogeneous clusters, Dell PowerEdge R740xd (based on Intel Xeon Silver 5218R) and Inspur servers (based on Intel Xeon E5-2609v4) can be deployed in the same cluster. In this way, the user has achieved the unified management of cross-CPU-generation servers while reducing operational costs.

Minmetals Futures: Achieve On-Demand Expansion, Hardware Reutilization, and Smooth Infra Upgrades with SmartX HCI
Minmetals Futures Co., Ltd. (referred to as "Minmetals Futures") is one of the futures companies with the largest registered capital in China. To keep pace with its rapidly growing business, Minmetals Futures used SmartX HCI and legacy servers to scale out 3 times (from 4 nodes to 10 nodes).
In 2018, Minmetals Futures established the original HCI cluster by deploying four nodes of Supermicro servers. In 2019, the cluster scaled out for the first time by integrating 2 nodes based on PowerEdge R740xd servers into the cluster. In 2020, the cluster continued to scale out and added 4 nodes based on legacy servers of PowerEdge R730 to the heterogeneous cluster. Eventually, in 2021, Minmetals Futures replaced 4 legacy Supermicro servers with 4 PowerEdge R740xd. The whole upgrade didn't cause any disruption to mission-critical services.
To learn more about the complete practice, please read Minmetals Futures: Achieving IT Infrastructure Dynamic Upgrade and Cross-Cluster Management Through HCI.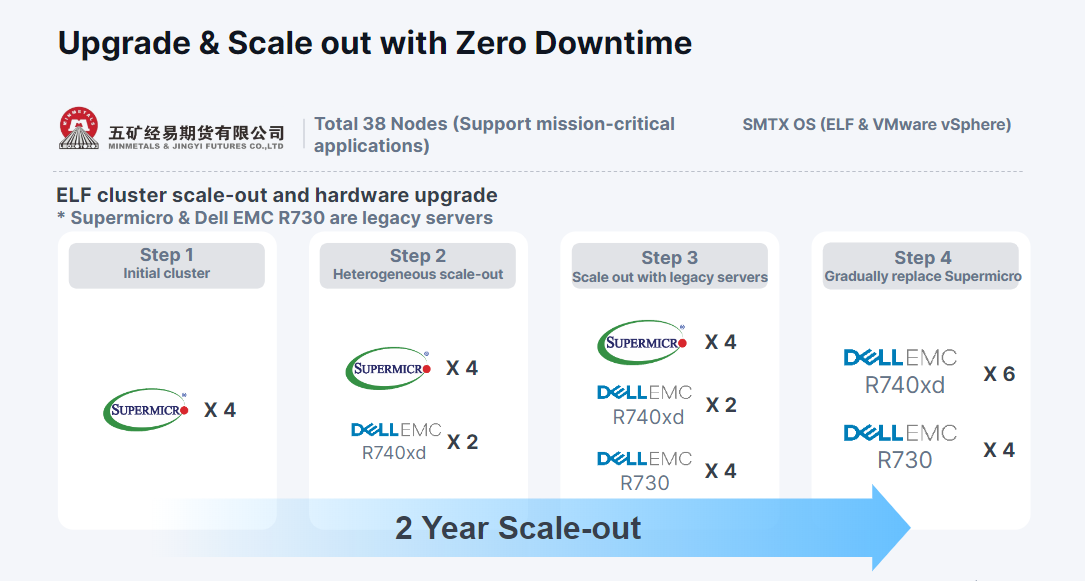 Shenwan Hongyuan: Leverage SmartX HCI to Build 40-Node DR Resource Pool with Existing Servers
In 2021, Shenwan Hongyuan needed to establish a remote DR site. To keep the construction cost minimal, the company hoped to make out of existing servers at the new site.
With the aid of SmartX's disaster recovery expertise, the user managed to set up a 40-node HCI DR cluster using their existing servers, with only a few components added. The cluster uses a 10 GbE network instead of an additional SAN switch. Moreover, SmartX's support for heterogeneous clusters allowed Shenwan Hongyuan to incorporate devices with different specifications, such as CPUs with varying frequencies and hard disks with varying I/O performances, into the same cluster. The final performance tests revealed that the DR cluster's performance reaches 58% of business systems in the production environment.
This approach not only enhances the availability of IT infrastructure, but also significantly reduces construction expenditure. For further insights into this case, please read Shenwan Hongyuan Securities: An In-depth Transformation From Legacy Virtualization to Hyperconvergence.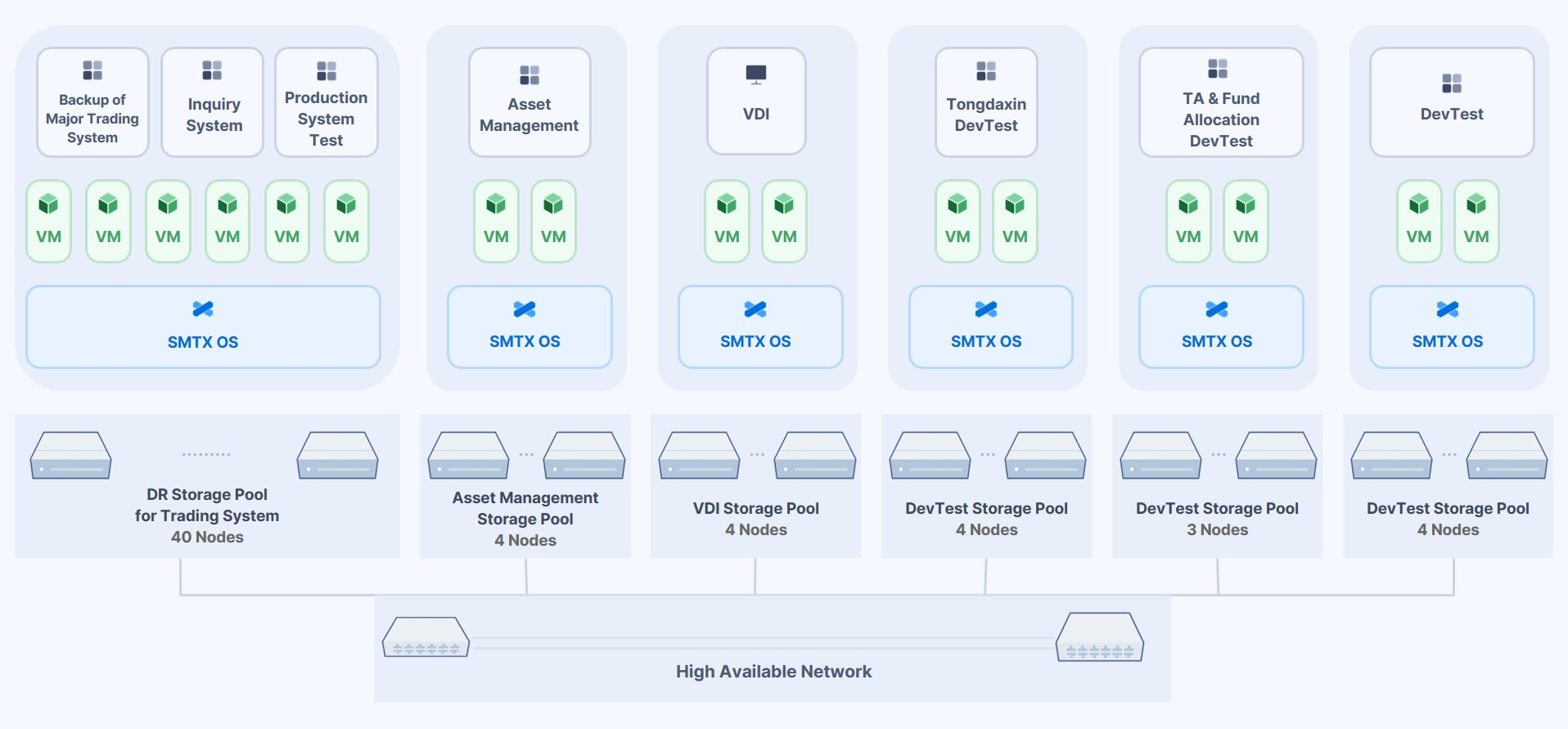 Yulin Hospital of Traditional Chinese Medicine (TCM): Reuse Legacy Servers to Support All Healthcare Services at New Campus
As the largest 3A-grade TCM hospital in Yulin, Yulin Hospital of TCM has established extensive internal and external HCI clusters (totally 11 nodes) with SMTX Halo Appliance to support all services at the new campus data center, including core application systems such as HIS and EMR, as well as corresponding databases. Despite a limited budget, the hospital has successfully implemented the construction using only 3 existing Inspur industry-standard servers and 4 Lenovo industry-standard servers. Moreover, the hospital opts to use SmartX native hypervisor ELF as a cost-effective alternative to the high-cost VMware virtualization, which further reduces construction expenses.

In addition, SmartX facilitates users from trust and asset management, and manufacturing industries to optimize the utilization of aged servers by constructing HCI clusters for Dev/Test, DMZ, disaster recovery, etc.
SmartX HCI: Broad Compatibility, Flexible Delivery Forms, and Unified Management of Different Devices
SmartX HCI replaces traditional virtualization with "SMTX OS (HCI software)+ commercial servers + standard Ethernet switches." Owing to the decoupling of hardware and software, this approach can fully support enterprises in reusing legacy devices to build resource pools for storage, Dev/Test, and disaster recovery with less expense but higher performance. SmartX hyperconvergence achieve this because of the following features:
Broad hardware compatibility: SmartX HCI is not restricted to any particular hardware and support x86/ARM servers from multiple brands.
Flexible delivery options: Users can choose from pure software (SMTX OS) and all-in-one appliance (SMTX Halo Appliance) delivery according to their needs.
Unified management of heterogeneous clusters: Servers with different CPU frequencies, hard disks, and other devices can be deployed and managed in the same cluster, helping enterprises effectively integrate new and aged devices, and reducing O&M burden and costs.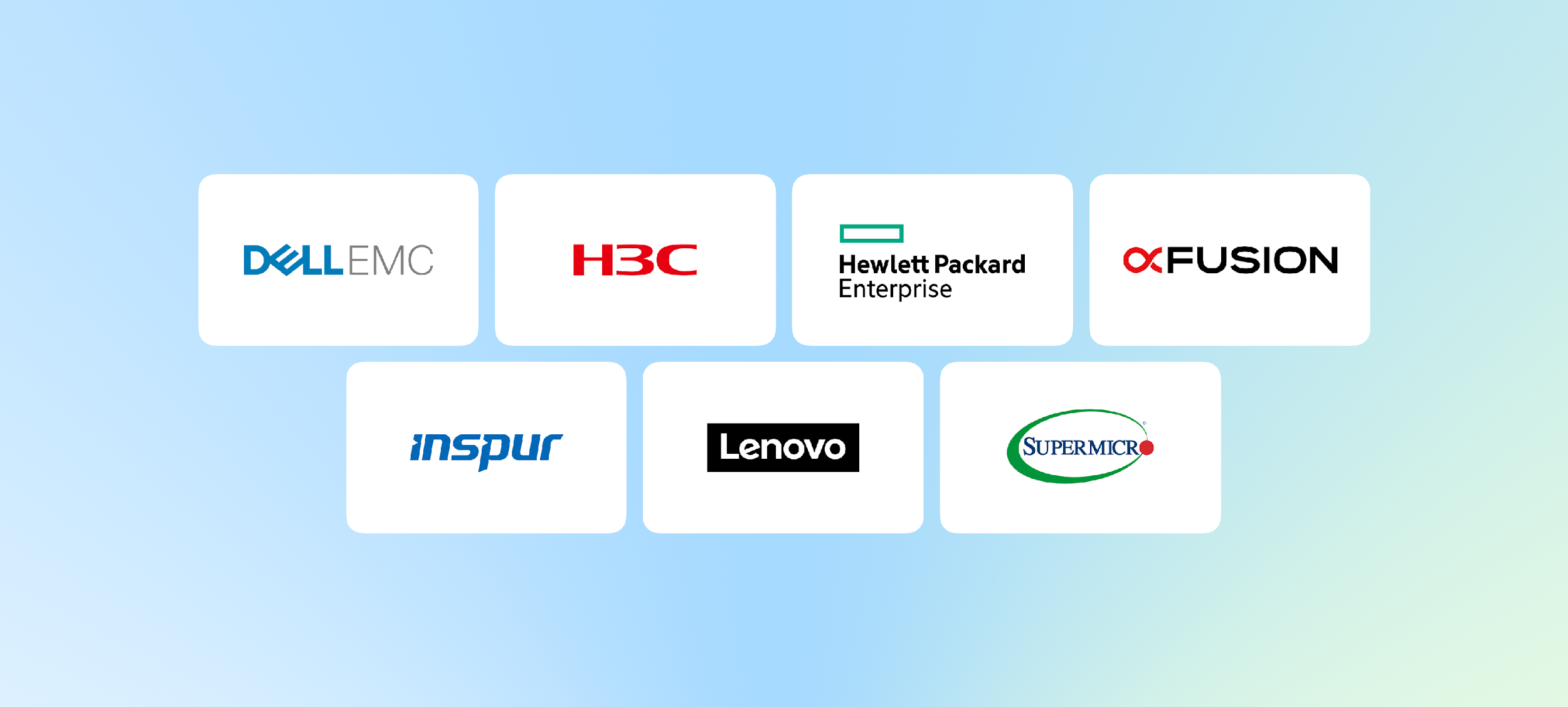 Meanwhile, although user's existing SAN storage and fiber switch cannot be used in the HCI cluster, these devices can be utilized to provide redundant protection for the production services, thereby further enhancing IT infra's reliability.
To gain a deeper understanding of SmartX HCI's support of device reutilization, please read: Unexpected Scalability: Explore SmartX HCI's Flexible Scale-out Options.
*Note: When reusing devices, it is important for users to refer to the vendor's compatibility list for server and accessory. We advice to maintain uniform hardware configurations within the same cluster to prevent any negative impact on the overall performance. Moreover, while SmartX's distributed storage ensures reliability through the replica mechanism, it is generally advised against using very aged devices (more than 3 years) due to the risks of multiple device failures and future procurement challenges.
With its elastic distributed architecture and independently developed core storage, SmartX HCI can establish a solid and agile IT cloud foundation for enterprises. For more information on SmartX HCI core features, please read and download the SmartX HCI Product Portfolio Brief.
You may also interest in:
Exploring the Architecture of ZBS – How NVMe-oF Boosts Storage Performance
Exploring the Architecture of ZBS: RDMA as the Data Synchronization Protocol
VMware vs SmartX: I/O Path Comparison and Performance Impact
VMware vs SmartX: Distributed Storage Caching Mechanism and Performance Comparison
VMware vs SmartX: Snapshot Mechanism and I/O Performance Comparison
Unexpected Scalability: Explore SmartX HCI's Flexible Scale-out Options
Continue Reading
Social Media
For more updates, join us on Slack and follow
@SmartX Inc.
on social media.